I apologize at the outset for this moody, glum, pensive, somber and melancholy post.

Funny thing is the weather has been gorgeous the last couple of days. I usually enjoy these days more than I can express. No matter. I'm in a funk this morning.

I was born and raised in California: Fresno, Los Angeles, back to Fresno, Cupertino and San Jose. I lived in California most of my adult life: San Jose, Sunnyvale, Santa Cruz, back to San Jose, Ontario, back to San Jose, Kings Beach (north shore Lake Tahoe), Oceanside, Carlsbad and Vista, with a brief stop-over (between Kings Beach and Oceanside) in Gardnerville, Nevada ~ Nevada being the cat-box of the nation. Speaking only for me.

I've lived in Arkansas since January 7, 1993 and only a few people here actually get me. I am abrasive and not quite reserved enough by southern standards. I say what I think and what I think is usually diametrically opposed to that of my contemporaries and colleagues (my bad); I make jokes peppered with sarcasm that almost no one understands (my very bad); I don't wear make-up to exercise, go for a walk or when we go to the lake (now I'm bordering on a mortal sin); and I think pageants, particularly for young girls, are ignorant and primitive forms of sexism and the people who think the little girl (and little boy) pageants are cute, or "fine," or precious, or positive in any way, shape or form are mindless and unenlightened idiots (yes, I am a flat out weirdo).

Yesterday, in my search for "beach photos" to use as my screensaver, I came across these photos...

...the beach and pier in Oceanside, California about an hour or so before sunset.

...sailboats in Oceanside Harbor.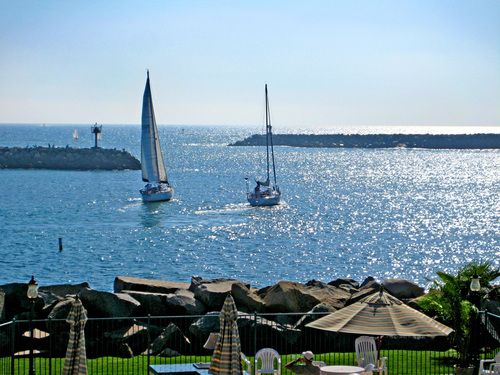 ...Oceanside Marina, where we used to keep our boat.
Today, I'm just freaking homesick!!