The sun in finally shining again and temperatures are headed into the low 80's so my mood is less solemn than it was when I wrote last. Good thing. I was sick of my self-pity.

Some Things I Love:

1. I FINALLY started the Couch-2-5K again with great results, even if I've only done my first day. In C25K language it's called W1D1, translated "week one, day one." Today, when I finish this, I will do W1D2.

2. My tomatoes are growing. My tomatoes are growing. Tom's gone to his shop to cut some "sticks" for cages and we'll get those in tomorrow. No tomatoes yet, not even a blossom, but I'll be ready when it happens. I do have baby tomatillos and baby peppers though. And we've been using basil and dill like crazy.

3. Okay, the boat trade has, for all intents and purposes, gone through. Tom and Paul are signing the Bill of Sale/Transfer of Ownership on Monday after I finish typing it up this weekend, but they've already traded keys and miscellaneous boat stuff and we are going up this weekend, starting this afternoon, to clean it up and do some repairs, since it hasn't been used in two years. I'll take photos.

4. We're leaving next Thursday morning for Savannah for the Memorial Day weekend. We'll help Chris finish up some remodeling stuff so they can finally put their house on the market. But we'll have a little time to visit, too. I'm looking forward to it, even though we will be working some. Joe will be going to the (wink, wink) spa (wink, wink) for some much need R & R and TLC.

5. Since we are going to start spending more time at the lake, I'm going to start taking my bike up with me and riding around the marina and through the lakeside neighborhoods. And, guess what??!! I have a basket on my bike for Joe!

Some Things I Hate:

1. Yesterday I made Falafels with Tahini Sauce for the first time. The prep seemed to take up most of the afternoon! I kept chopping and mixing and measuring and finally frying for what seemed like hours. Then when I went to take my photos, the pita bread started coming apart. It wasn't homemade. It was dry and almost crumbly. Ugh. Next time I'll have to make my own pita bread.

2. Do I even have to mention the oil gushing into the Gulf? Do I even have to mention the grown-up, gray-suit-wearing, multi-millionaire CEO's of BP, TransOcean and Halliburton who testified before the Congressional Committee pointing their fingers at each other unwilling to take any share of the responsibility for this catastrophic fiasco. Their oil well blew up over 30-days ago and oil has been gushing into the Gulf ever since and has finally reached the Louisiana coast. And what have they done? They tried to cover it up with what looks like a giant cement and steel outhouse. It didn't work. They are spraying the surface oil with some sort of chemical dispersant. We are living in the 21st century and this is all they can do?? Why don't they just hire a million or so people to go out in boats with plastic buckets and sand shovels and scoop that oil crap out of the water? Do something!!

3. Do I have to even mention the idiots, in view of this monumental environmental and economic catastrophe, who continue to chant, Drill Baby Drill??!! WTF??!!

4. The Texas Board of Education, which is comprised of a publisher of a semi-weekly newspaper, a former high school principal, a former teacher of visually impaired students, the owner of a science summer camp, a businessman and former state representative, two real estate brokers, an insurance salesman, the owner of a global financial sales and marketing firm, a high school physiology and anatomy teacher, two attorneys, the president of a Christian outreach program for African-American girls, a staff development coordinator and a dentist. These are the people who want to keep the word "slave" out of "slave trade," are rewriting history and for whom textbooks will be edited (read:censored).

5. Rush Limbaugh. He's just a fucking idiot.

Some Things I Just Don't Get:

1. According to Slashfood.com, the Savannah/Chatham School District has partnered with Paula Deen (from the Food Network, y'all) to pilot the curriculum for a new high school program, the Paula Deen Academy of Culinary Arts. As you can well imagine, some parents are apparently "horrified" that the school board members would partner with a woman who wrote the cookbook that was selected by a group of physicians as the past decade's "unhealthiest." I think it was my sister, Karen, who speculated that the dairy farmers and manufacturers are high-fivin' each other at the potential skyrocketing butter sales.

2. Speaking of food, an article in the Huffington Post reports that KFC has extended what was supposed to be a 6-week trial period for their new sandwich, the Double Down. KFC claims to have already sold 10-million of these...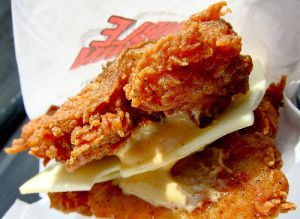 AP Photo
Two pieces of bacon and two pieces of cheese sandwiched between two pieces of fried chicken, slathered with a little mayonnaise-based sauce for good measure.
I would love for someone to do an analysis of where most of these are sold. You know what I'm thinking.
3. I know Kevin Costner is doing good things when he wants to share his company's oil separating technology with BP to clean up the oil that is spewing from their well, but that soul patch...
Every time the dude moves his lips to speak, I have to laugh because it looks like the film editors have distorted the pixels on his lower lip like they do to censor bare breasts and butts. It just looks stupid.
4. How can Rand Paul, Republican candidate from Kentucky,
"support the Civil Rights Act because I overwhelmingly agree with the intent of the legislation"
but not agree with enforcing the law in private establishments? Uh, helloooo. The catalyst for the Civil Rights Act was that owners of private establishments were denying access or segregating. Remember the signs that read "Whites Only" posted on gas station restrooms, in restaurants, bars, movie theaters, drinking fountains and anywhere else people might congregate? What freaking year is this??? Paul the Neanderthal. I made a rhyme!
5. Now we have the Parents Television Council, which apparently monitors "decency" issues for those of us who cannot do that for ourselves, who are pissed off about the new CBS program created from the Twitter feed "Shit My Dad Says," although the expletive
'shit'
will be either the word
Bleep
or just a series of characters. The PTC doesn't want their children and, of course, our children, exposed to an expletive of any kind. There are other words we could use, you know. I wonder if they would object to the word 'poop'? There is a site called
The Poop Thesaurus
. Maybe I should send the PTC and CBS the link. The site has some interesting synonyms:
Anal Output (probably a little too location-specific)
Anal Butter (most likely conjures up other non-poop-related activities)
Ass Kabobs ('kabobs' is more delicate for sensitive eyes and ears, but 'ass' is after all a form of curse word for some)
Bologna Stick (sorry, food references are just gross)
Doo-Doo (that's about as tame as you can get)
Better yet, let's introduce the PTC to two more words with which they are apparently unfamiliar - V CHIP. In the infamous words of Brad Hamilton in Fast Times at Ridgemont High: Learn it. Know it. Live it.