The following forecast is for Conway, Arkansas, where I live. Would you rather have this for the next few days...

Today

44°|33°
Cloudy
Thurs

40°|34°
Rain
Friday

46°|32°
Rain
Sat

45°|30°
Cloudy
Sunday

43°|27°
Snow
Monday

41°|28°
Rain/Snow
or this...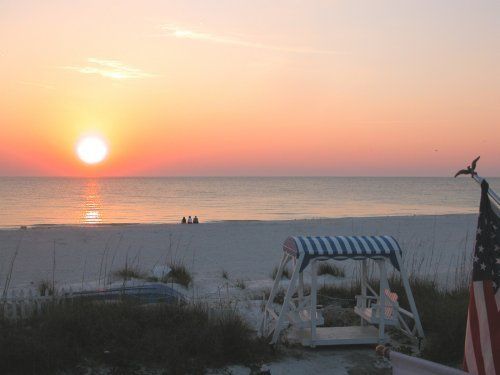 That lovely beach sunset is on the Florida gulf coast off of Anna Maria Island, where my son Chris is currently located. The temperatures during the day at Anna Maria Island are in the high 60's to low 70's, conducive to long walks on the beach, watching sunsets with a glass of wine in hand and general overall feelings of well being. Contrasted with the weather here, which is mostly conducive to cycles of bitchy punctuated with depression.
I realize I am torturing myself by making these comparisons. I can't help it. Everything, except what is growing in my AeroGarden, is brown - the grass, the trees, the shrubs, the ground cover - or covered with ice or melting snow. Even though the heat is on in our house, my hands and feet are cold. I've been wearing nothing but sweats for weeks, except for the pajamas I wear to bed. No shorts, no t-shirts, no flip-flops, no tank tops, no driving with the car windows open. No warm breezes circulating through the house. Our windows have been closed up tight and the stale air is recycling through our heating system. Maybe that's why it's been so hard to get rid of my cold/bronchitis/flu/crud. Or maybe I'm just cold and miserable and already sick of a winter that has just barely begun.