Our weekend did not go as well as we expected.

We left the theatre at intermission. In spite of myself, I liked the movie, but in my opinion, Legally Blonde, the Musical was not really very good. I guess that's why it played barely a year and a half on Broadway. The music was awful. I think the sound person was asleep. We could barely understand anyone on stage. And the lines we could hear were just silly and insincerely delivered. But, someone liked it anyway. The audience was filled with moms and their little girls ~ pre-teen and early teen. I didn't know that was the target audience.

We walked back to the hotel and spent a good hour sitting at a table on the outdoor patio outside the bar sipping a glass of wine and people watching. The weather the was beautiful, warm and breezy and we both enjoyed being able to sit outside in the evening.

About 11:00pm we decided to go up to our room. To make a long story short, the bed was comfortable but it felt like we were trying to sleep in the back room of a blues club and after trying for several hours to fall asleep, Tom finally got up at 2:30am, dressed quickly, went down stairs and told the night manager, "I'm sorry, but I am not paying for this room." With no where else to put us, the night manager handed Tom 2 sets of ear plugs (can you guess WHY exactly they have them on hand?) and told him, yes, they knew there was a problem with noise and we should have been warned at check-in. We weren't. The music finally stopped at 3:00am and was followed by the police using bull-horns to clear Beale Street for the night.

Three more performances remain on our season tickets: April 4th~ The Color Purple; May 9th (Happy Birthday, Chris!)~ Fiddler on the Roof (with Topol!!!!); and July 4th ~ Wicked. I made reservations for our July 4th stay over a month ago, so when we got home yesterday, I made the reservations for our overnight stay for the first two performances back at the Residence Inn, where we usually stay. Quiet. No surprises. And still within walking distance to the theatre and next door to McEwan's on Monroe, our favorite place to eat and have an after-theatre night-cap.

So, deep breath. Breathe good stuff in. Blow toxins out....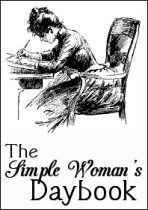 FOR TODAY MARCH 9, 2009...
Outside my window...
it's cloudy, but warming up. The birds are singing.
Waiting…
for our flip to sell. There was an investor who showed some interest, but nothing happened. Our realtor thinks it would be a good opportunity for someone who wanted to invest, but has very little money, since we are open to selling with owner financing. It remains to be seen if that angle will work. I am still hopeful because the banks here in Conway are still loaning money. It's just that people are so hesitant right now.
Catching up on…
everything, since we were gone most of the weekend.
I am thinking...
too much.
I am thankful for...
being given the opportunity to prepare the twice-monthly church newsletter.
From the kitchen...
tonight: Island ribs and fried rice
I am wearing...
Nike cropped pants, a light weight avocado-colored sweater and I'm barefoot.
I am creating...
my garden. I have started drawing out what I'm going to plant and where I'm going to plant it.
I am going...
for a walk at Tucker Creek Trail, then to church to learn how to use the publishing program for the newsletter.
I am reading...
nothing at the moment.
I am hoping...
both my sons find jobs soon; that Tom's work continues to go well; that we sell our flip house by summer; that Karen begins to accept that life goes on and finally makes some life decisions for herself, in spite of her grief, depression and fears.
I am remembering…
the difficult year we had when my former husband of one miserable year and Mike's biological father (why do we have to use the word "father" in this context, when he never, ever did any "fathering" at all) decided he would prove he was the consummate selfish, self-absorbed ignoranus (remember that word from this list? Ignoranus ~ A person who is both stupid and an asshole.) by contacting us the year of Mike's high school graduation and even after I sent him a letter telling him that Mike did not want contact with him, he and his equally Ignoranus wife, got our phone number and address and continued to call and call and call and call until we finally had to get a restraining order. I don't know what provoked those memories this morning.
I am hearing...
the birds outside. The house is so quiet that, even with the windows closed, I can hear the birds.
Around the house...
there is dusting and vacuuming to be done.
One of my favorite things...
is when the weather is starting to warm up. The trees are budding. The birds are singing. New growth is beginning to emerge on my roses and day lilies. We have two rabbits that chase each other around our back yard. It's not our former ten acre farm, but it's home.
A few plans for the rest of the week …
I'm making a list which includes buying paint.
Here is a picture thought I am sharing...
my chives in my herb garden are coming up...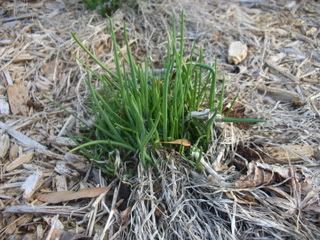 Based on The Simple Woman's Daybook