I had a hard time finding a quote for this morning's post until I thought about a discussion Tom and I had with Karen on Saturday night.

There is much I do not understand about Karen. We don't talk or communicate much at all. She spends most of her time in her room watching tv with her dog and cat and only emerges periodically throughout the day to fill her water glass, take her dog, Bella, outside to pee, do laundry, check emails or Myspace or make a trip to WalMart to buy personal items or ingredients to prepare an occasional dinner. The only time we sit down all together is for dinner and then she goes back to her room for the remainder of the evening.

I know she is grieving, and everyone must grieve in their own way, but her grief is mixed with a serious depression, even though she taking medically prescribed antidepressants. That concerns me, particularly in concert with her seemingly negative view of relationships and people in general. Our lengthy, somewhat heated, discussion Saturday night was about people and the choices they make about life and death. During our conversation...and I don't even remember what we were discussing specifically...she described a friend of hers as an 80-year-old man who is chronically ill and in constant pain, can't stand his children and has a miserable life and asked rhetorically, "Why does he still want to go on living?"

I didn't really have an answer. I'm not in the man's head or heart. I don't know why he would want to continue living such a miserable life. But after I thought about it over the weekend, my answer would be "Hope." Sometimes hope is all we have to sustain us through the worst times in our lives.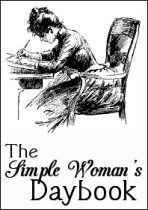 FOR TODAY MARCH 2, 2009...

Outside my window...the sun is shining, but it's cold ~ 28º. The rest of the week is supposed to be pretty cool, but by Friday the forecast is for 79º!!

Waiting…for my new, beautiful, organic cotton dragonfly sheets to arrive from Cuddledown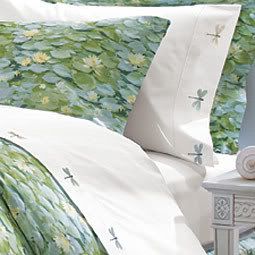 Catching up on…
laundry, blogging, bill paying and grocery shopping
I am thinking...
about whether I'm going to stay at my part-time job
I am thankful for...
everything...for my husband, my family, my friends, my church, my health, my house, my beautiful furniture and that, in spite of what happens, I can remain positive and have a sense of humor. I am, indeed, extremely fortunate.
From the kitchen...
tonight I am making Country-Style Rigatoni, a dish posted by Marie at Proud Italian Cook. This afternoon, I am baking two loaves of Amish Friendship Bread, the recipe and photos for which I will post on my food blog, Terri's Table.
I am wearing...
pajamas...lime green top, pink-blue-lime green striped bottoms and faux UGG slippers, because they are more comfortable than my genuine UGG's
I am creating...
a mess in our office with all my recipes to be posted on my food blog. It's time to really get busy and post some of them so I can put all this stuff away
I am going...
to walk at Tucker Creek Walking/Biking trail later today when it warms up some; then to the grocery store.
I am reading...
nothing. I haven't started a new book yet.
I am hoping...
and praying for some positive changes in Karen's life.
I am remembering…
how beautiful and warm Greers Ferry Lake is in the summer and I'm longing to be lounging in my water floaty, slathered with #15 sunblock with a cold bottle of water or a big glass of ice tea in my hand. Ahhhhh...
I am hearing...
the heater just went on. Bella barked a couple of times a few minutes ago, but stopped. I cherish Monday mornings because I usually hear nothing. The house is peaceful and quiet.
Around the house...
there is some dusting and picking up to do, but basically, it's pretty neat and clean.
One of my favorite things...
flowers, particularly my climbing roses and day lillies.
Recently…
my boss asked if I was interested in full-time work. After the three late days I worked last week, I said no.
A few plans for the rest of the week …
working, possibly meeting with Tammy, our pastor, to be familiarized with the software she uses to publish the church newsletter.
Plans to focus on…
Tom is finishing up the laundry room remodel and I will be bringing in all the stuff he took out to the garage to store while he was tearing out the closet, cabinet and shelves. I might even do a little painting.
Here is a picture thought I am sharing...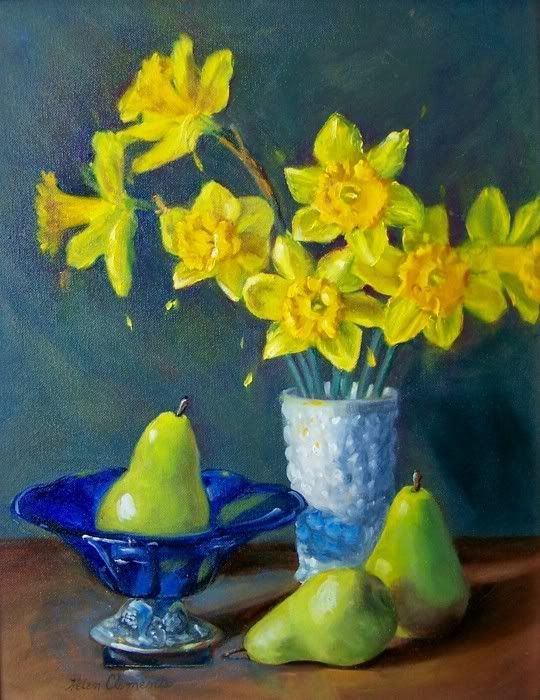 This picture is currently on my desktop. It's called Jonquils in Blue. The artist is Helen Clements.
Based on The Simple Woman's Daybook