I don't think I will being doing Some Things Friday today. I have a lot of errands to do. But I wanted to leave you with something for weekend and I found just the right thing.

I have been searching the internet and putting together a list of Arkansas blogs with the hope of presenting them for publication in our local newspaper.

Now, when you start searching around the "backroads" (so to speak) of Arkansas, you never know what you will find.

This morning I found Cookin' It Up with Hillbilly Willy and as I scrolled down the page, passing Seafood Gumbo, Mushroom Merlot Burger, Dangerous Chocolate Chip Cookies, I came across his recipe for... honest to God.... no kidding.... Taaa Daaa!!

Cajun Squirrel Stew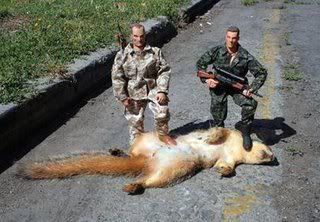 With tasty references to "Squirrel Brains - a Delicacy in the Hills of Arkansas."

See. I told you. You just can't make this stuff up.