Can't shake this nasty mood I'm in. Everything pisses me off. I hope I'm in a better mood by my birthday.

Some Things I Love:

1. We've turned our hot tub into a cool tub for the summer. We've lowered the heat to 90 degrees. It's like taking a dip in a lake to cool our body temperatures down. After working in the garden and yard all day, even after a shower, we are still really hot. A half hour in the cool tub is all it takes.

2. It finally rained last night and this morning so it has cooled off a little bit. Definitely a welcomed relief.

3. My new Tom's Baobab Sunsets. They were delivered this morning...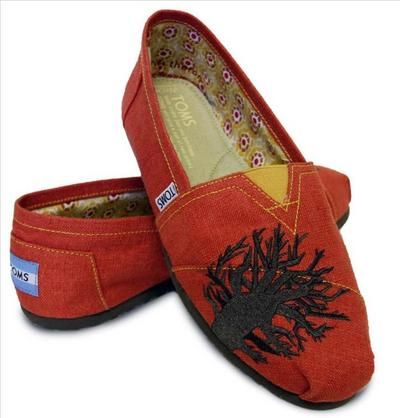 The shoes, embellished with the African baobab tree, were designed for
Tom's Shoes
by Charlize Theron, the sales of which will benefit an African Outreach Project for children in her native South Africa.
4. Yesterday I picked 5 poblano peppers from my garden and stuffed them with a ground turkey, rice and black bean filling and we had them for dinner topped with a little Suiza Sauce made with low-fat sour cream...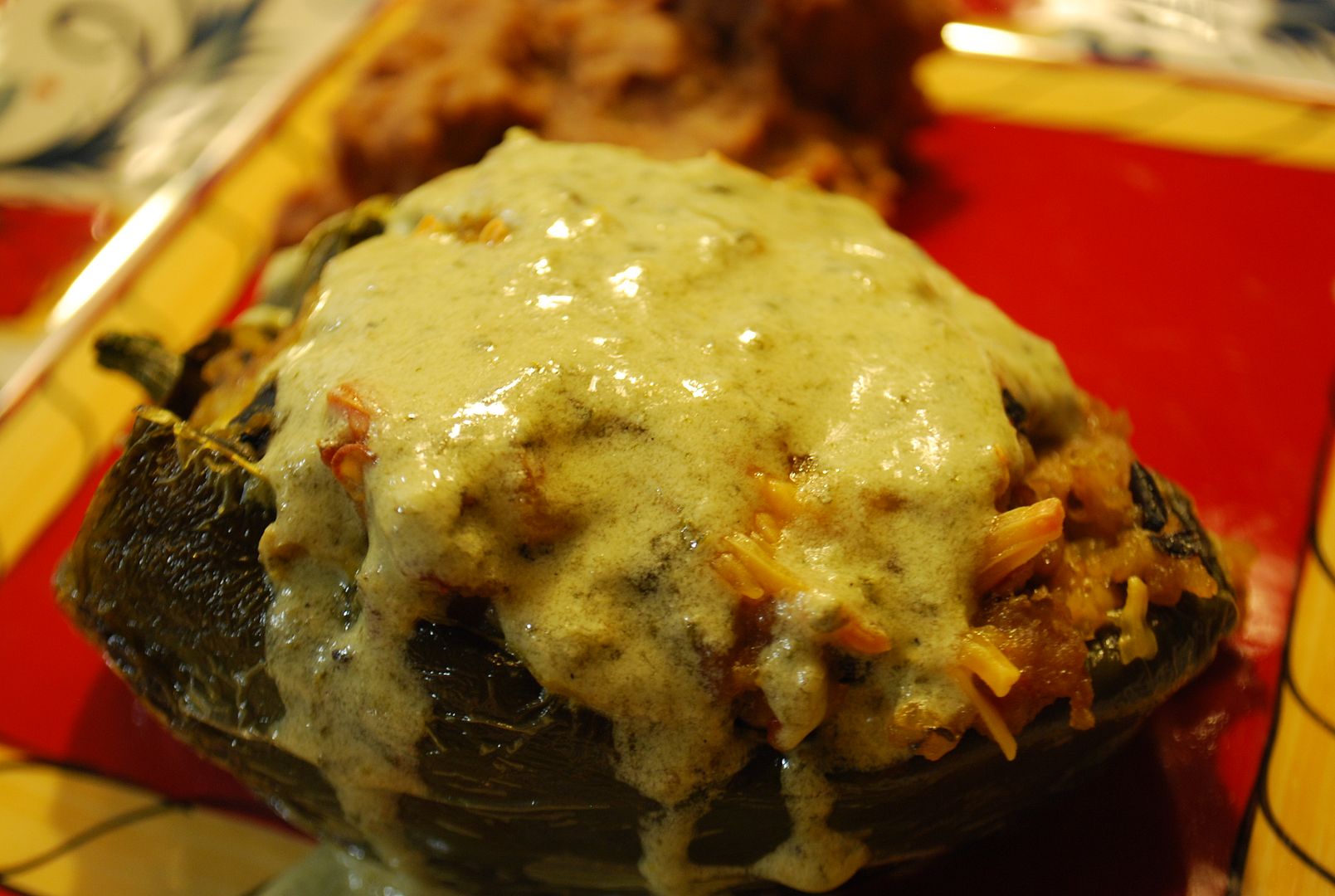 They were delicious. We've also been using the basil like crazy.
5. The primary run-offs are over. My candidate didn't win, but the constant phone calls have stopped! Yay!!!
Some Things I Hate:
1. It's still gushing with no end in sight. Someone called it the worst oil disaster in all of mankind and said it will take generations to recover. The thought is overwhelming.
2. Very sad news yesterday. A local judge and pillar of our community died very unexpectedly Wednesday night at the age of 67. Judge Jack Roberts was a fair judge and a really good man. He will be missed greatly by the many who knew him.
3. I said earlier that it rained. I suppose I should be a little more specific. It poured. Some areas in Arkansas received up to 6-inches of rain in a very short period of time. It rain so hard so fast that a river in southwest Arkansas rose from 3 feet to 23 feet overnight, which caused a flash flood in which 16 people so far have perished. We know very little at this point except that the flood washed through a campground in southwest Arkansas. Helicopters and rescuers on foot are still searching for survivors as I write this.
4. When will we get our priorities straight?
According the CNN
, our President opted to attend a fundraiser for Barbara Boxer instead of the memorial service for the 11 people killed in the Deepwater Horizon explosion. Some people are saying, yeah, but he invited the families to the White House. Not enough. He should have done both.
5. On the other hand, I have a hard time criticizing our President for saying something to the effect of looking for "whose ass to kick." First, he was responding to a question from Matt Lauer, who used precisely those words in his question. And who hasn't heard the word "ass" used in a similar context? Was it "Presidential" language? Not really, but at least he didn't say, "I'm gonna fuck somebody up."
Some Things I Just Don't Get:
1. Apparently, Abby Sunderland,
the 16-year-old girl who was attempting to sail solo around the world
, got into some trouble in the Indian Ocean when high seas and rough weather broke her mast. She has been found safe and well. While I'm sure Abby is a fine sailor and a very responsible and independent young woman, I still have questions about her parents' willingness to allow her to set sail alone at her age.
2. Lady Gaga...or whatever her real name is...flipping off people at a Mets game. What a very tacky person.
3. People here in Conway believe there is a lottery conspiracy. Yep. Those people are buying scratch off tickets and losing...every single ticket is a loser. Apparently
They
believe there are winners in other cities and counties, but none here...ever. Uh, Tom plays the scratch-offs. We have the "sucker dust" to prove it. And he wins sometimes. As a matter of fact, he wins something every time he purchases a batch of tickets. But
They
aren't winning, so
They
figure there is a conspiracy to send all the winning tickets to the other cities and counties and send all the losing tickets to Conway and Faulkner County. Brilliant.
4. Orley Taitz, the original and most relentless "birther," ran for the republican nomination for Secretary of State in California. That's not what I don't get. She's pretty much living on the fringe, so I would expect something really ridiculous and outlandish of her. What I don't get is the 240,000 people who actually voted for her.
5. What kind of employees is Delta Airlines hiring? Two children, traveling separately and unaccompanied,
were put on the wrong flight and wound up at each others' final destinations
. Delta says the paperwork got mixed up. WTF? One passenger was a boy and one was girl. Pretty big and very obvious distinction. One would think that merely reading the names of the two kids on said paperwork would pretty much catch the error, but apparently no one read the paperwork except for the final destination. The obvious first question when retrieving an underage passenger from an airplane, "Hi! Are you [insert child passenger's name}?" If you get "No!" for an answer, you have the wrong kid. Duh.