I have to be reminded from time to time that there is nothing that I have to do, except maybe pay my bills on time and pay taxes.

Up until just recently, I always felt like if there was something that needed to be done and no one else volunteered to do it, I almost always did the volunteering. I don't feel like that anymore. If I don't do it, the world will not come to an end as we know it.

I have decided that once I finish the things I've committed to or volunteered for, that's it. I'm going to focus on the things that I personally want to do or need to accomplish before I volunteer for anything else. Not a big decision in the scope of things but it's been on my mind, nagging me...paint, paint, paint...the kitchen, the den, the trim, the entryway, the office, our bedroom and bath. In addition, I have two rag quilts I want to make, books I want to read and recipes and photos I want to post on my food blog. I am going to spend as much time on weekends as I possibly can on the lake in a cove lounging in my floatie. I am going to take a trip to Savannah over the Memorial Day weekend. I also want to take another trip to San Francisco and Fresno sometime before the first of the year. When Chris and his family move from Savannah to Florida this summer, I'd like to help with that. I have plans and I'll accomplish them without guilt, thank you very much.

On another note, Tom is hoping to trade his sailboat and trailer for a larger sailboat. The bigger boat is about the size of the boat we owned and had moored in Oceanside Marina when we lived in California. We used to comfortably spend the weekend on it. I would really look forward to doing that more here, too. I am feeling the need to get out of town more often on the weekends, away from the daily and weekly routines. We won't know for sure until sometime next week when the owner of the other boat confirms the trade.

Joe got a bath and a haircut yesterday.

Remember this?


Poor guy looks naked now...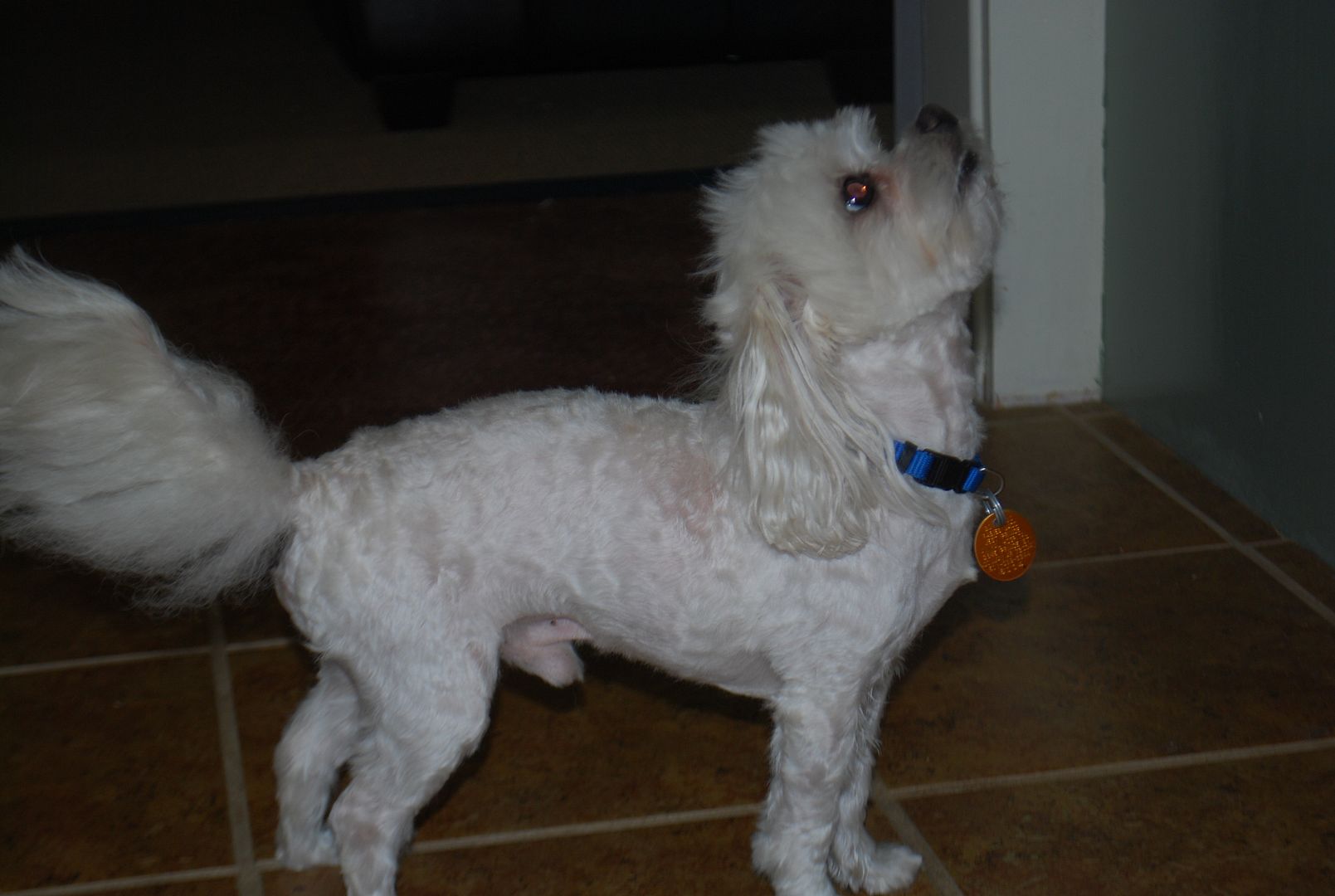 Don't you think he looks a little like Giada DeLaurentis from the Food Network? Big head, skinny body??
The groomer was a slightly aggressive with the clippers and took off a little more than we wanted. Luckily fur grows and he won't look stupid for very long. We'll just keep reassuring him until he looks normal.
Well, Tom is napping. He hurt his back on Friday so he's actually taking care of himself.
I have
Chris' barbecued ribs
in a very slow oven. I'll finish them on the grill for dinner. I already finished making the Blue Cheese Potato Salad and it's in the refrigerator. I made some Roasted Tomatillo Salsa (Rick Bayless' recipe) that we will have with dinner tomorrow night - Black Bean and Chorizo Tostados. The rest of the afternoon is mine...so I am blogging. Today...it's about me!