In my last post, I mentioned the wonderful vacation Tom and I had around the Thanksgiving holiday. The first half was spent with our son, Mike, and his family in the San Francisco Bay Area, Belmont to be exact.

Our grandson, Zak, is heading back to Reno in January to attend a community college there, so I was glad we made the trip when we did and had a chance to spend time with him before he took off to create a life for himself. Even today, when I think about him being 18 years old, I can hardly fathom so many years have passed so quickly. I can still see the little chubby cheeked toddler and that vision does not seem remote at all. Now he has two little sisters, Lily and Zoey, ages 7 and 5, who cry, their mom says, when Zak talks about moving. They will miss him.

But, luckily our time together over this past holiday was not tearful...well, until the end when we left. Before that, we enjoyed every single minute of our visit.

Every morning on our way to Mike's from our hotel, we stopped at the Starbucks on the way. We arrived at their house by about 8:00 am each morning. One day we brought a treat of donuts. Another day we brought yogurt, fruit and granola.

We didn't do any sightseeing. We've been to San Francisco and the adjacent area many times. We lived in the Bay Area for several years when Tom and I first married and continued to visit often after we moved to Lake Tahoe's north shore. So we spent our time just hanging out with the family.

There was, of course, plenty of lap time...



Lily even let Grandpa try to brush her hair...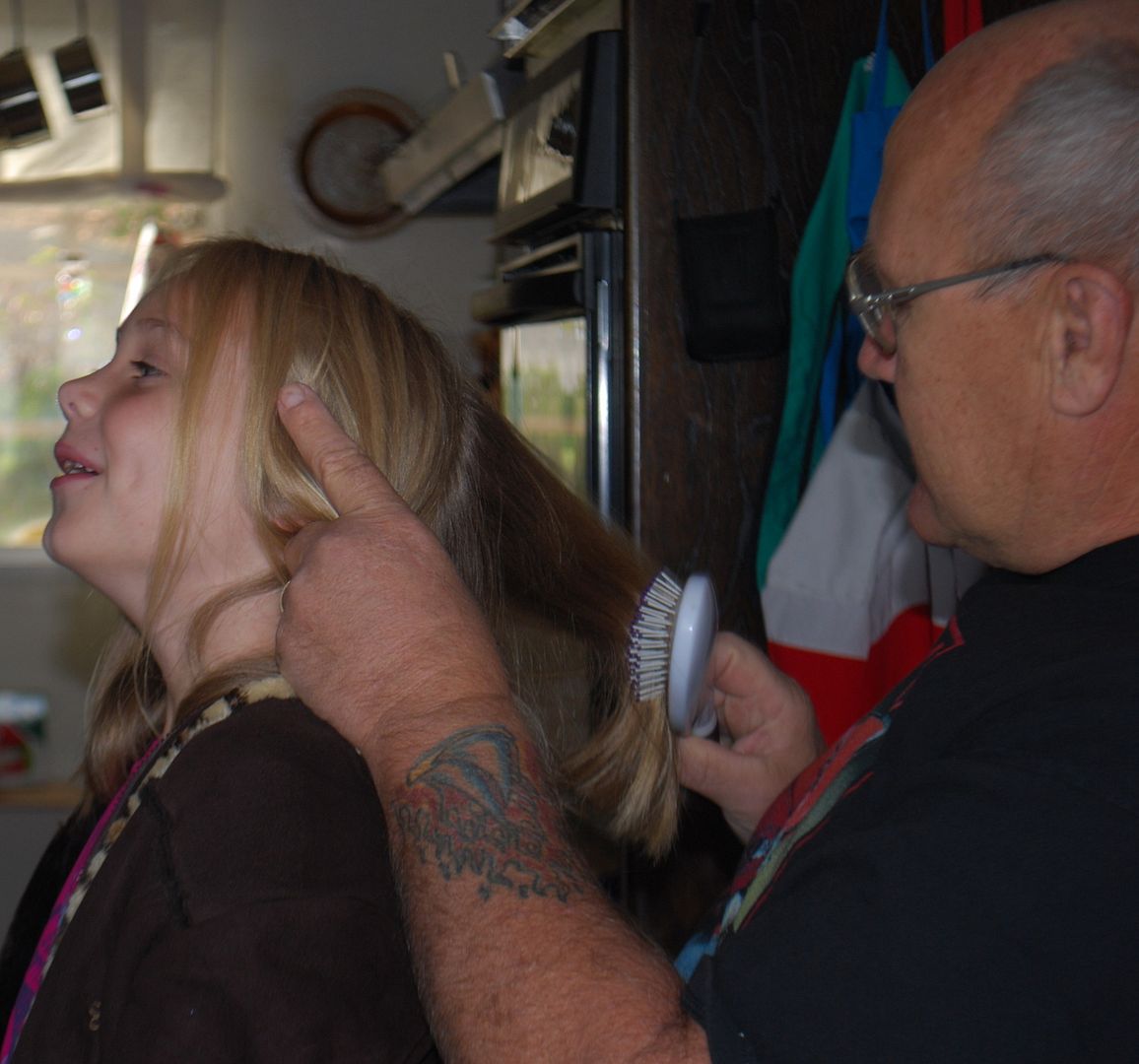 And there was time to just get goofy...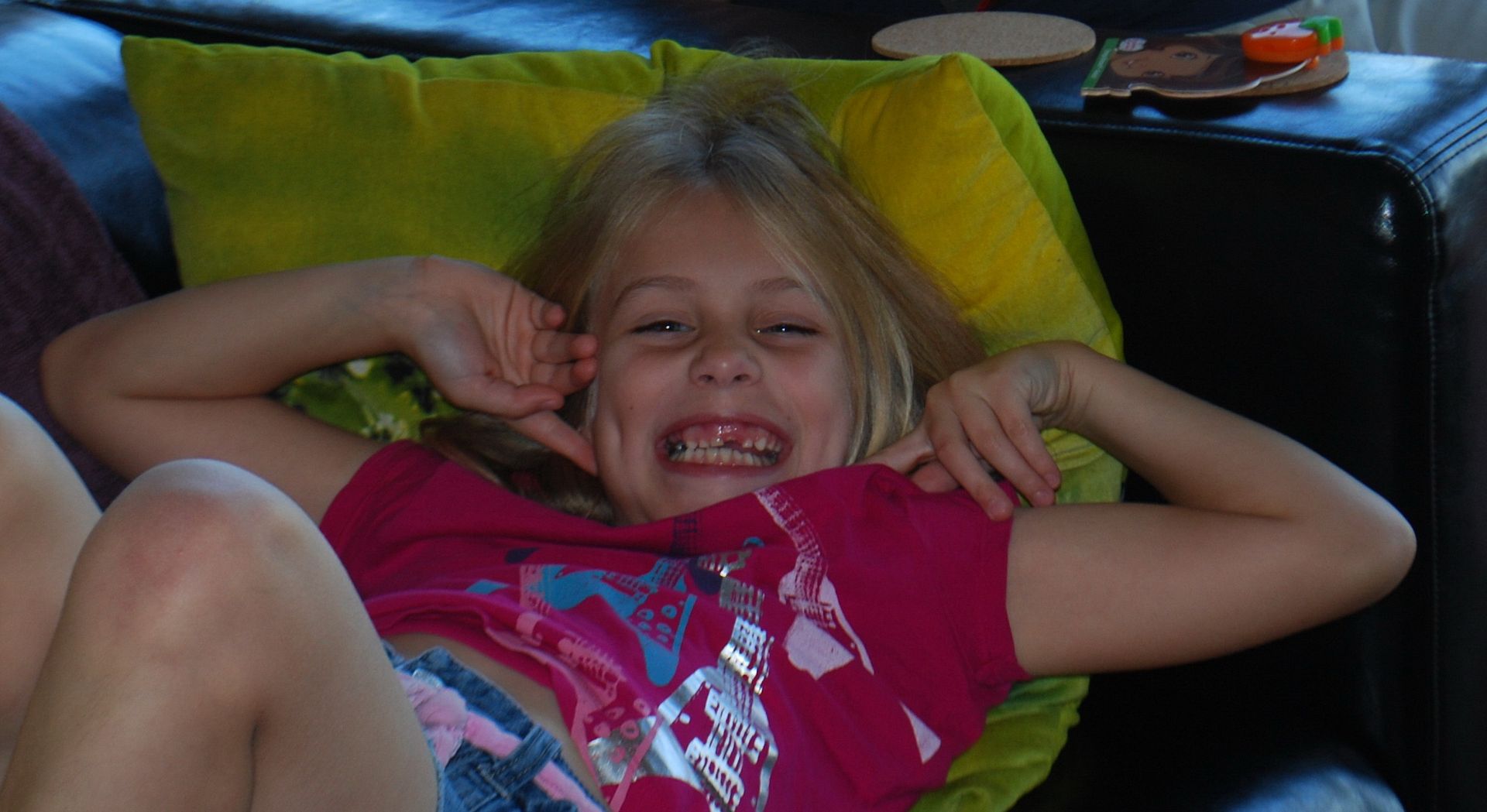 There was Wii Bowling, Ski Jump and Golf..



Then we played a cut-throat game of Candy Land. There were times you could cut the tension with a knife. And notice that Zoey quietly controlled the game by withholding the cards securely in her little 5-year-old hands...



While Grandpa and Grandma were keeping the kids busy, Mike got a chance to sit down quietly (Mike was quiet, not the kids) and read his magazine...



Mike and Kathy let Tom and I make some appetizers for Thanksgiving Day. We settled on two items. My father-in-law's favorite Mini-Reubens, which aren't really reubens but oven-toasted cocktail rye bread topped with horseradish sauce, slices of kielbasa, some Bavarian sauerkraut and Swiss cheese, then baked in a hot oven until hot.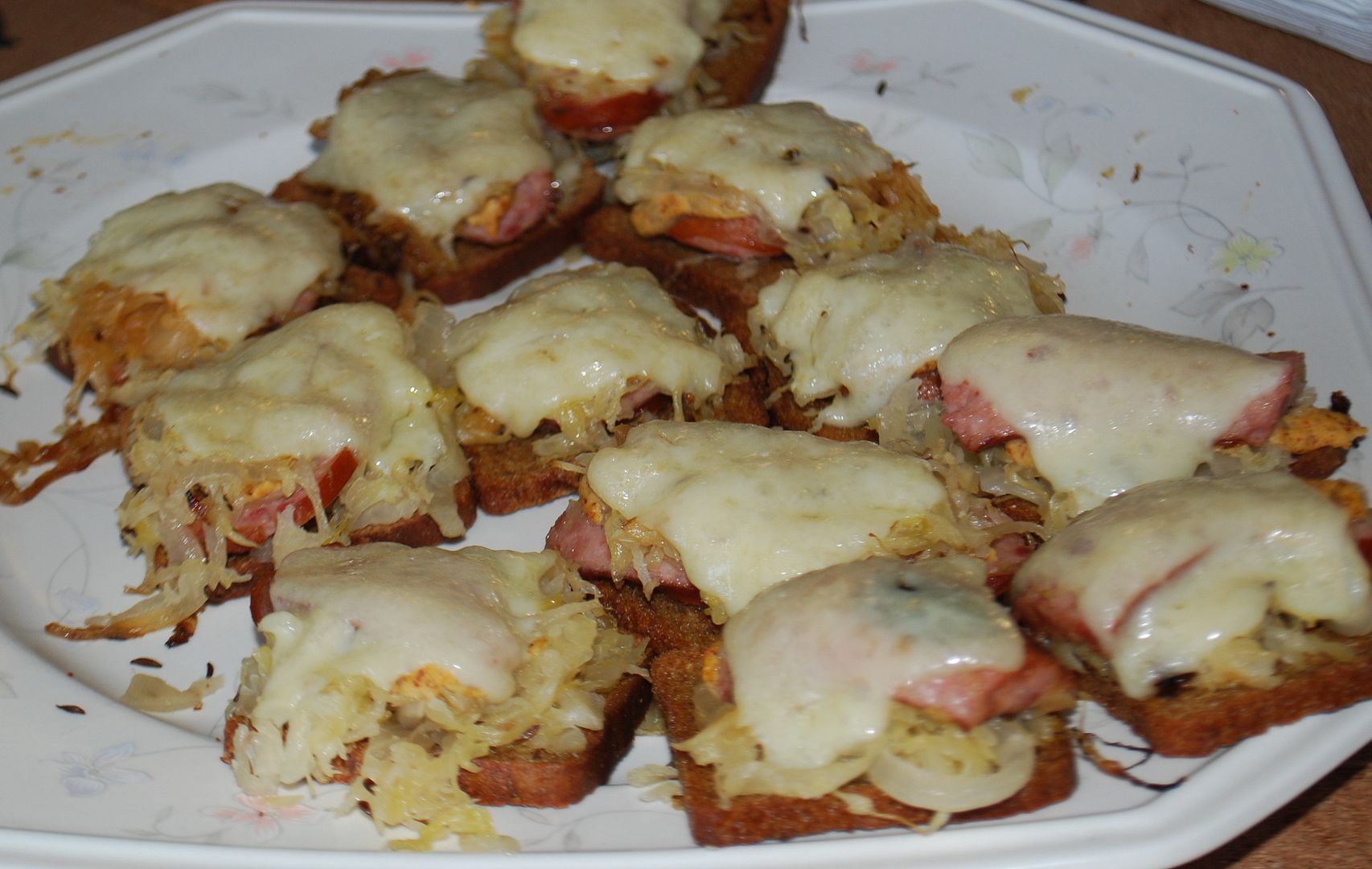 We also made a Baked Artichoke/Crab Dip (a mixture of chopped artichoke hearts, canned crab, sliced green onions, grated parmesan cheese and enough mayonnaise to bind it all together, then baked for about 30 minutes in the oven until bubbly). I got the recipe from a co-worker probably 25 or 30 years. It is so tasty with toasted bread or crackers.



Thanksgiving dinner was the highlight of the day. Mike made a chive and herb butter and rubbed the turkey with it, then grilled the turkey outside on his barbecue. Boy was it good; moist and flavorful. Lily had dibs on a drumstick, but of course it had to be served on her princess plate...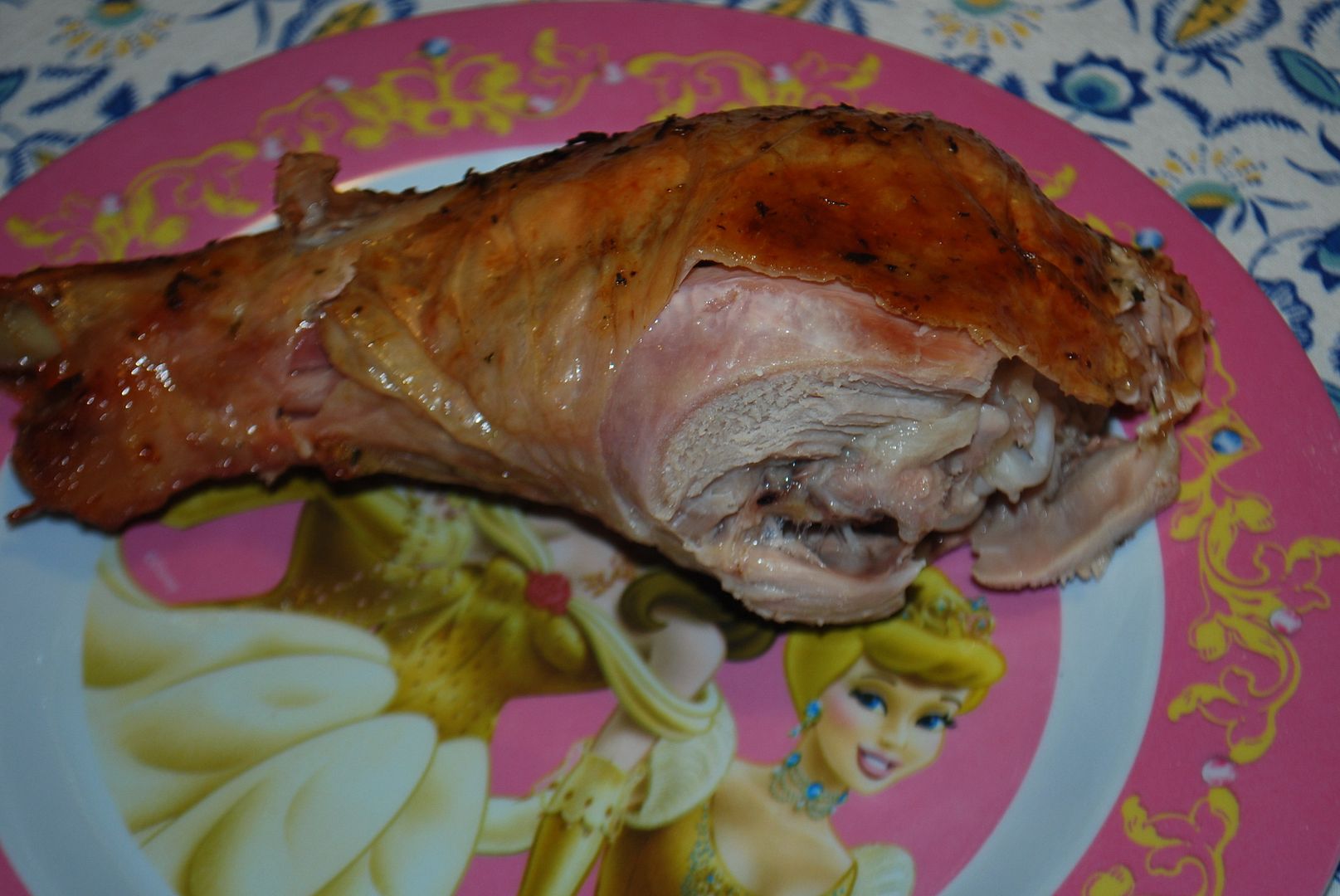 And Lily didn't hesitate to dig in...



Luckily my dinner was served on a regular plate so I could make room for all the other stuff...mashed potatoes, sweet potatoes, stuffing, green bean casserole (all from scratch, with not a hint of canned soup) and gravy.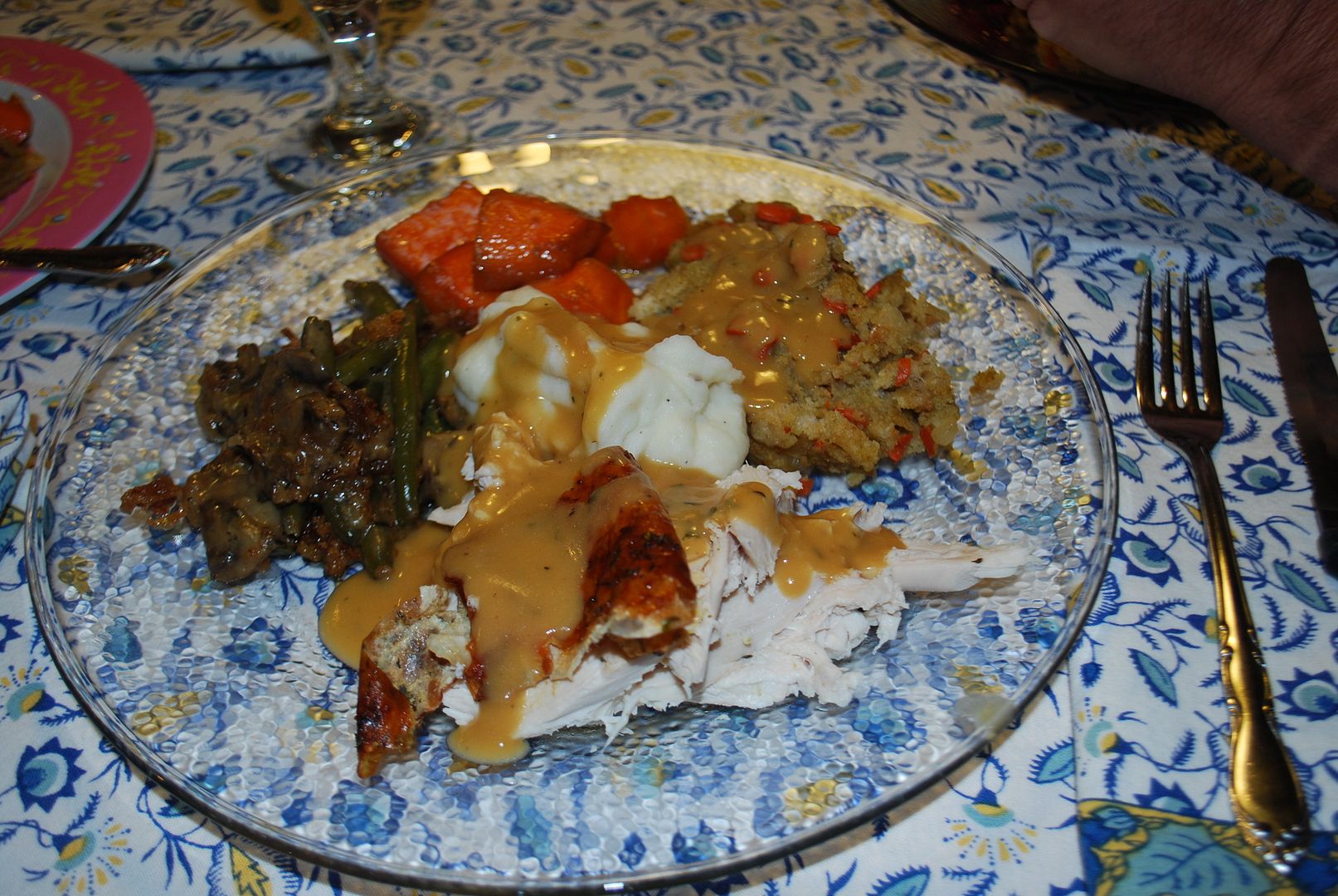 After dinner, we took a long walk around their very hilly neighborhood for some much needed fresh air and exercise. The weather was cool, but not cold, and perfect for an early evening jaunt.

The last day of our visit, we went to the beach at Half Moon Bay. While everyone was suffering through below freezing weather here in Arkansas, for the most part (except for a little rain one day) we had beautiful weather. Our day at the beach was no exception....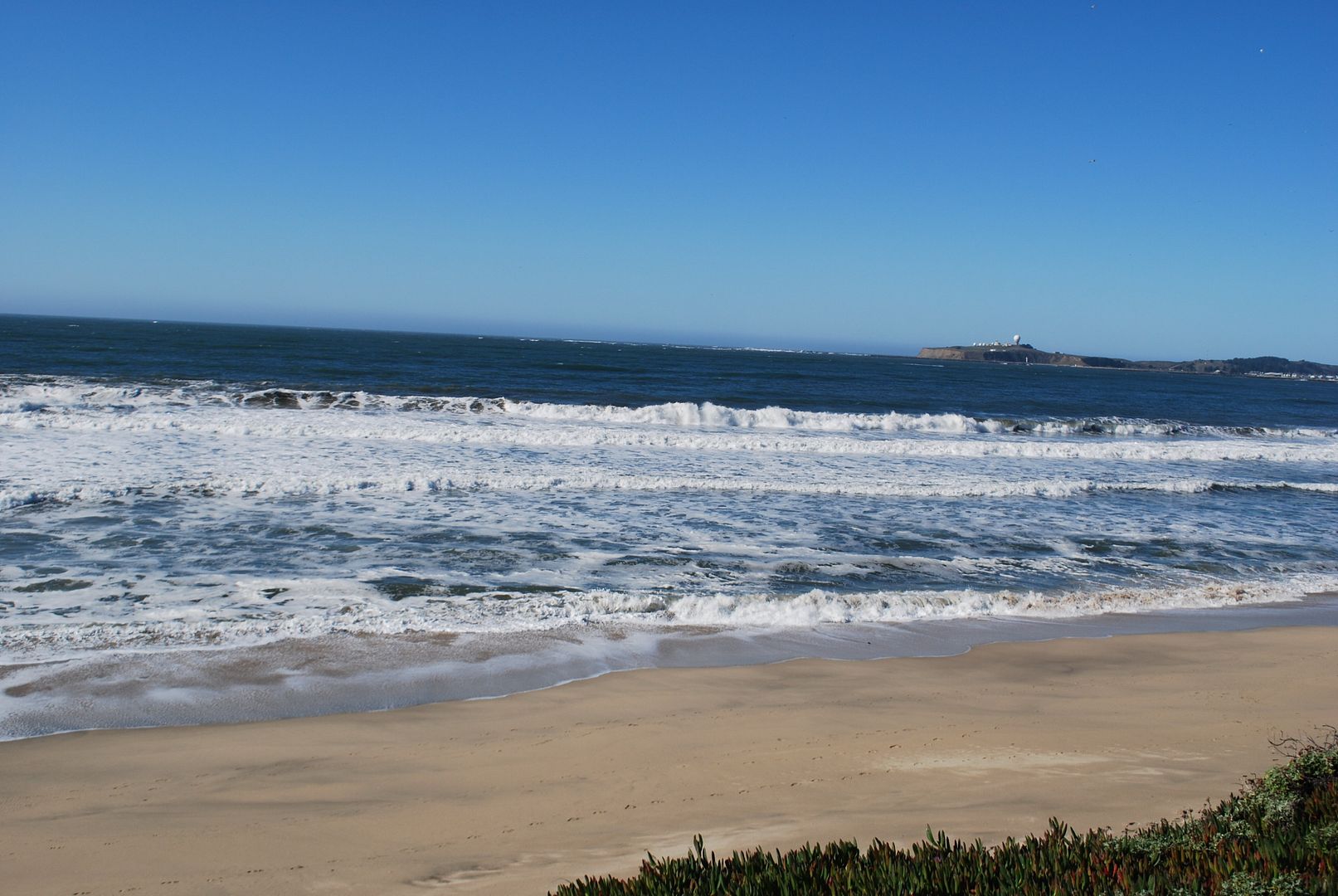 We were so thrilled to be there, can't you tell??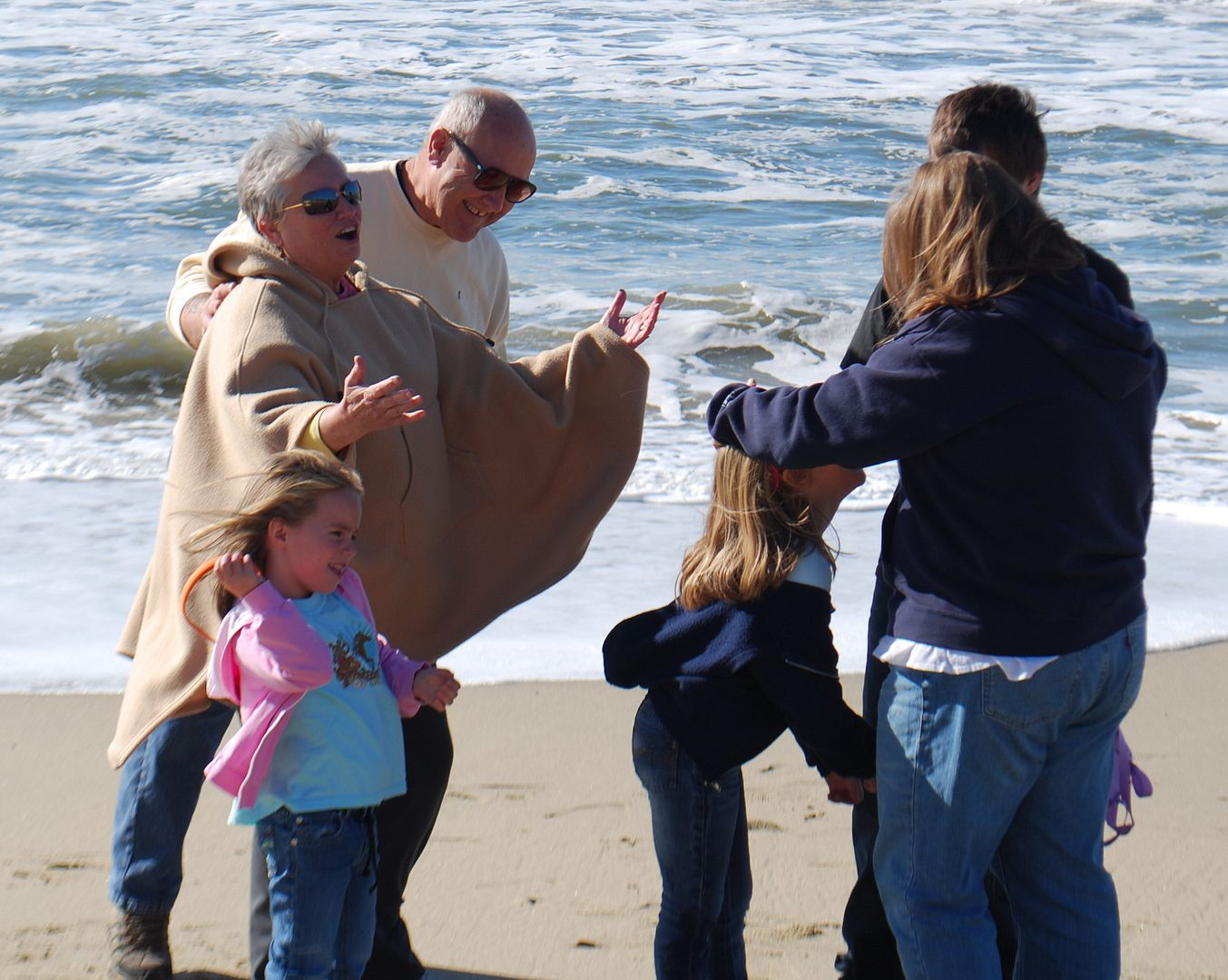 Lily immediately began to challenge the waves coming into shore, running to safety as they lapped at her heels. Zoey was not quite as adventurous as her sister and kept herself at a very safe distance for quite some time...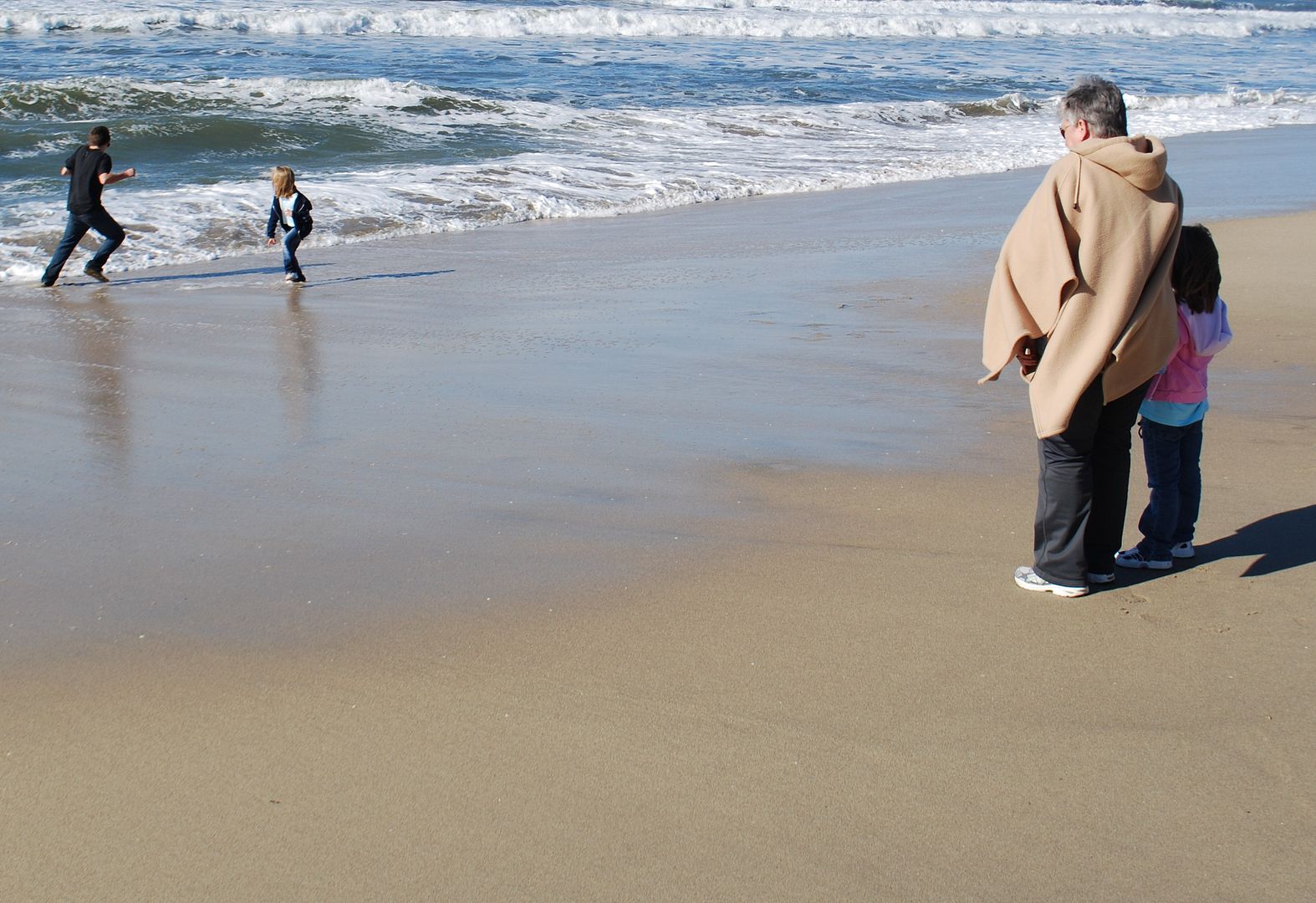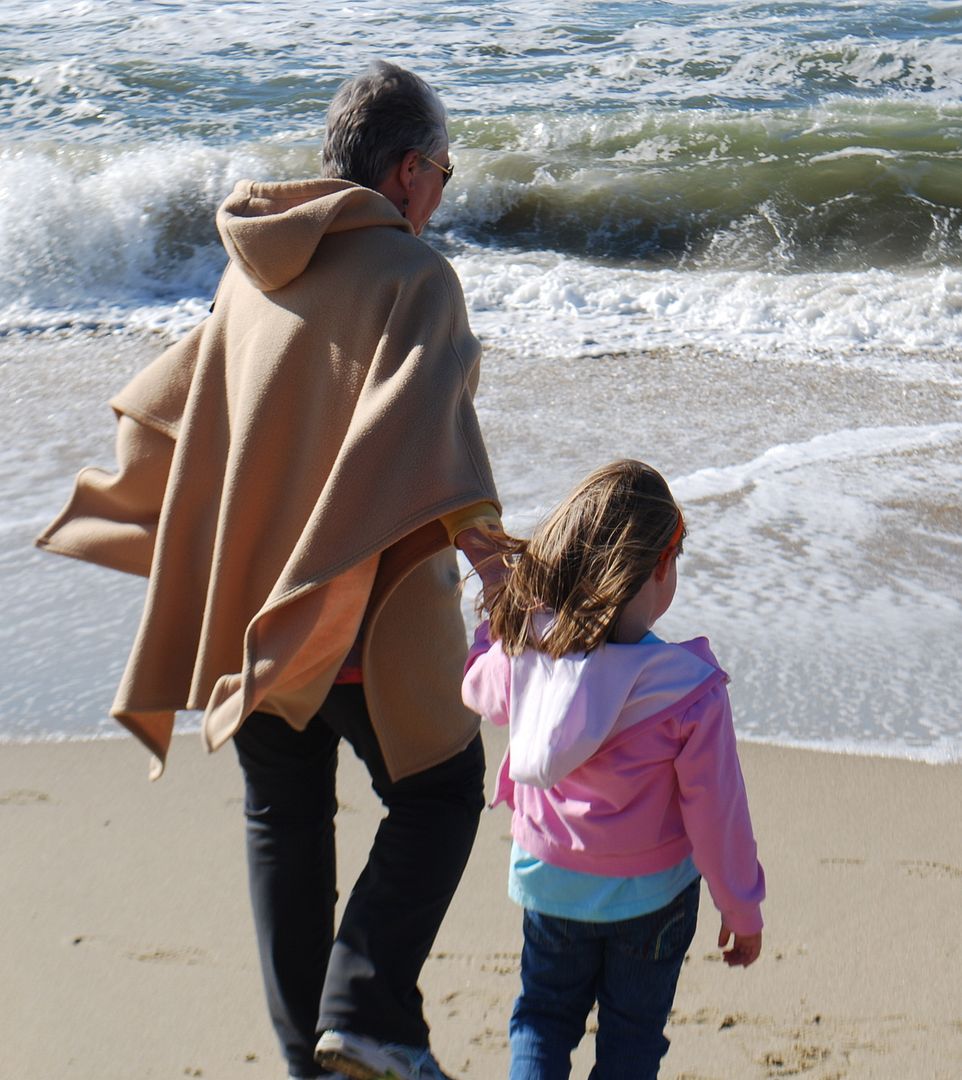 When she finally got the nerve to get a little closer and touch the water...



...she was soooo proud of herself...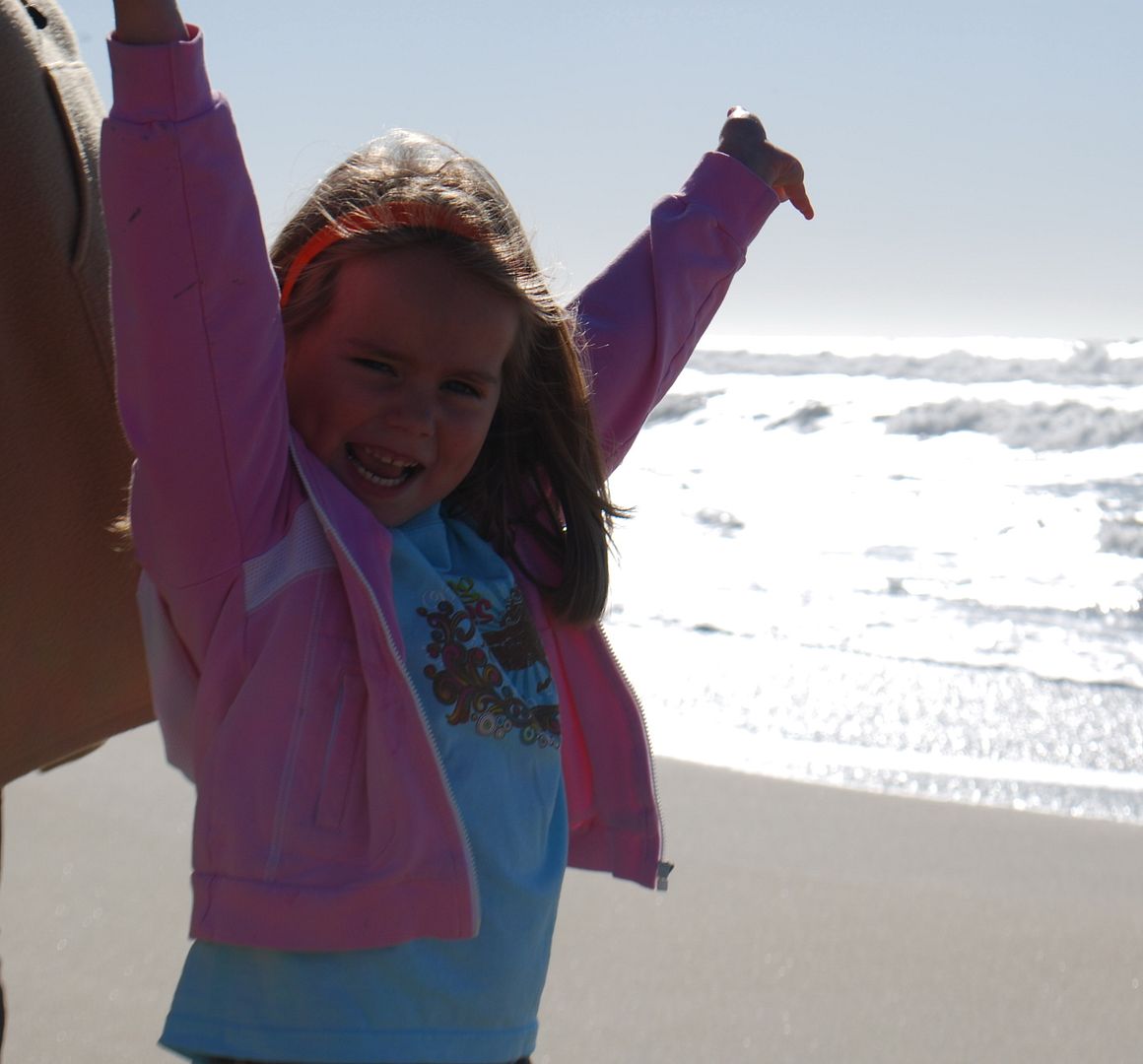 As I said, Lily was a little more adventurous. With each wave, she allowed the water to get a little closer...



Until she miscalculated the speed of one wave and...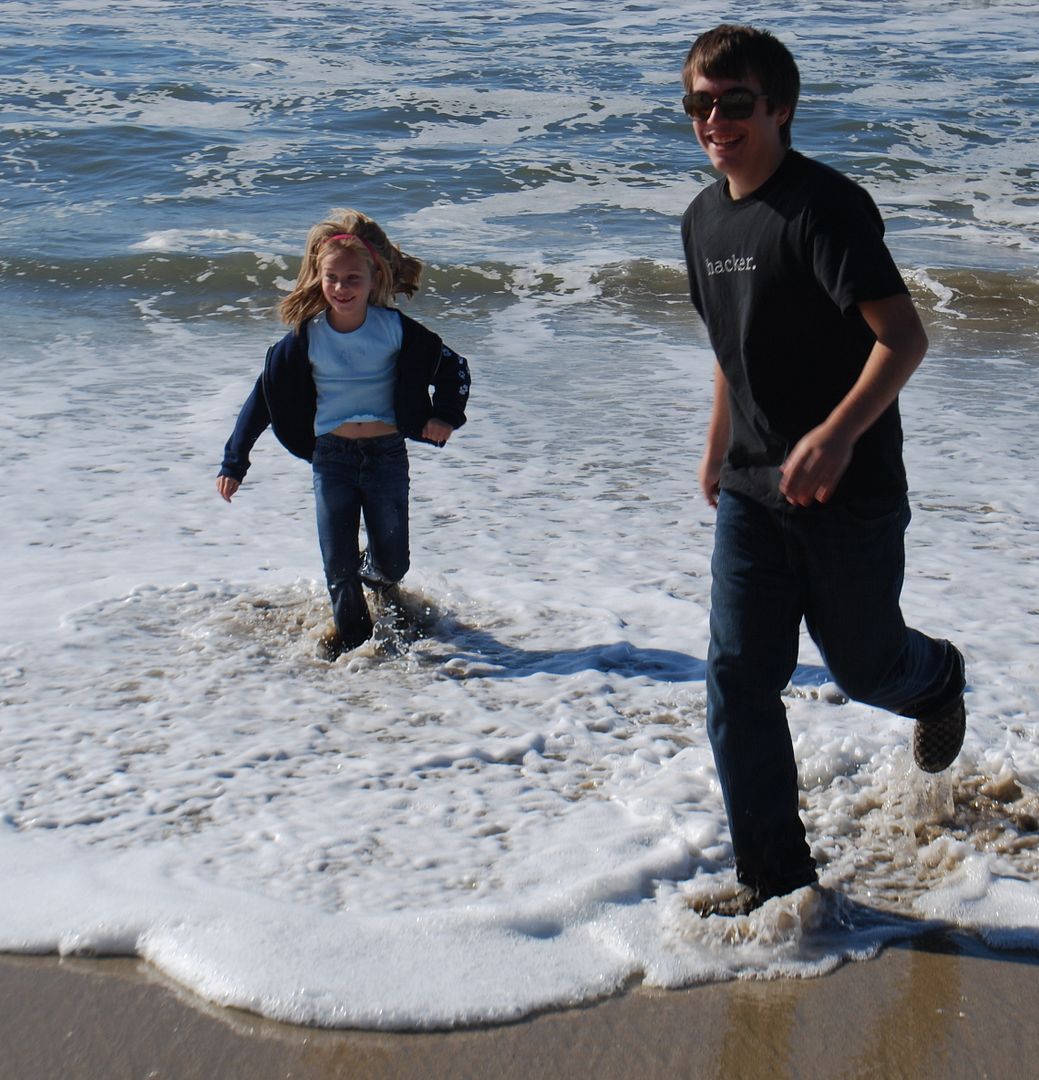 After that, it was complete abandon...



So, how do you think her mom was feeling about her "abandon"???



Yeah, we've all been there, haven't we?

Then it was time to get the family photo. Oops, wait! Zoey's hair is in her eyes...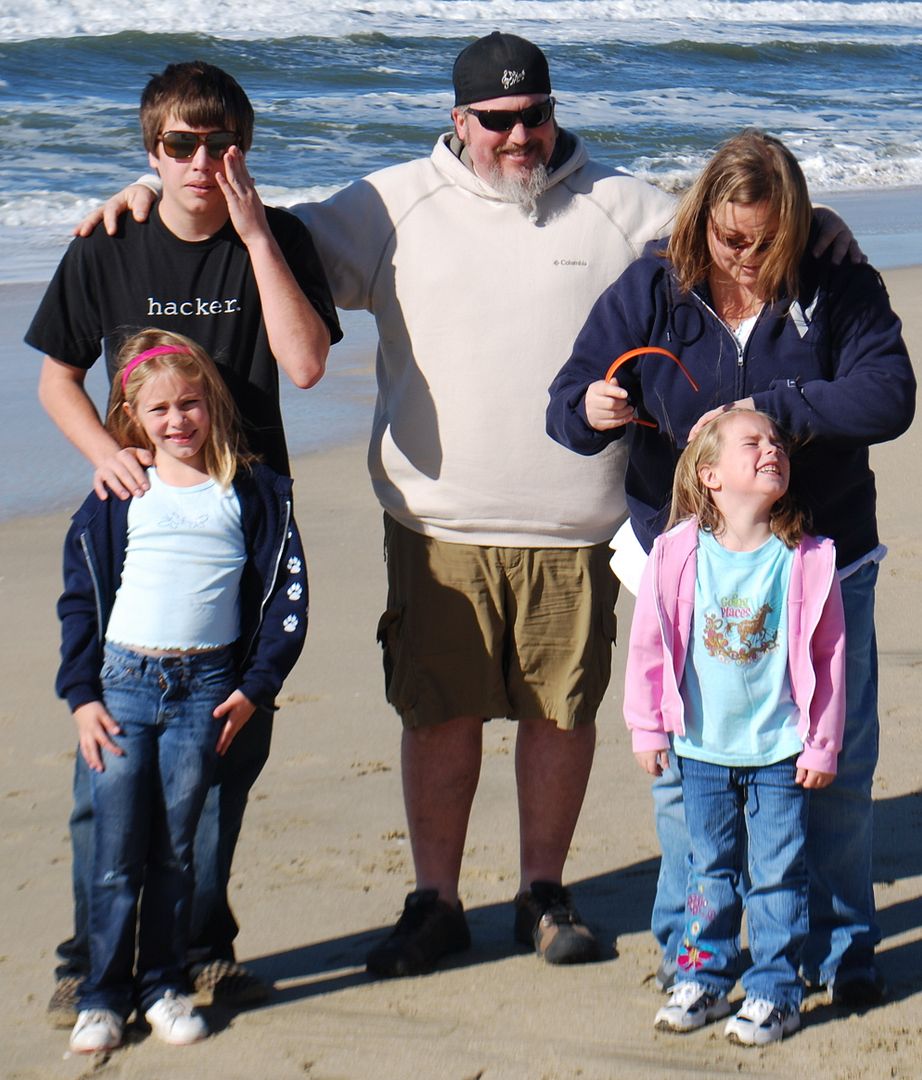 Oops, now her hands are in the way...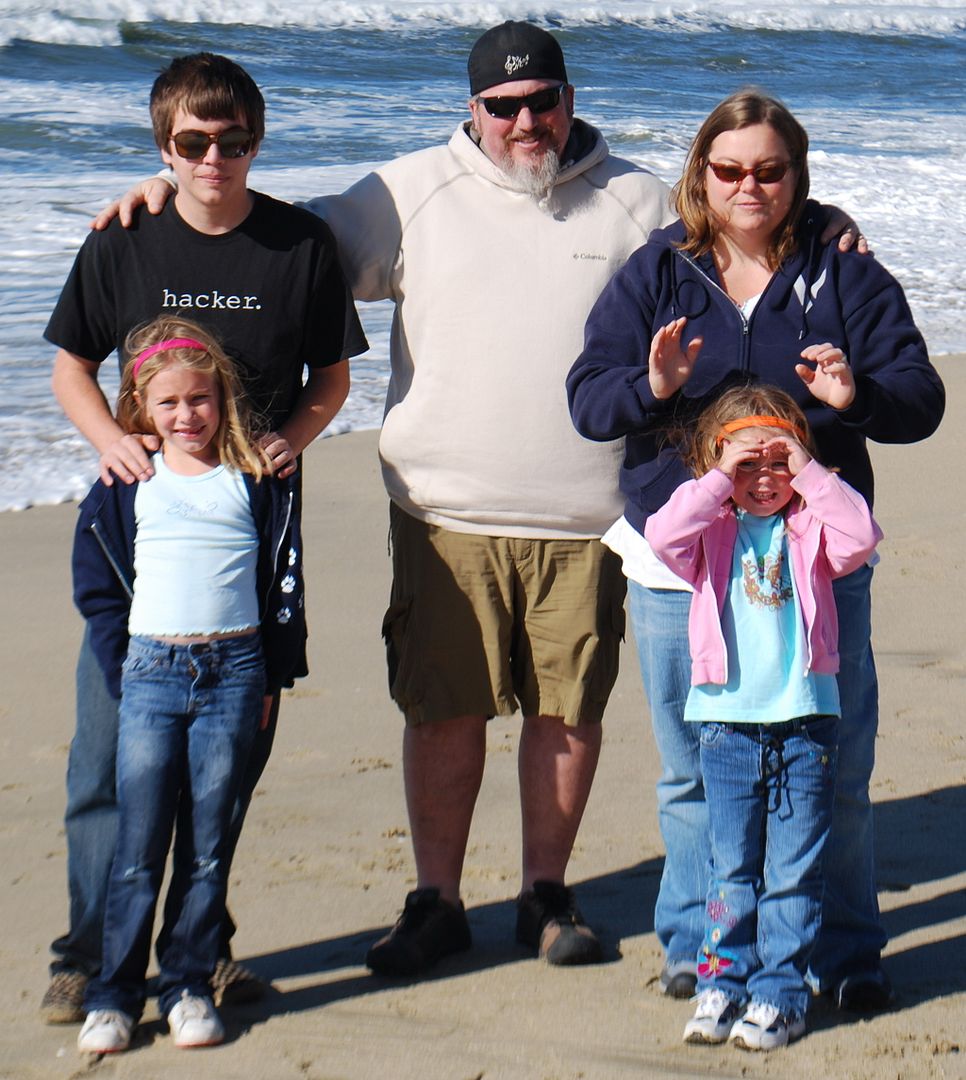 Well, now Zoey's ready, but Lily's not. Oh, well. I guess there's always Photoshop...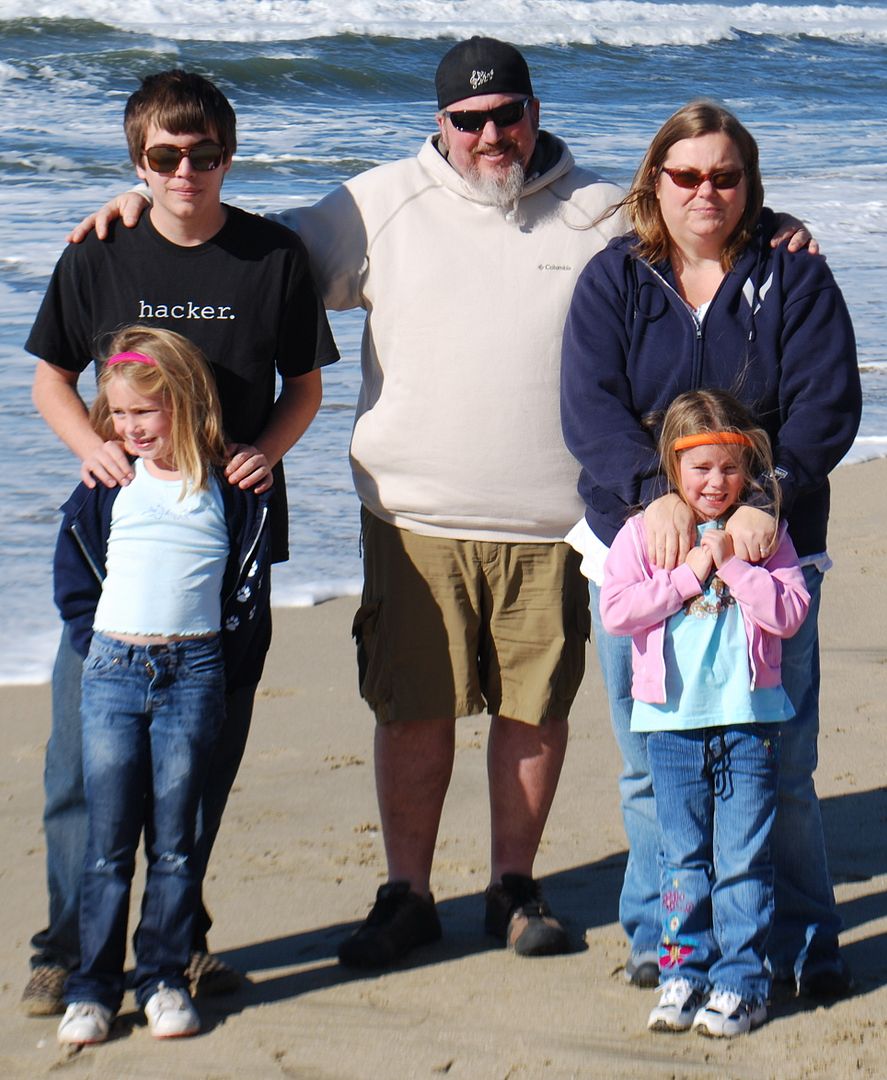 Anyway, didn't I tell you it was great??!! We had a blast, but we had to leave and head out to Fresno for the second half of our vacation to reunite with my Aunt Sally and her daughters (my cousins) Randy, Debbie and Rickey, all of whom I had not seen in about 20 years.

My cousin Rickey and her husband, Robert, generously provided a place for us to stay, opened their home and hosted everything!

As we did at Mike's, mostly we just hung out and talked and laughed about anything and everything. At the end of our first day, Tom and I went with Rickey to feed the horses at the ranch where she boards her three.

This is Rickey's fresian. What a gorgeous animal...the horse...



Robert and Tom loaded hay, oats and something else I can't remember onto a small trailer and drove from stall to stall and corral to corral giving horses specific quantities and grains.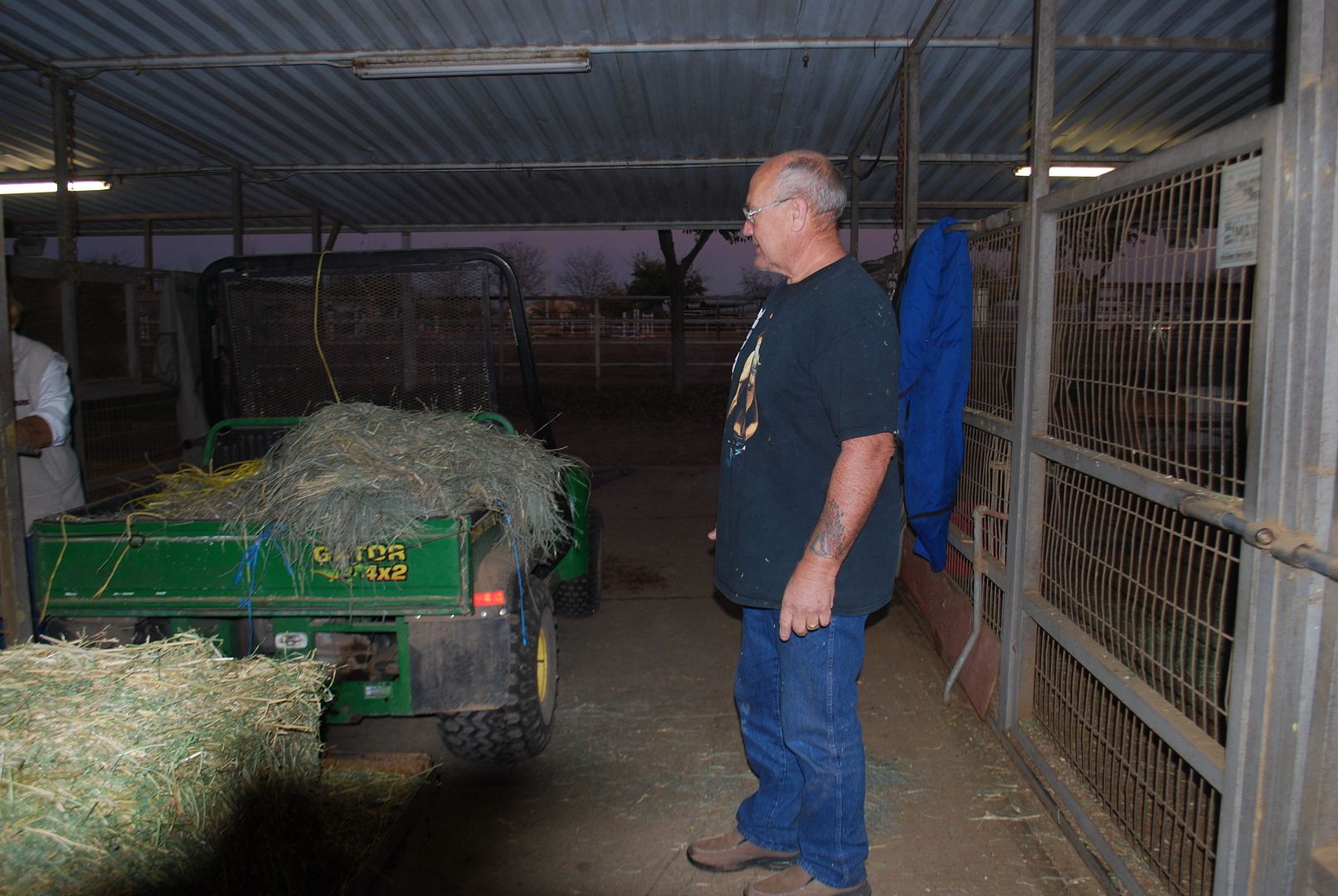 I walked with Rickey behind the hay trailer that Robert and Tom were riding, but my specific job was mostly just staying out of the way and taking photos...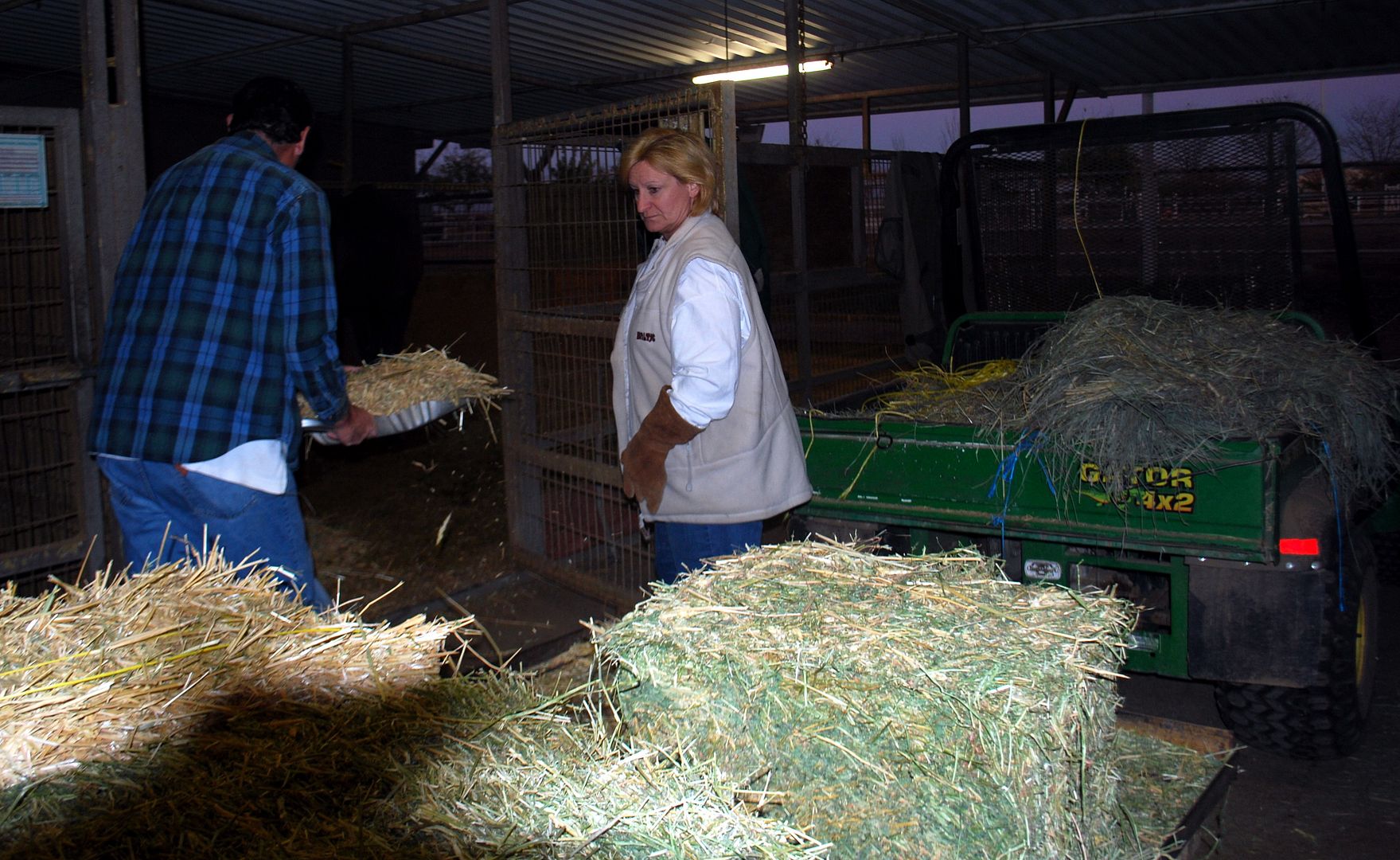 The next day, Rickey invited the whole family over for dinner. And Rickey cooked and cooked and cooked, but Robert deserves honorable mention because he grilled the steaks. Rickey started early with an array of yummy appetizers, but she did not miss the opportunity to make us Arkys feel completely at home by serving okra, a southern staple. Luckily, it was pickled okra. The only kind of okra I will eat.

Anyway, the dinner was amazing. Grilled steaks, truffled mashed potatoes (so incredibly delicious!), fresh steamed asparagus, hot french bread and a spinach dish I would have gladly kept for myself if I could have gotten away with it. It was simple (lightly sauteed spinach topped with toasted pine nuts and shaved parmesan cheese), but so darn tasty!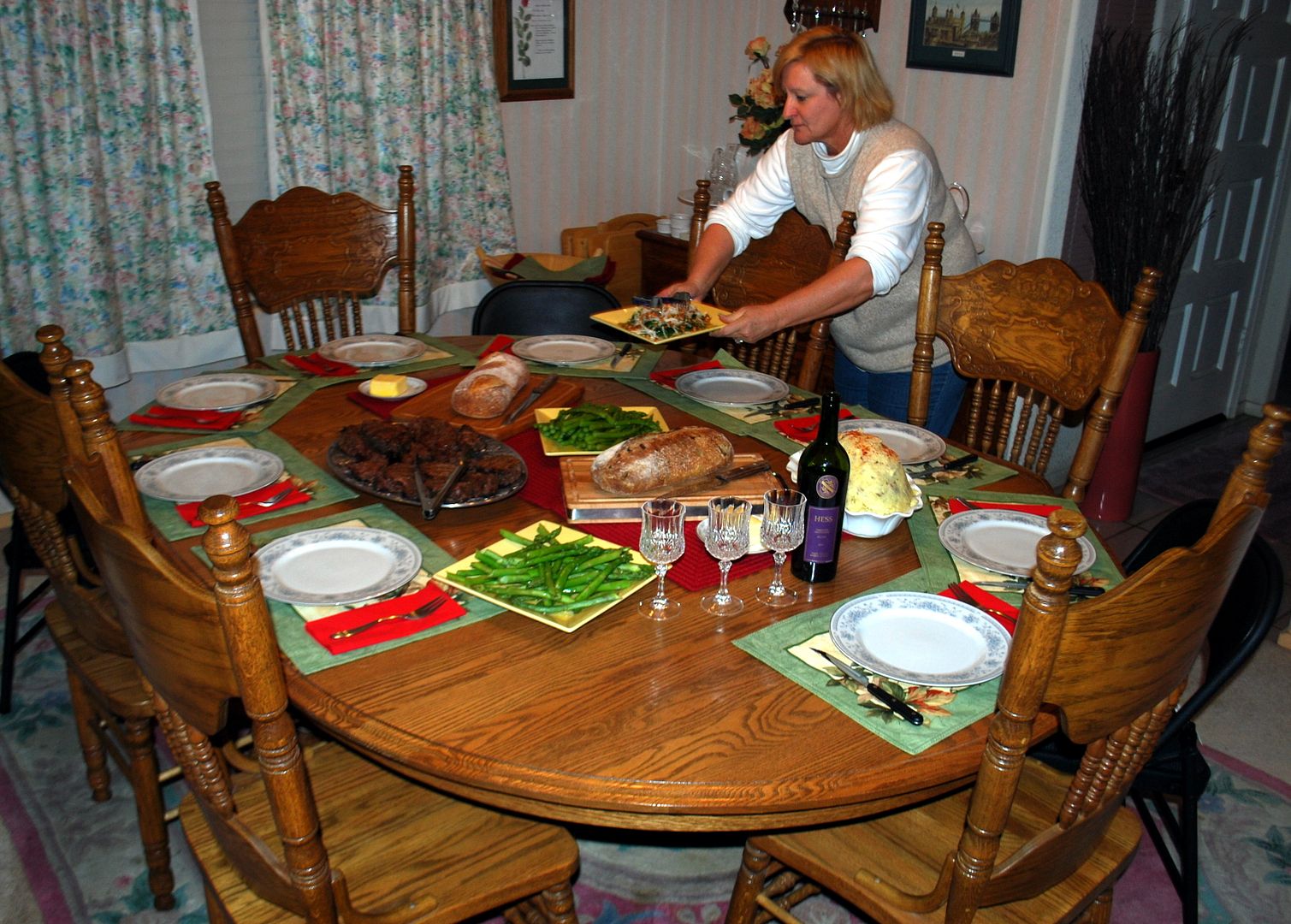 And here we are all together...in one place...at the same time...after 20 years. I can hardly believe it.



The following night, we had another fantastic meal which included a tender and juicy ham, roasted sweet potatoes and a slaw that will become a staple at my house. Instead of using mayonnaise for the dressing, Rickey mixed the cabbage with two or three containers of fruit-flavored low fat yogurt (peach and mango, I think), then she mixed in some roasted pine nuts and whole pomegranate seeds. It was heavenly. I wanted to make it this weekend, but Kroger didn't have pomegranate seeds (oh, that's a surprise!). I suppose I will have to make a trip to Little Rock.

That afternoon before that wonderful dinner, we all went out to Table Mountain Casino, about 15 minutes or so outside of Fresno. Tom was the big winner in our group with almost $1,000, but we all won something and all of us walked away with more money than we took with us.

Except for our visit to the stables and the casino, we essentially just sat around and visited. Even my cousins' kids and grandkids would come and go periodically. It was a whirlwind of people, some of whom I'd known almost my whole life and others I was meeting for the first time.

What struck me with my aunt and cousins is how damn good they all look! Not that I expected them to look bad or anything, but we are aging and they all still look so darn good! My Aunt Sally is almost 80 years old, but does this look like the face of a woman that age???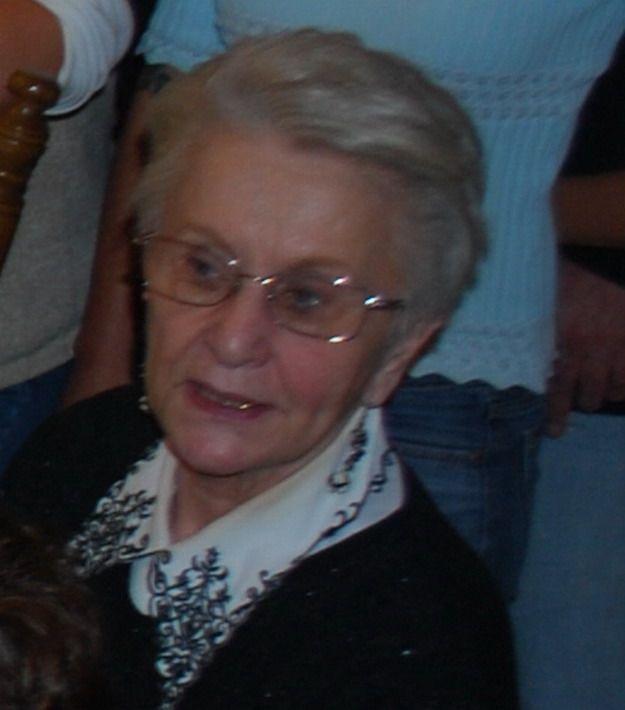 No, it doesn't. And she looks even better in person!

Besides the generous hospitality, the conversations, the laughter, the wonderful meals, the very best part of that visit was experiencing that sense of family...the continuity, the connection, the familiarity, the history. Even though we had not seen each other in so many years, it's still there and I am so grateful for it.