Friday. I don't know why we like it so much. We still have to work. It's still a few more hours until the weekend. But we love us some Friday, don't we. It's all about anticipation and hope. Tomorrow we don't have to work so tomorrow will be awesome. Yes, tomorrow is Saturday, the official first day of the weekend and our anticipation will be rewarded and our hopes for a wonderful day will be realized. This weekend we are hoping to be rain-free. The first in quite a while.

Tomorrow we are planning to go to Little Rock for the Argenta Foodie Festival. Several restaurants will be offering morsels of their usual fare and some of the better establishments have jumped on board. That's a good thing.

Tomorrow night we are going to a local pizza joint, Gusanos, where they mercifully make something that slightly resembles a gourmet pizza (spinach, artichokes, chicken, mozzarella and feta ~ no red sauce!)and will feature a band called Ten Cent Hat. John Michael is a young, 20-something worship leader at our very small church, but he is also a student at a local university and a member of the band. They play some of their own original music, but mostly covers of oldies and southern rock. It will be fun.

But, for today...

Some Things I Love:

1. Tom. Our 41st anniversary is Monday. Freakin' unbelievable! We've spent two thirds of our lives together.

2. That Goldie's new owner sent us a photo of her with their other dog. She looks pretty darn happy, don't you think?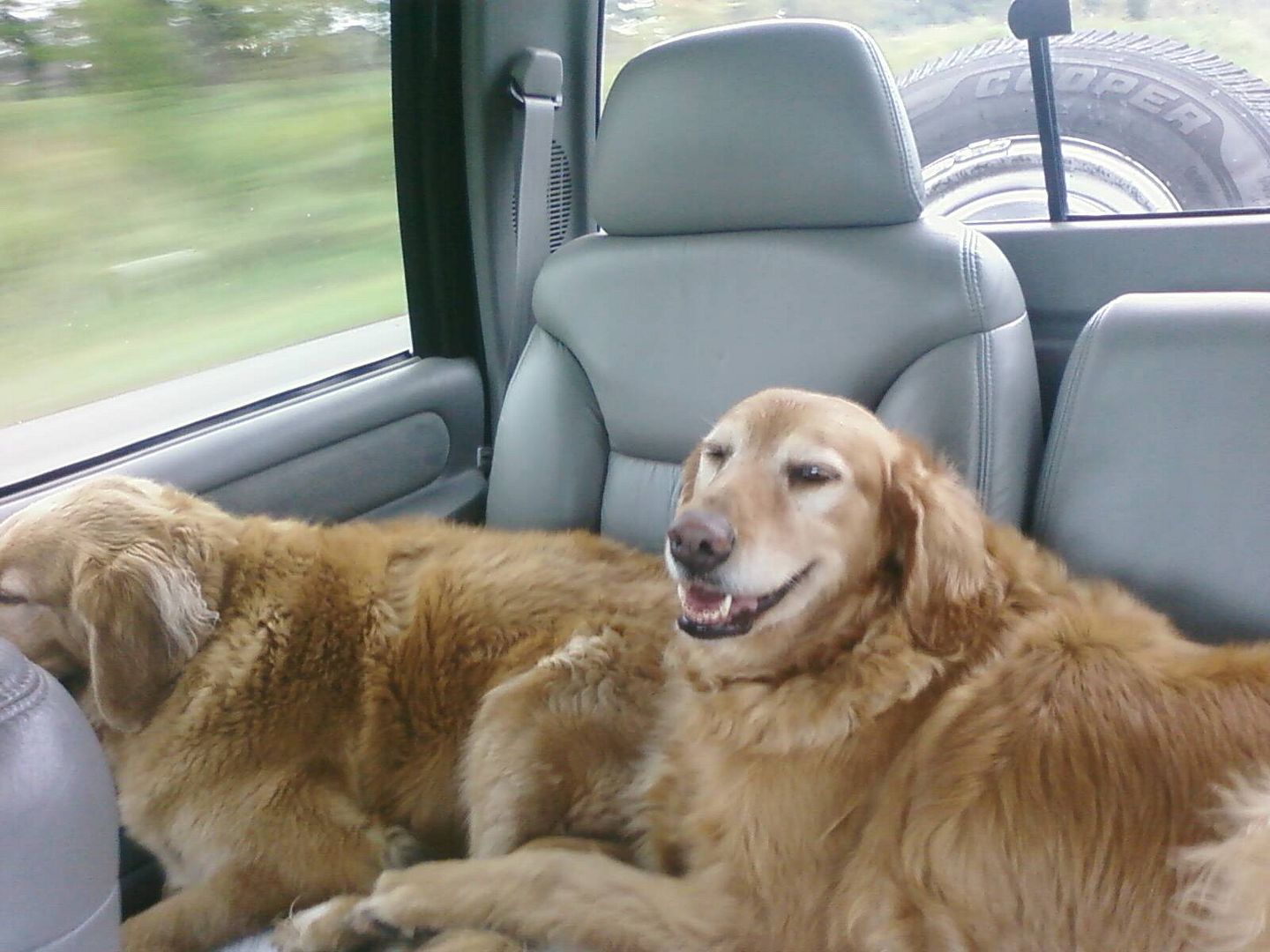 I am certain we made the right decision.

3. I called just in time to get into a Photoshop class! It is now full!

4. We sold our tickets for Wizard of Oz and Cirque Dreams Holidaze. We will be gone for both of those performances, but at least we have a little money in our account to use towards our season tickets next year.

5. Facebook!! I am reconnecting with family and friends I haven't seen in ages. It is like my past and present are converging...in a very good way.

Some Things I Hate:

1. That Tom has to lay off The Kid today. Work has slowed down. I hope work picks up before The Kid finds a new job so Tom can hire him back.

2. Praxis Financial calls every single day! I don't know who they are or why they call, but they call every day at about the same time. We've stopped answering the phone when they call. So this is a message to Praxis Financial: STOP FREAKIN' CALLING ME!!!

3. Having to carry a purse. I really wish I didn't have to carry all that stuff with me. It's more of a nuisance than a convenience. I'd like to just be able to put stuff in my pockets like guys do and have my hands free.

4. Low waisted jeans. I have a pair. Believe me, it's not pretty.

5. Having to use the U.S. Postal Service for anything.

Some Things I Just Don't Get:

1. Why all of those talking head types have to always yell through their monologues. STOP YELLING AT YOUR VIEWERS!! Please.

2. Why Russell is still on Survivor. He's an ignorant pot-bellied pig and must be voted off!

3. A new poll was released yesterday. Hillary Clinton is now more popular than Barack Obama. Now, while this would have thrilled me to no end last year, I am scratching my head. Why do this now? What's the purpose? Wouldn't it be more telling to compare Bush and Obama in a poll?

4. Why kids are allowed to take scissors to school...in fact, required...and they can't take plastic forks or knives for their lunches. Huh???!!

5. I am still dumbfounded by the fact that there are only 55,000 people who live in Conway, but there are 5 McDonalds, two of which have double drive-through lanes, and all of their locations are packed at all hours. You would think this town eats nothing but McDonalds' burgers.

So that's it for the week. Quite enough actually.