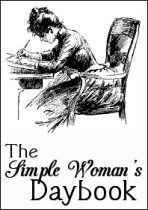 FOR TODAY, MONDAY AUGUST 31, 2009...
Outside my window...
the sun is shining. The high temp today is only supposed to be 81° and yesterday was only 79°. Spring in August. Go figure.
Waiting…
for fall. It's been a horrible summer. I'm ready to move on.
Catching up on…
blogging. I haven't blogged since last week, so I'm posting three blogs today.
I am thinking...
about one of my favorite bloggers, AltadenaHiker. She is posting updates on the southern California fires that rage near her home. I am thinking about her and her neighbors today and hope they remain safe.
I am thankful for...
everything.
From the kitchen...
tonight pan-roasted kielbasa, sauteed cabbage and onions, parsley potatoes. I envy people who can make up a menu for an entire week and make the dishes for the night's they've designated. I just can't seem to stick to it.
I am wearing...
navy blue tights, a long tie-dyed t-shirt and flip-flops.
I am creating...
not much.
I am going...
I've already been. I went to the church first thing this morning to print the newsletter.
I am reading...
nothing except my new cookbook by Rick Bayless.
I am hoping...
our Thanksgiving trip is relaxing and welcoming. I'm looking forward to visiting with my son and his family. I haven't seen my grandkids in nearly two years. And, I'm looking forward to my reunion with my beloved Aunt Sally and my cousins Debbie, Randy and Rickey. I haven't seen my Aunt Sally in nearly 20 years. She was such an important source of love, comfort and support during my childhood and teenage years. I am so glad we are making the time to spend with her and my cousins.
I am remembering…
when I used to enjoy, or at least didn't mind, driving long distances by myself. That is a thing of the past I'm afraid. I don't even like driving long distances when Tom drives.
I am hearing...
our neighbor put his recycle bin away.
Around the house...
it's quiet.
One of my favorite things...
the cool sand of the Florida Gulf Coast beaches.
A few plans for the rest of the week …
I started painting the kitchen cabinets yesterday afternoon, so I'd like to finish up this week and next.
Here is a picture thought I am sharing...
well, okay it's actually two photos. When we were in Savannah, my 16-year old grandson, Jacob, made this Chocolate Oreo Ice Cream Cake for his girlfriend, Hannah. Now, I know it looks a little bit melty, but it was delicious. His mom was using their oven, so he baked the cake in one deeper pan (to fit in the oven in the trailer we rented) and then cut the cake in half horizontally. Then he softened some vanilla ice cream, crushed some Oreo cookies and mixed them together and frosted the cake. Then he sprinkled the cake with more crushed Oreos. It didn't have enough time to really harden the ice cream like he wanted, but it was still delicious. I think I might even give it a try.
To read more Daybook posts or learn how to participate, visit The Simple Woman's Daybook