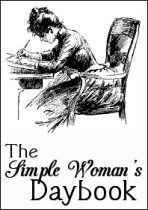 FOR TODAY...
Outside my window...
it's raining.
Waiting…
seems to be what I do most lately.
Catching up on…
laundry. It's a never ending battle.
I am thinking...
that today is not a good day. Tom and I spent the better part of yesterday afternoon and evening arguing. I need to think more and feel less. At the very least, I'd like to just feel a little less.
I am thankful for...
not going crazy.
From the kitchen...
I have no idea. Oddly enough, I have a general food blog and another food blog I do for my local online newspaper and right now I could care less about food.
I am wearing...
an alumni t-shirt, bike shorts and flip-flops.
I am creating...
nothing. I'm not feeling at all creative. I don't feel like sharing. I want to just go inside myself and stay there for awhile.
I am going...
no where.
I am reading...
nothing.
I am hoping...
for very little. I am trying to let go of any expectations.
I am remembering…
what my life was like before.
I am hearing...
thunder.
Around the house...
except for the rain and thunder, it's quiet.
One of my favorite things...
being alone. Sometimes being alone is far better than the alternative.
A few plans for the rest of the week …
I'm not sure. Maybe a few errands. I'd like to make a couple of market bags, too.
Here is a picture thought I am sharing...
When the going gets tough, I just want to go to the beach and feel the sand caress my bare feet and the ocean breeze on my face.
The Simple Woman's Daybook originated with Peggy Hostetler at
The Simple Woman's Daybook
. Peggy is on vacation for the summer.
While Peggy is away
Grandmother Wren
is hosting.