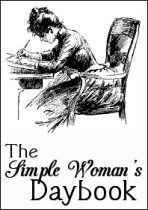 Today we were given the choice of the regular
Simple Woman's Daybook
or
20 Of My Favorite Things

Due to my inability to make a decision, I'm doing both.

I'll start with my Daybook...

FOR TODAY, MONDAY, MAY 4, 2009...

Outside my window...it's cloudy and it's not supposed to rain. I hope not. It rained non-stop all weekend long.

Waiting…for the telephone repair person. Our home line is out...again.

Catching up on…everything.

I am thinking...I'm putting too much pressure on myself to get so much stuff done. I need to just make a list and do one thing at a time and stop trying to do everything at once. I'll drive myself nuts like that!

I am thankful for...Tom's patience.

From the kitchen...after last night's disaster...this Seafood Chowder from Bon Appetit magazine, the 6 tablespoons of green curry paste made it so hot that we threw it away and Tom went out to Shorty Small's for burgers...tonight will be something we know is delicious. Pasta with a white wine clam sauce.

I am wearing... black cotton crop pants, a long sleeve orange and white t-shirt shirt (the big weekend storm brought in cooler temperatures) and yellow and orange flip-flops.

I am creating... a mess! But just for a short time. By the weekend, the extra bedroom should be ready for a new bed cover and valance.

I am going... to stay home today except for driving over to Tucker Creek Trail to begin week 2 of my Couch-2-5K run/walk.

I am reading...nothing right now.

I am hoping...our flip house finally sells. It is in escrow. Tom and a friend of his are going over there tomorrow to repair some things that were discovered in the inspection report. Escrow is supposed to close on the 18th of this month. We'll see.

I am remembering…that my grandson, Jacob's birthday is Thursday and my son, Chris' birthday is Saturday and next week (Thursday) is my daughter-in-law, Kathy's birthday. May is certainly birthday month for our family.

I am hearing...nothing but the hum of my laptop and my fingers on the keys. Not even a bird. I suppose they are all worn out from all the rain, too.

Around the house...it's quiet and I need to dust.

One of my favorite things... is what I'm having for breakfast: cold leftover plain white rice, sugar, cinnamon and milk. I used to eat it for breakfast when I was a kid.

A few plans for the rest of the week …finish painting the extra bedroom, start the new issue of the church newsletter, finish organizing our bedroom closet (which means I have to start throwing some stuff away if I'm going to give Tom more room for his stuff), re-arrange some cabinets in the kitchen to make room for the pots and pans hanging over the kitchen island (we're putting in a light fixture instead).

Here is a picture thought I am sharing... Tom made a "Squirrel Feeder" under the trees in the back yard. Basically, he just hung a bungee cord from the bird feeder pole, put an eye hook on the end of it and uses the screw part of the eye hook to screw into the top of dried corn on the cob. He hung it just high enough so the squirrels can reach the bottom of the corn cob, but to eat from the top of the corn cob, a squirrel has to hang on and lift himself up off the ground with his hind legs dangling. This one isn't at that stage yet...






Now for My 20 Favorite Things!

1. Color: I love the color green, particularly lime green.

2. Dessert: Tom's Creme Brulee!

3. Smell: Honeysuckle. It's growing over my fence in the back of my yard!

4. Flower: Day lillies.

5. Animal: I love my golden retriever, Goldie, but I love cats.

6. Month: July. It's the middle of summer, not much rain, lots of days on the lake. Can't beat it!

7. Beverage: Non-alcoholic - Sparkling water with ice and lemon. Alcoholic - Lemon martini.

8. Pair of shoes: Flip-flops, all kinds!

9. Snack: I don't snack much, but what gives me a little pick-me-up in the afternoon is a drink I make: fill a tall glass with ice; fill to 1/4 full with pomegranate juice; fill to 1/2 full with orange juice; then fill to the top with diet ginger ale. Very refreshing.

10. Song: Right now it's "Rich Woman" by Robert Plant and Allison Krause.

11. Book: A Time to Kill by John Grisham. His first book and I still think his best.

12. Fruit: Oranges

13. Hairstyle: Short, short, short!

14. Piece of clothing: I have three pair of Nike cold weather sweats that I practically live in during the fall and winter. But, I have a sheer, flowing top from Chico's that makes me feel wonderful when I wear it, like I might actually look really good.

15. Store to clothes shop: Chico's!!

16. Season: Summer.

17. Hobby: Cooking, reading, gardening, crochet, counted cross stitch.

18. Thing to collect: Dishware, books, salt & pepper shakers and pepper grinders, recipes, wind chimes and t-shirts.

19. Movie: The one movie I could watch over and over again ~ Love Actually.

20. Restaurant: In Conway, Mike's Place, hands down. Great food, great service. My most favorite place on the planet is Frenchy's on the beach in Clearwater. The Buffalo Shrimp are to die for.
To read more Daybook posts or learn how to participate, visit The Simple Woman's Daybook