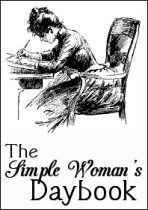 FOR TODAY APRIL 27, 2009...
Outside my window...
it's cloudy with a chance of thunderstorms. Most of the week will be like this.
Waiting…
for the report from the home inspection last Friday.
Catching up on…
organizing the office. Help! I'm drowning!
I am thinking...
about my grandson, Zak's, 18th birthday today. Seems unbelievable.
I am thankful for...
the motivation I felt this morning to actually start my Couch-2-5K again this morning. I don't know how I will do it the rest of the week because it's supposed to rain.
From the kitchen...
pasta with Italian sausage, tomatoes and cream; ceasar salad and I have some very over-ripe bananas I need to use, so I think I'll make a chocolate banana cake.
I am wearing...
my workout clothes from my run/walk, but I took off my running shoes and I'm wearing flip-flops.
I am creating...
a way to finish the cement floor in the newly vacated extra bedroom.
I am going...
to the church to work for a couple of hours this afternoon.
I am reading...
I haven't finished Everyday Sacred, but I also haven't started anything new, either.
I am hoping...
it doesn't rain all next weekend. Next weekend is Toad Suck Daze (an annual street festival here in Conway, Arkansas) and Tom and I are manning our church face-painting booth for 6 hours on Sunday.
I am remembering…
how much my sons loved growing up near the beach. When they were little, we lived about 1/2 hour drive from Santa Cruz in northern California (and lived in Santa Cruz for a short while). When they were pre-teen and teenagers, we moved to Carlsbad (southern California) and lived about 10 minutes from the beach.
I am hearing...
the trash truck pick up the recyclables.
Around the house...
mostly just requires a little pick-up this morning.
One of my favorite things...
is the trail where I do my run/walk. When I go consistently, I see the same people each time and we always smile, nod hello or say good morning.
A few plans for the rest of the week …
Tom's going to scrape the ceiling in the spare bedroom this evening. I'm going to paint the walls and ceiling and figure out what to do about the floor. I also need to do some posts on my food blog.
Here is a picture thought I am sharing...
To read more Daybook posts or learn how to participate, visit The Simple Woman's Daybook