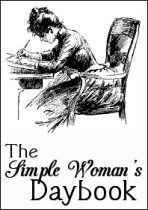 FOR TODAY APRIL 20, 2009 ...
Outside my window...
after a weekend of heavy rain and thunderstorms, the sun is shining and we are headed for a wonderful warming trend. It should be in the low 80's by the end of the week and over the weekend. Hooray! Hooray!
Waiting…
for Karen to start getting organized and pack for her move to Arizona. Tom and I have decided to completely re-do the room after she leaves on Wednesday or Thursday: scrape the popcorn texture from the ceiling, paint the walls and remove the leftover carpet from the closet. I first thought I would wash the oak bed frame with a white stain, but I'm also toying with the idea to doing a crackle finish.
Catching up on…
bookkeeping today.
I am thinking...
about a phone call I just got from Tom. He was listening to NPR and heard about a group people who have organized to rid schools of dodgeball (because kids feel targeted and humiliated), musical chairs (because the kids who don't get a chair feel like losers), jump rope with ropes (they want "pretend" jump rope because the ropes are too dangerous) and tag without touch (because of the chance of inappropriate touch). One of the guests on the program called the movement "The Wussification of America." I would have to agree.
I am thankful for...
our pastor, Tammy, and all of the very complicated, interesting discussions we have when I am supposed to be working at the church.
From the kitchen...
boy, I haven't given it much thought this morning. I don't know what we will have for dinner. I made WAAYYYY too much orzo pasta salad yesterday, so whatever we have, we will be having orzo pasta salad with it. I also found a recipe for a "lite" chocolate cake. I might make that today.
I am wearing...
a white sweat shirt, green cotton pants and flip flops.
I am creating...
ideas for the room Karen will leave vacant.
I am reading...
Everyday Sacred by Sue Bender. I'm having a hard time getting through it. It's rather disjointed. I may just set it aside and move on to the new book I bought last week, The Friday Night Knitting Club by Kate Jacobs.
I am hoping...
to finish the church newsletter this afternoon so I can print it tomorrow. I'm a little ahead of schedule, so I'm not feeling any pressure at all.
I am remembering…
how energetic I used to feel when I was younger. I'd like to still feel like that.
I am hearing...
the birds singing outside, the hum of my laptop, and my fingers clicking on the keys.
Around the house...
it's quiet. That's all, just quiet.
One of my favorite things...
is feeling rested when I get up in the morning. That's how I feel this morning.
A few plans for the rest of the week …
get the church newsletter ready for mailing, buy four different colors of paint for my Adirondack chairs, buy lobster tails for Karen's farewell dinner, start back painting the trim Tom has already installed.
Here is a picture thought I am sharing...
but this isn't the one...

This is our dog, Goldie. She is a 7-year-old Golden Retriever, but we've only owned her for a year. Her previous owner used her as a breeder female and Goldie was bred and had puppies every single heat cycle since she was just under a year old. She spent every minute of every day in a kennel, with little or no human contact or interaction, except when she was fed and her puppies removed. The only vaccinations she got was rabies, because that's the minimum state standard in order to sell her puppies. Her nails were probably an inch long (and we're still trying to cut them back every week so that the quick recedes and we can get them to a reasonable length), she has what our veterinarian calls "flat feet" because she hardly ever walked and probably never ran (her paws don't have the arched toes like other dogs), her coat was filthy because I suspect she hadn't been bathed in years (it took three baths here at home plus a final bath at the vet's to finally get her clean) and she tested positive for deadly heart worm (which was $1,500 and three months worth of poisonous treatment). Goldie cowered from everything, including our presence. It has taken a year for her to feel comfortable just walking around the yard and lying anywhere else besides on the patio, curled up in a ball with her back against the house. We noticed when we planted the garden last Saturday (tomatoes, zucchini, basil, lavender, parsley and dill) that she had been lying in the hay that we used as garden ground cover over the winter. Sunday morning after it stopped raining, Tom and I took a walk over to the garden to make sure the new plants had fared alright in the pouring rain. As we approach the edge of the garden, Tom called Goldie over to his side, but rather than obey she decided to be a little playful. She ran passed him, into the garden and laid down in front of him...on top of the newly planted basil. So... the picture thought I am sharing today...VOILA! Fenced garden...
To read more Daybook posts or learn how to participate, visit The Simple Woman's Daybook