I have mentioned this before, but I love Carl Jung's work. It speaks to me.

This particular quote caught my eye because I had company over the weekend. My cousin, Rickey, and her husband, Robert, came to Arkansas to visit their friends, Mike and Jill, who live about an hour and a half from us and they all drove down for dinner Saturday.

First, let me get the mundane part off my chest. My dinner sucked! I made Pork Osso Bucco and it turned out like pork and tomato soup. It was runny...really runny. I did everything I could to thicken it up. I simmered it extensively. It just overcooked the pork. I added a beurre manié (equal parts butter and flour mixed together). Nothing. It didn't help. Just pork and tomato soup over parmesan grits. My guests were very kind, but I was still mortified. Thank you for just letting me vent.

Now, how long had it been since Rickey and I had seen or talked to each other? 20 years; maybe more. She hasn't changed. I would have been able to recognize her anywhere. Robert...well, probably not. We met their friends, Mike and Jill, for the first time Saturday, but by the end of the evening, I felt like we could be friends, too.

I had a great time. Rickey and Bob are so funny. Bob tells a joke about as good as anyone I've ever heard. We didn't really attempt to catch up. That would have been an impossibility. How can you pack 20+ years into a few hours? Not happening. So we just moved forward and talked and ate and laughed about our similarities and differences. Oh, my God, you ARE related, was the mantra of the evening. We talked and laughed about our families, spouses, travels, jobs, homes, hobbies, obsessions and our dogs.

So, is the quote I chose for this post becoming somewhat obvious? I think the layperson's ~ or this layperson's ~ interpretation of the quote is that nothing ever leaves you. Everything you have experienced or felt stays with you and never changes. Listening to Rickey merely speak, I heard my Aunt Sally's voice. It was uncanny. The sound of her voice brought back all those years in Fresno when I spent so much time at their house as a child and pre-teen before my parents moved us to northern California.

I think you can do as much psychological, emotional and spiritual work as you want, but no matter how hard you try, those childhood, teenage and adult thoughts and feelings stay the same as when you experienced them. They never go away. The only difference is how we deal or cope with them when they come up.

On a non-introspective note, Tom's parents came over yesterday for Super Bowl Sunday. Tom's dad is a hard-core Steelers fan, so we had to invite them over to watch the game on the big screen.

Now, Tom's parents live in a retirement apartment community here in town with about 100 other people in their 70's, 80's and 90's. Most old people I know (and, shut up, I'm not speaking from my own personal experience) are pretty set in their ways and have very specific favorites, be it food or sports. Apparently, the Superbowl game had been the favored topic of conversation all week long. So, as my in-laws arrived, through hugs and kisses hello, Tom's mom said the Steelers had to win.

His Mom: If they don't win we are in trouble.

Me: What do you mean? Why would you be in trouble?

His Mom: Because we've been talking about it all week and wearing our Steelers sweat shirts.

Me: You mean you've been gloating.

His Mom: (Smiling sheepishly)Yeah. We've been gloating.

Well, they left after the half-time show (which I personally thought really, really stunk)to watch the second half of the game at home, but I can assure you, without any hesitation whatsoever, that they arrived in the community dining room for breakfast this morning wearing their Steelers sweatshirts and waving their yellow Steelers towel and gloating some more!

Enough of the weekend. It's time to begin a new week with my occasional Daybook…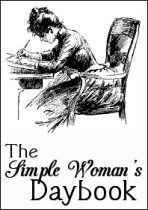 FOR TODAY, FEBRUARY 2, 2009...

Outside my window...the sun is shining. It should be in the low 50's today, colder the next couple of days, then warming up to the mid- to upper 60's again later in the week and for the weekend. Can you say "Barbecue"?

Waiting...for spring; to sell the flip; for a decent stimulus package to be proposed that won't put us deeper in debt than we already are; for green grass and leaves on the trees.

Catching up on...blogging. I have seriously neglected both of my blogs and I'd like to spend more time writing. I've missed it.

I am thinking...about my son, Mike.

I am thankful for...for my job, even if it is boring.

From the kitchen...leftovers tonight for dinner. We have the pork mess and parmesan grits from Saturday night; tomato, basil and cheese croustades; kielbasa mini-rueben sandwiches; rumaki and I think a little Chocolate Oreo Cake for dessert.

I am wearing...pajamas (white with purple, blue and green snowflakes) and slippers. I've decided to be a little lazy this morning.

I am creating...very little lately.

I am going...to take a shower, go pick up dry cleaning and do laundry. I don't work on Mondays, so I catch up on chores and errands.

I am reading...this is so embarrassing...Letter to My Daughter by Maya Angelou. I still haven't finished it. My problem is that I keep going back and reading previous lessons, rather than reading it all the way through and then going back.

I am hoping...both of my sons find work soon.

I am remembering...how special my Aunt Sally and Uncle Don are to me. I grew up with two very angry, emotionally and physically abusive parents. The love and kindness and care I received from my aunt and uncle helped me to understand that the world outside my immediate family was not like what I was living inside my immediate family. Those were precious, life-long gifts for a growing child.

I am hearing...Goldie snore. She is laying on the floor behind my chair, sound asleep.

Around the house...it's quiet. Karen is still asleep and so are her animals. No tv, nothing. Just the clicking of my fingers on the keyboard and Goldie snoring. A very rare moment that I am relishing.

One of my favorite things...is the orange flavored coffee we get from Fresh Market. I just love that coffee. I am sipping it as I write.

Recently...Tom has asked me not to read or respond to any emails from Mike. He wants to read them first, then tell me about them. He feels the need to intervene because he thinks we both are reading things into each other's words. He's probably right.

A few plans for the near future...I'm going to start walking the trail again. I have a small bag in which I will put my running shoes, socks, sweats and iPod and I will take the bag to work with me. When I finish work, I will change my clothes before I leave and stop at Tucker Creek Trail and walk ~ or walk/run. I have to do something to work off some of this energy. Beyond that, I would like to put the final coats of finish on the cross Tom made for our church. After that, I want to start painting the house again.

Plans to focus on...it is hard to focus on any plans outside what we are already doing. We don't know what the economy will be like and whether Tom will continue to work as he is now. He's been extremely fortunate. He's slowed down some, but not like many others who are out of work completely. I am a little concerned about my job. The "Big Boss" (the man who oversees all five of the physical therapy clinics in Arkansas) is not happy about our numbers ~ the number of referrals and patients we see. We only saw about 35 people last week. The target number is 60. We are not even close and we haven't been close for quite awhile. Will they close our clinic or will they find another physical therapist to run it? I haven't been with the company long enough to know what they would do, if anything. So, I suppose we are planning for the worst; just saving as much as we possibly can; cutting back where we can.

Here is a picture thought I am sharing...Can you tell I am ready for shorts, t-shirts and flip-flops?


Based on The Simple Woman's Daybook