I was going through my hall closet over the weekend, and when I say "My", that is exactly what I mean.

As you might recall, we moved from a large house in the country to a house about half the size right smack dab in the middle of town. I bought our bedroom furniture for a bedroom twice the size of our current one. There's room to walk around the bed, dressers and side cabinets....but barely. Our bathroom, which we have remodeled, is about one-third the size of our former one. And the closet....oh boy, do I miss my big closet, which was about the size of our middle bedroom, maybe even a little bigger, lined with aromatic cedar and configured with plenty of poles, shelves and a whole bank of wire baskets.

The former closet was full. I was working then and I had a clothes budget which consisted basically of "if I saw something I liked, I bought it." It seems rather excessive when I look back on it now, but my rationale was that I needed clothes for work (dresses, slacks, blouses, blazers, etc.), clothes for leisure (jeans, sweats, shirts and blouses, dresses, etc.), clothes for farm and yard work for three distinct seasons. Then there's the shoes, bags, jewelry rack...yada, yada, yada.

When our current, much smaller house was built over 20 years ago, I don't think the former owner thought a lot about closet space. Our master closet is about 6 feet wide and 3 feet deep. To call it a "walk-in" would be exceedingly generous. Tom had to completely reconfigure the poles and shelves to get maybe a third of our clothing in it and we pretty much rotate stuff each season.

The left side of our closet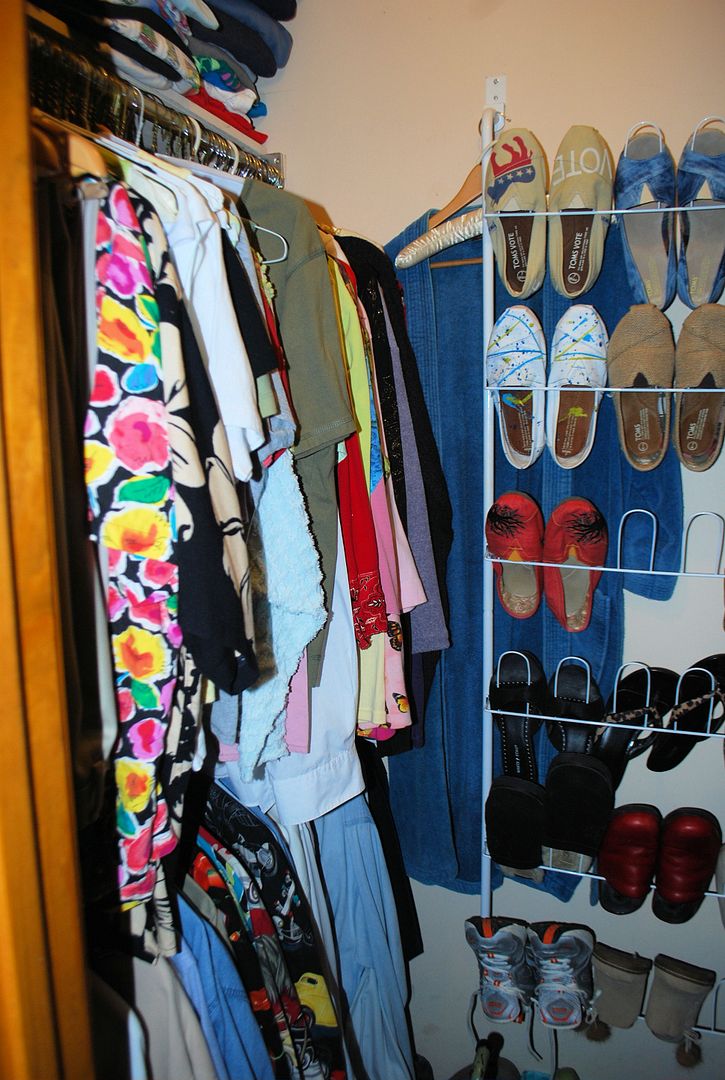 The right side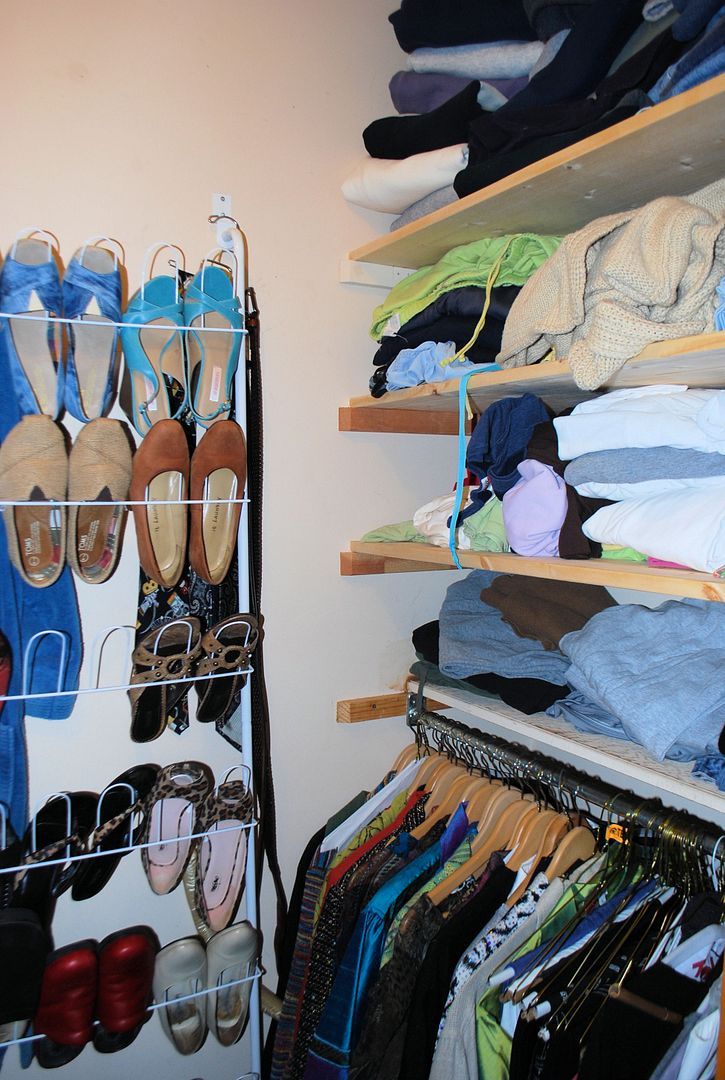 The center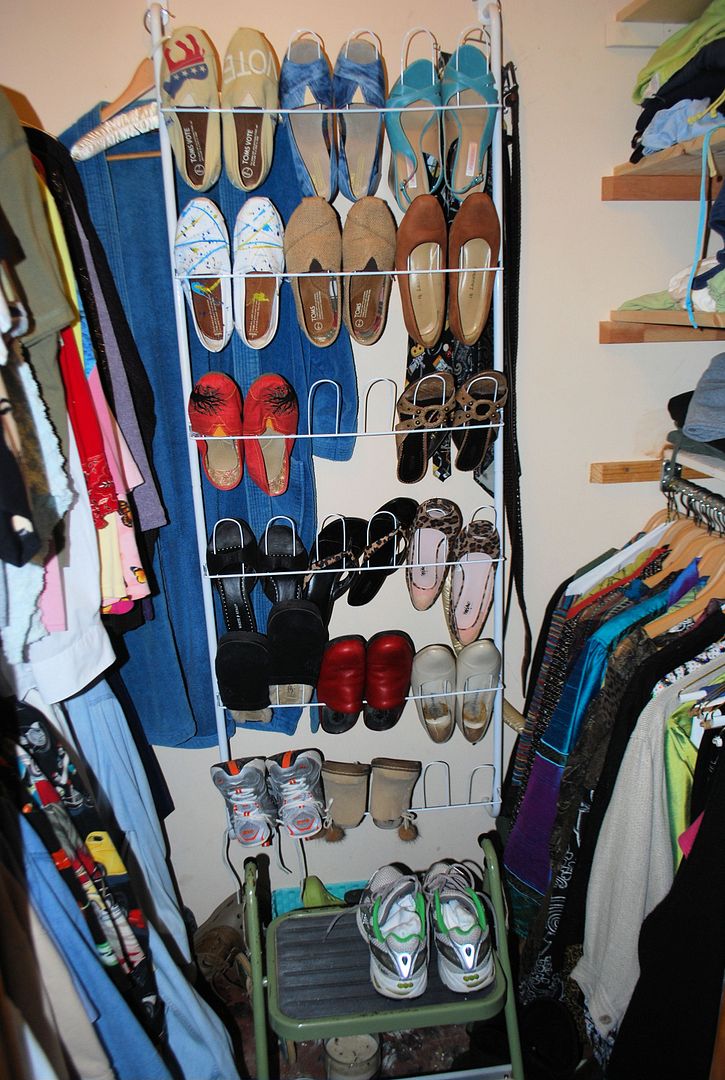 If you are guessing that all of those shoes on the back wall are mine, you would be correct. You would also be correct if you said Terri uses two poles and Tom uses one.
The coat closet in the entryway is filled to capacity with coats, jackets and scarves. The shelf above the closet pole is crammed with some of my purses.
The deep closet in the hallway is filled to brim with mostly my stuff: dresses, suits, pant suits, blazers, sweaters, more t-shirts than I will ever wear in two lifetimes, shoes and more purses, among other things.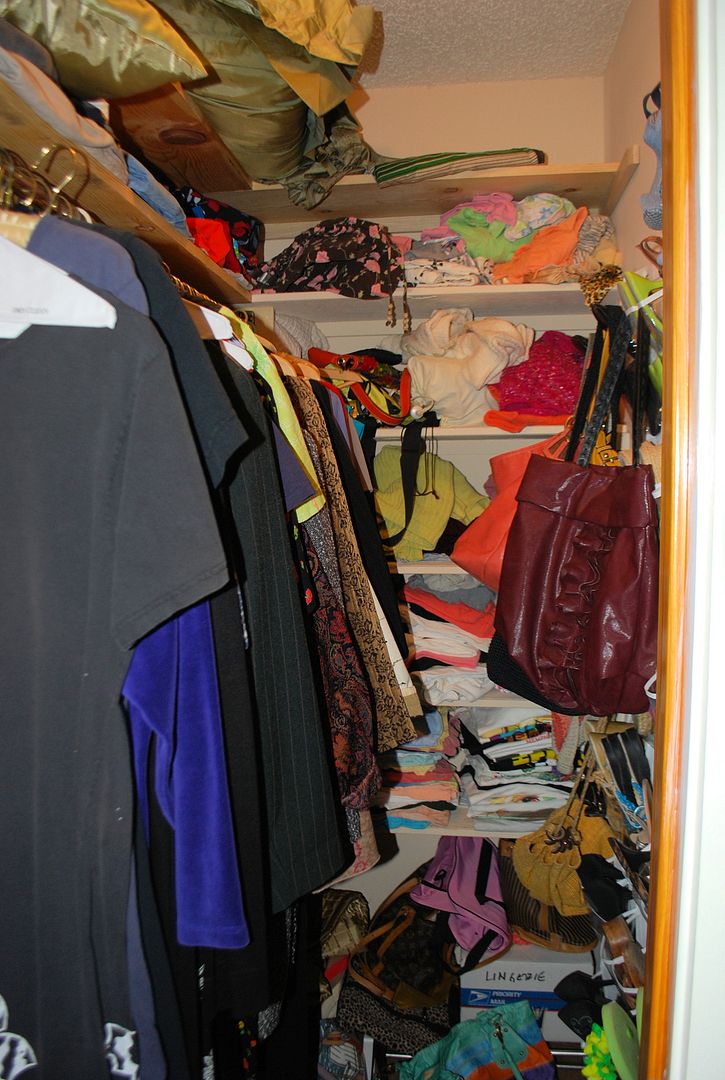 And on the back of that closet door is a jewelry rack where I hang most of my necklaces and small evening bags.
This weekend, I started pulling stuff together to donate to the Clothes Closet and set it down in the den. This is what I pulled so far...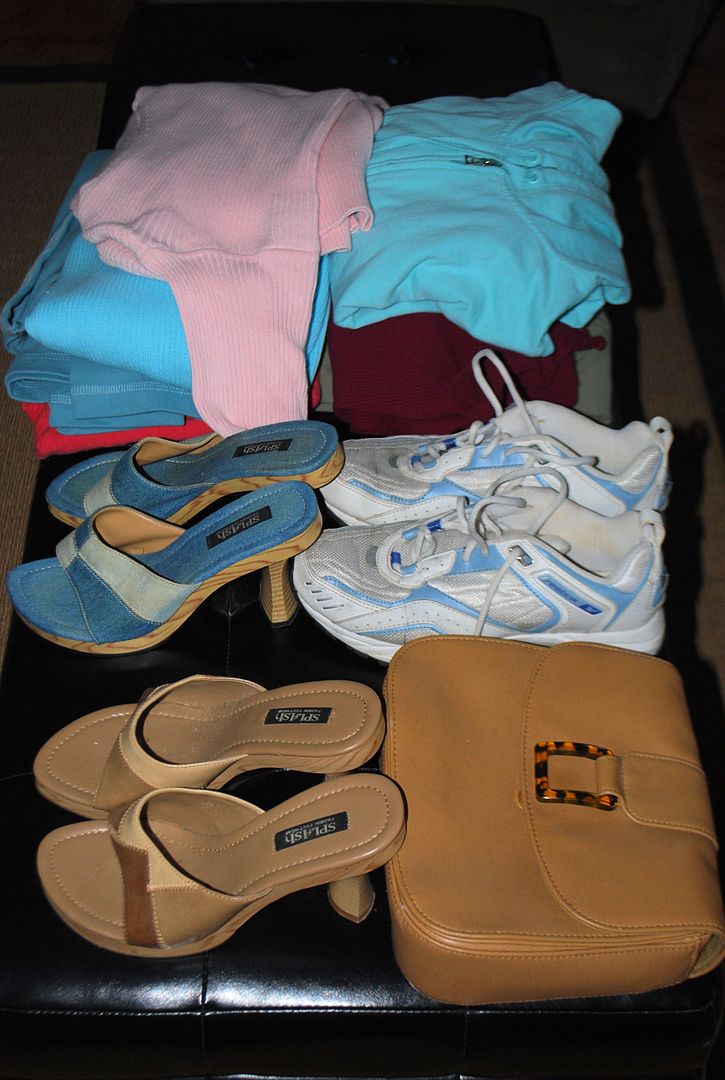 Now, I've posted those photos of my closets for a reason.
Sunday afternoon Tom said, "Hey, hon, what's all this stuff?"
"It's stuff I pulled out of the closets to donate to the Clothes Closet."
"Really? Is that all?" He was obviously not impressed with the stack.
I shrugged and told him I just did it in a few minutes and mentioned that the stack did, after all, contain shoes and a purse (which I NEVER give away because I'm basically a shoe/purse hoarder).
Later, before dinner, while we sat sipping our glasses of wine, Tom said, "How about if you do a 30-day giveaway."
"Meaning?"
"You donate at least one item every day for 30-days."
I quickly said yes, no problem, but I have learned something about myself. I'm generous with my time, my support, my hugs, my love, my energy...all sorts of intangible things....but not so generous with my stuff, even if it's outdated or doesn't fit.
You see, I started thinking,
Well, okay, this bunch of clothing I already put together is day one.
But I knew that is not what Tom meant. He really meant for me to donate the pile of stuff I had already pulled together, then start the 30-days. But I was already manipulating and rationalizing in order to reduce the number of items.
A challenge? Indeed. It's going to be like pulling my fingernails out. But in a good way.