Tom has been feeling every single day of his 66 years for the last month or so. Maybe it's the constant noise from the construction behind us that has him so stressed that he doesn't sleep well. Maybe it's just his age and he's experiencing his diminishing capabilities. Maybe it's just these last two years of the economic downturn and the financial stress it has brought to our household. Maybe it's all three.

Our visit to Chris and Kelly's a couple of months ago didn't help. It just made Tom want to move to Florida even more than he did before.

Now, when something cool is happening down on Anna Maria Island, Chris sends photos or a short text to remind Tom what we are missing. The beach at sunset, fresh fish for dinner every single day if desired, shorts and a t-shirt as the uniform of the day, STONE CRAB SEASON!!!!, a dip in the pool when it's warm, palm trees, sand between our toes, warm Gulf waters and wonderful community activities, such as Bayfest 2011 on Anna Maria Island last weekend.

Bayfest on the beach featured a classic car show, arts and crafts, great food, bike riding, entertainment and an awesome sunset at the end of each day. Tom was hoping Chris and Kelly would send lots of pictures so he could, as I told my daughter-in-law, "feel completely jealous and beat himself up for not being there to enjoy the entire weekend on the beach. Perhaps you could provide just a photo or two so he could at least beat his head against the computer screen? I'd hate to see him so completely disappointed."

Sadly, Kelly was working and didn't get off until just about dark, but she did let me know that a photo of Chris and my granddaughter Hagan were in the local newspaper, a great shot of him in a Jelly Belly costume at the Grand Opening of his friend's new candy store on Anna Maria Island.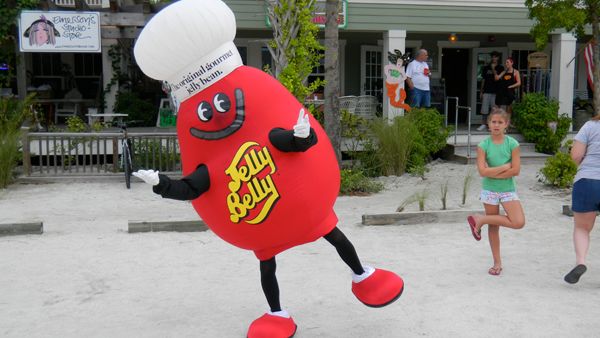 Source: The Islander
Being the kind and always thoughtful person that I am, when I found the article about Bayfest I immediately posted the link on Tom's Facebook wall with the note:
"Yay for Kelly! She alerted me to a photo of Chris (as the Jelly Belly) and Hagan standing behind him in the Islander (Anna Maria) newspaper in an article about Bayfest. Also some photos of the cars and sunset. Begin banging head. ☺"
When he came home for lunch, I didn't notice right away. He bent down and petted Joe, then bent over and gave me a kiss
(notice the priority there)
, then walked over to the kitchen sink to wash his hands.
Finally as he stood at the end of the kitchen island getting ready to make his sandwich, I noticed two large band-aids on his forehead. Not that Tom is accident prone or anything, but he runs into the ends of long pieces of lumber a lot. In a rather chiding tone, I asked,
"What did you do to your head now?"
"It's from banging my head,"
he replied with a grin, and pulled the the band-aids off of his forehead to reveal perfectly uninjured skin.
I hadn't laughed that hard in over a week.