Nothing has changed really. I still live in the same house. I still hear construction and construction equipment every single day. There are days when I can cope, but there are other days when I finish the day in tears.

If I could move tomorrow, I would. I've been looking at the housing market in our area and it's not too bad considering the beating everyone else has taken in this economy. We could probably sell our house for a decent price, but with all the debt we've accumulated in the last three years because of the lack of work, it's just not feasible right now. In the meantime, we just grit our teeth and try to make our living conditions better.

We bought this house as a fixer-upper and fixing-upping we are, albeit a very little bit at a time. Have I mentioned that I'm sick of remodeling? I'm sick of sanding, scraping, painting, grouting...all of it. But we have more to do and we add projects almost monthly. Now we are considering enlarging our bedroom closet by cutting into the office closet and framing in the door on the office side to make it a wall. Huge, dirty, dusty and extremely inconvenient project.

Anyway, when we moved in five years ago, we started on the kitchen and dining room, which has been a work in progress until just recently when we finally had some painters in to finish painting as a trade for Tom's precious Audi convertible ~ which has finally met it's permanent death, but that's another story.

The kitchen started out as a closed-in, u-shaped room and we wanted to open it up into a kitchen/dining room. This is the wall that had to go...



And go, it did...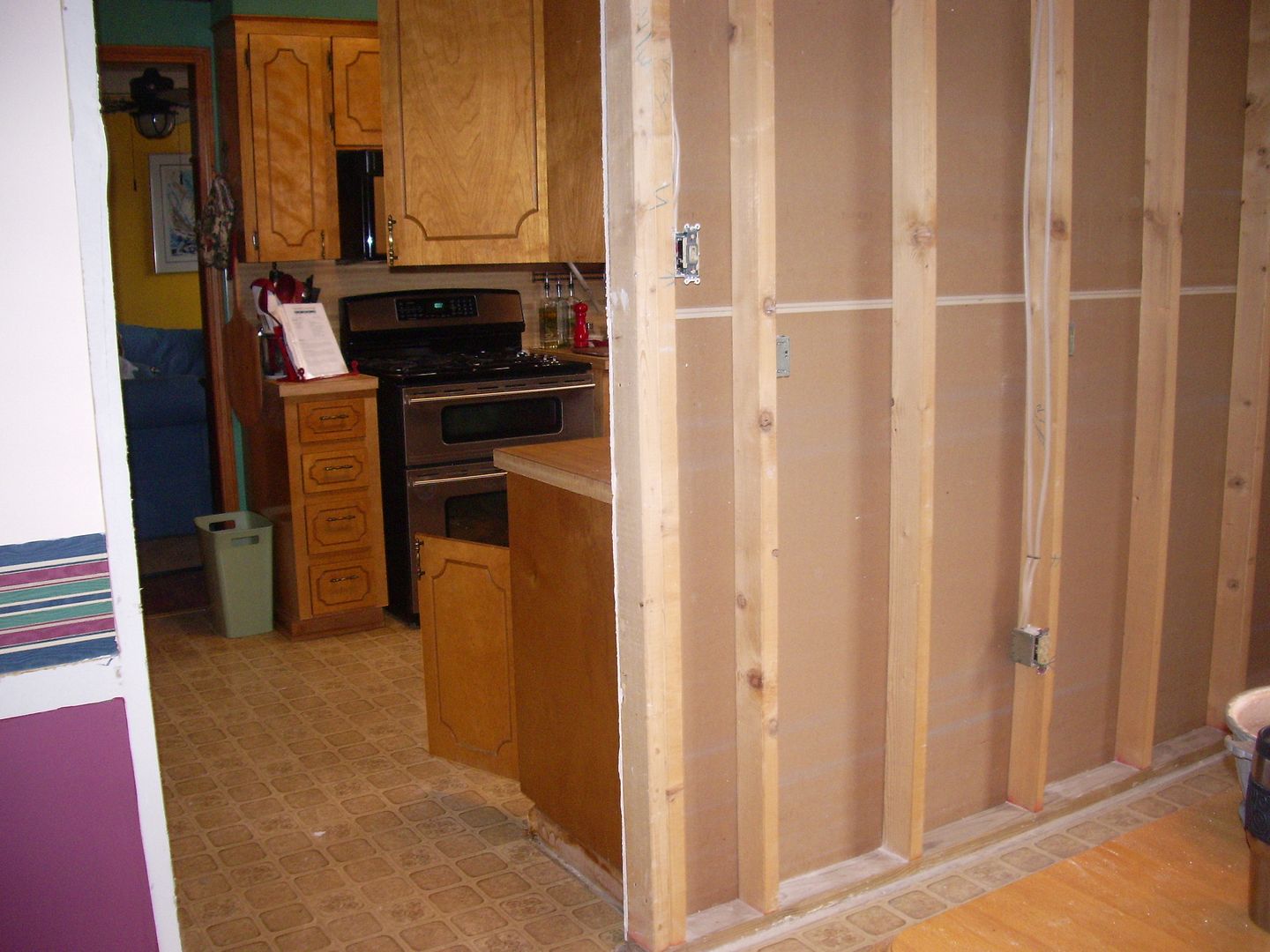 Until it was gone...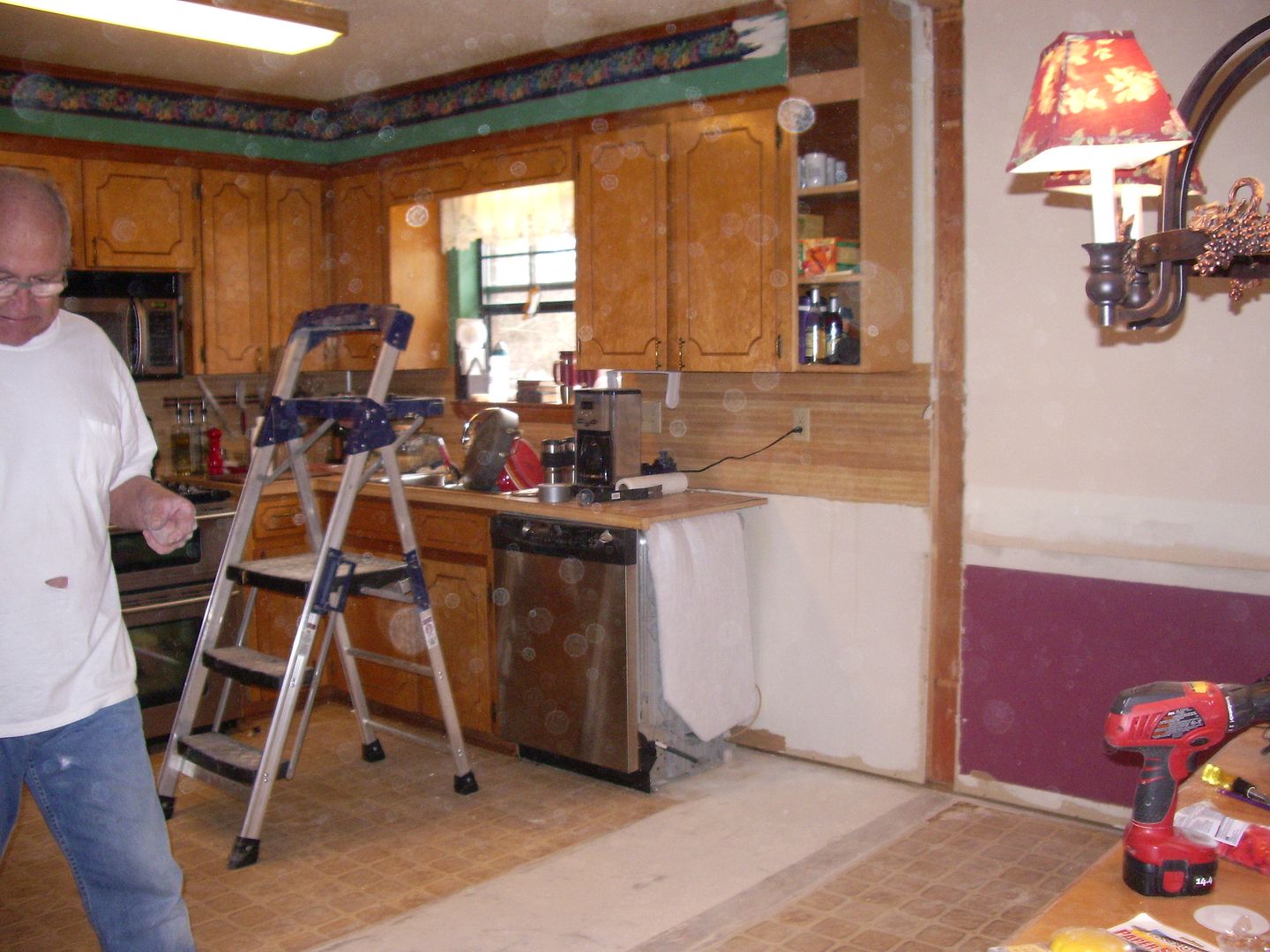 Tom reused some of the cabinets by extending countertop and cabinets further into the dining room...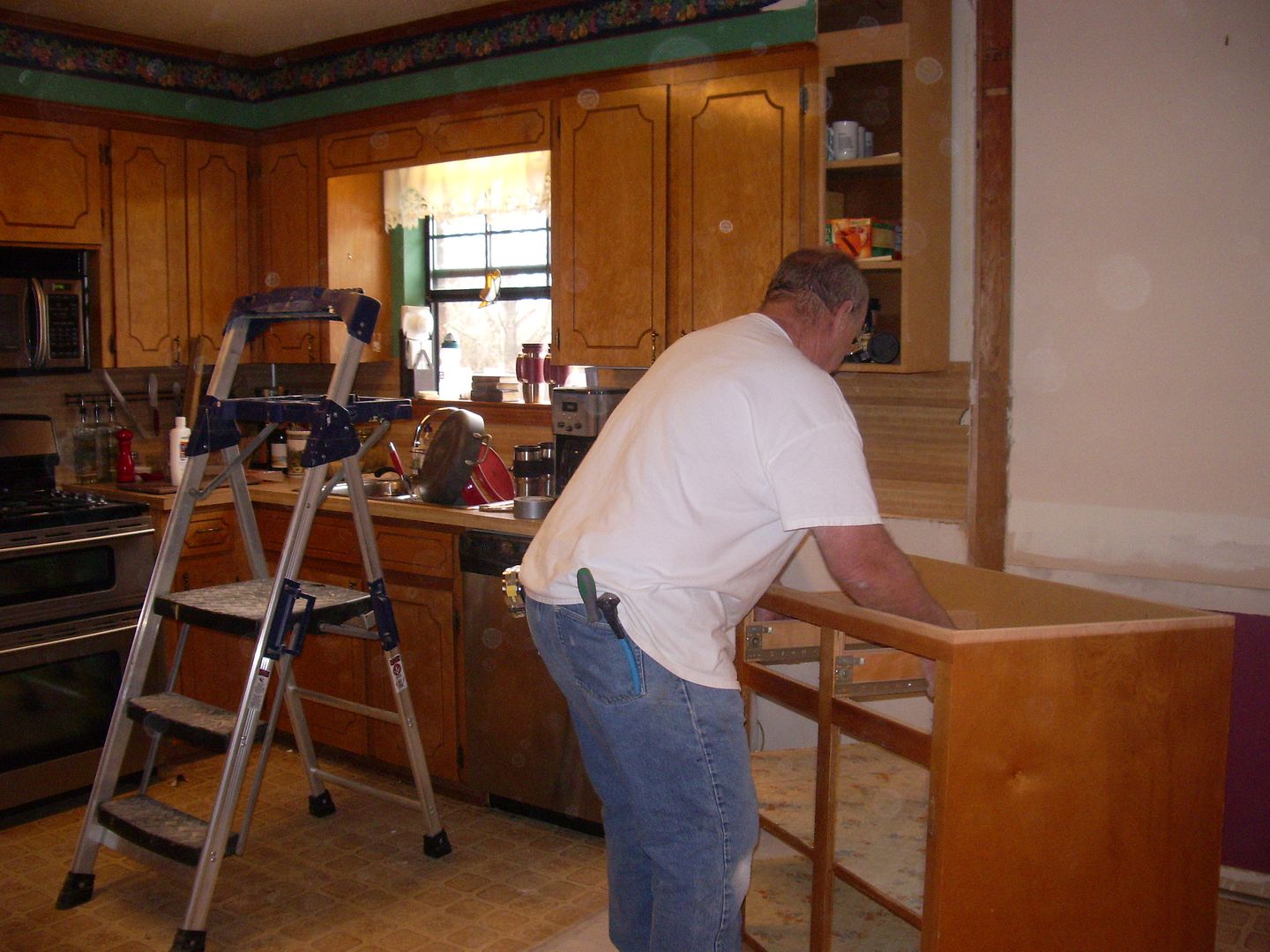 Then he built hood-like features over the sink and new stove, constructed the island with huge drawers for storage on one side and a space for seating on the other, then he laid ceramic tile. After we had the marble countertops installed, we have this...
...the extended cabinet...



...and the island...




..and the dining room went from this...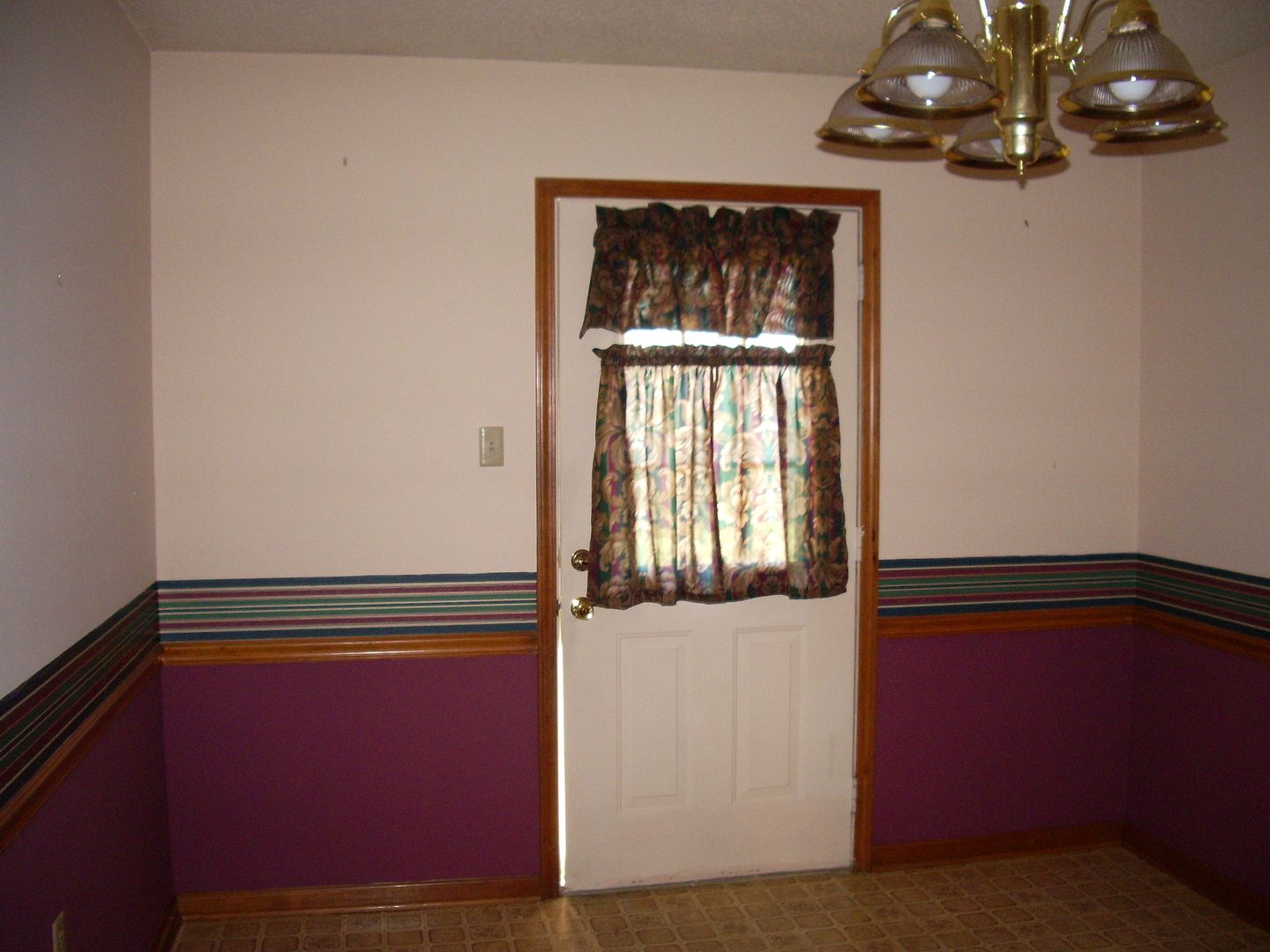 to this...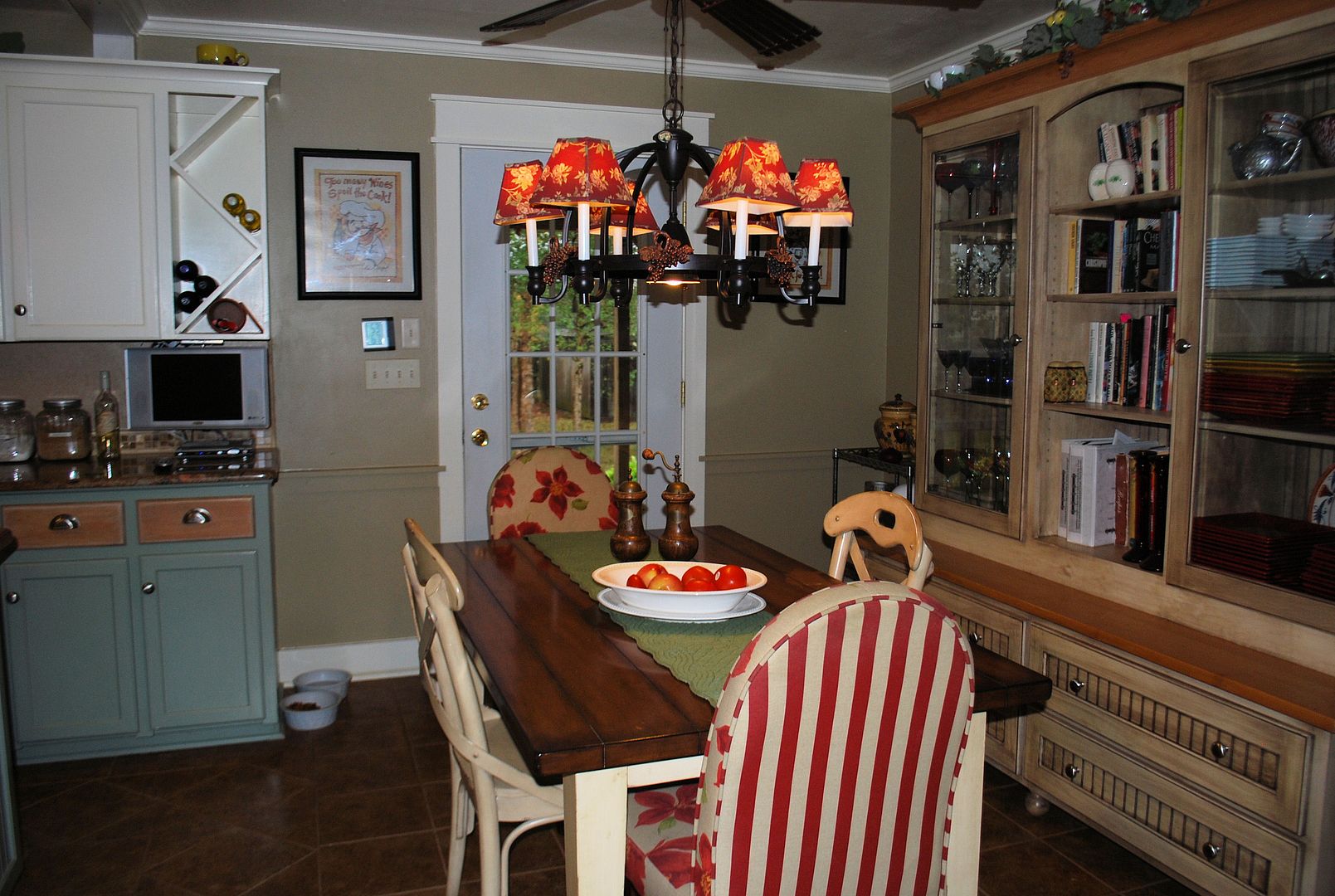 Then we did the guest bath. We started with this: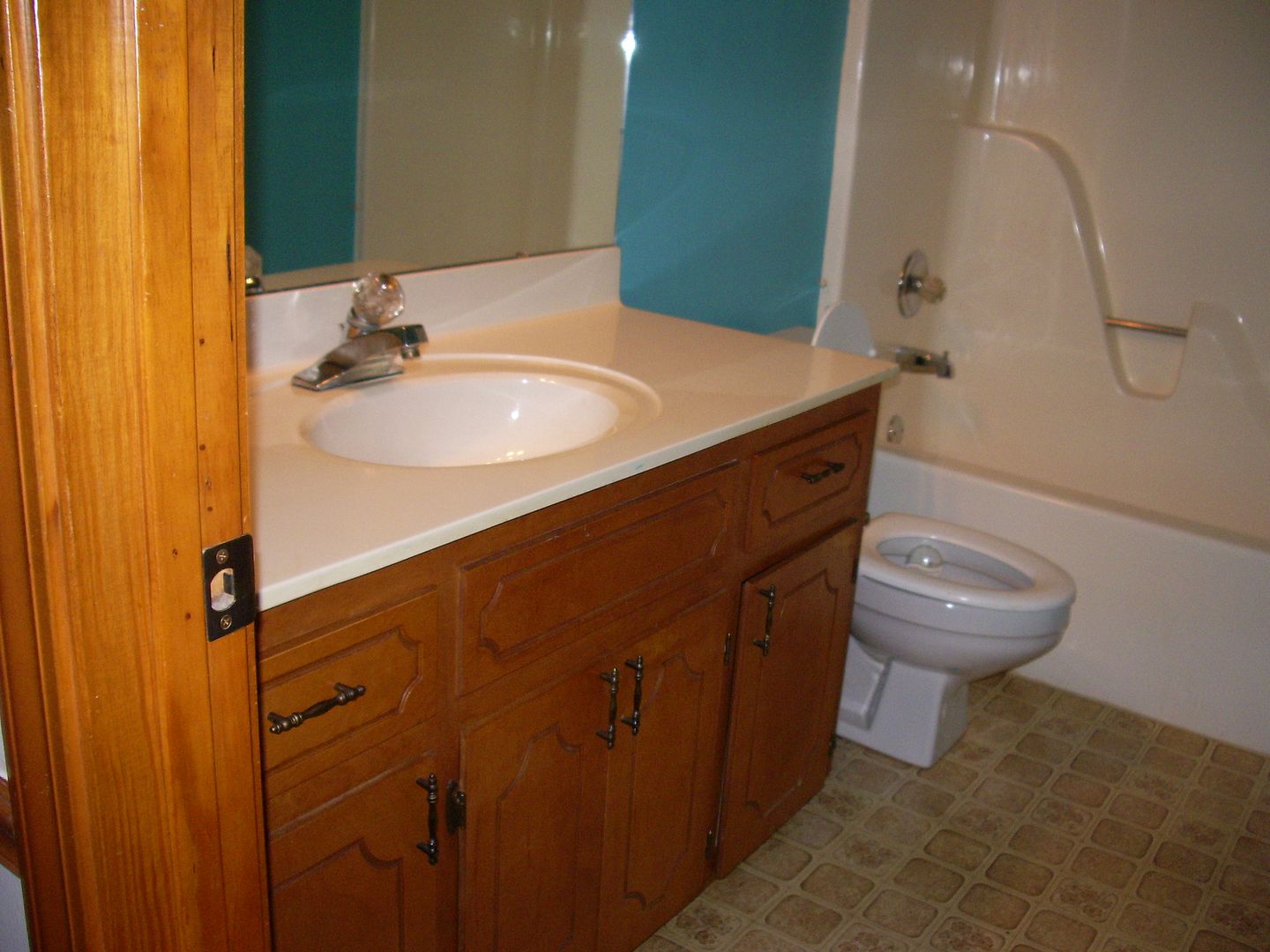 Notice the lovely, bright turquoise color on the walls and the equally lovely southwestern style wallpaper border just below the ceiling...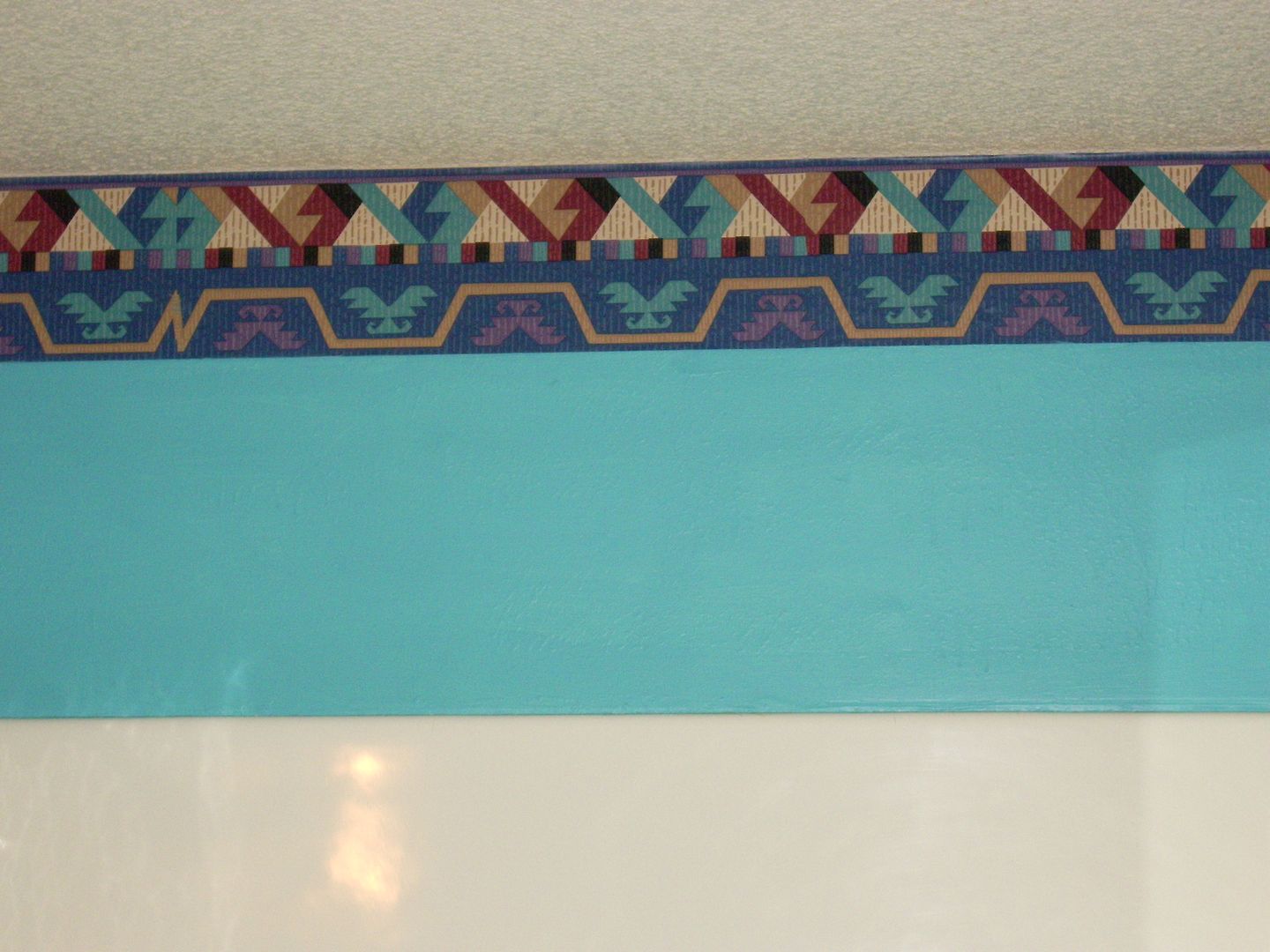 Unfortunately, I wasn't a fan, so we ripped out the existing cabinet and sink, painted, installed a new free-standing cabinet and sink and laid more ceramic tile. Much better.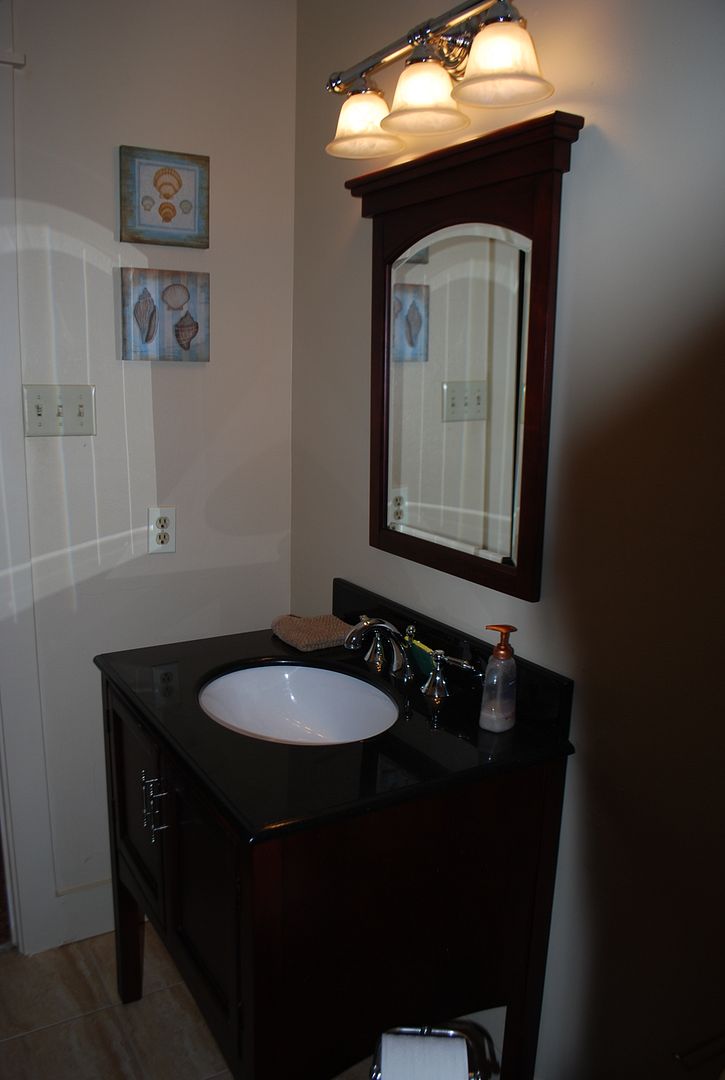 I didn't have anything on the walls for the longest time...probably a couple of years. Then, last August when we visited Chris and Kelly, I went to Bealle's Outlet
(if I move near there, I fear that I will regain my love of shopping)
and found these three canvas prints and I knew I had to have them for the bathroom. And they were CHEAP!! - like $2 or $3 bucks each.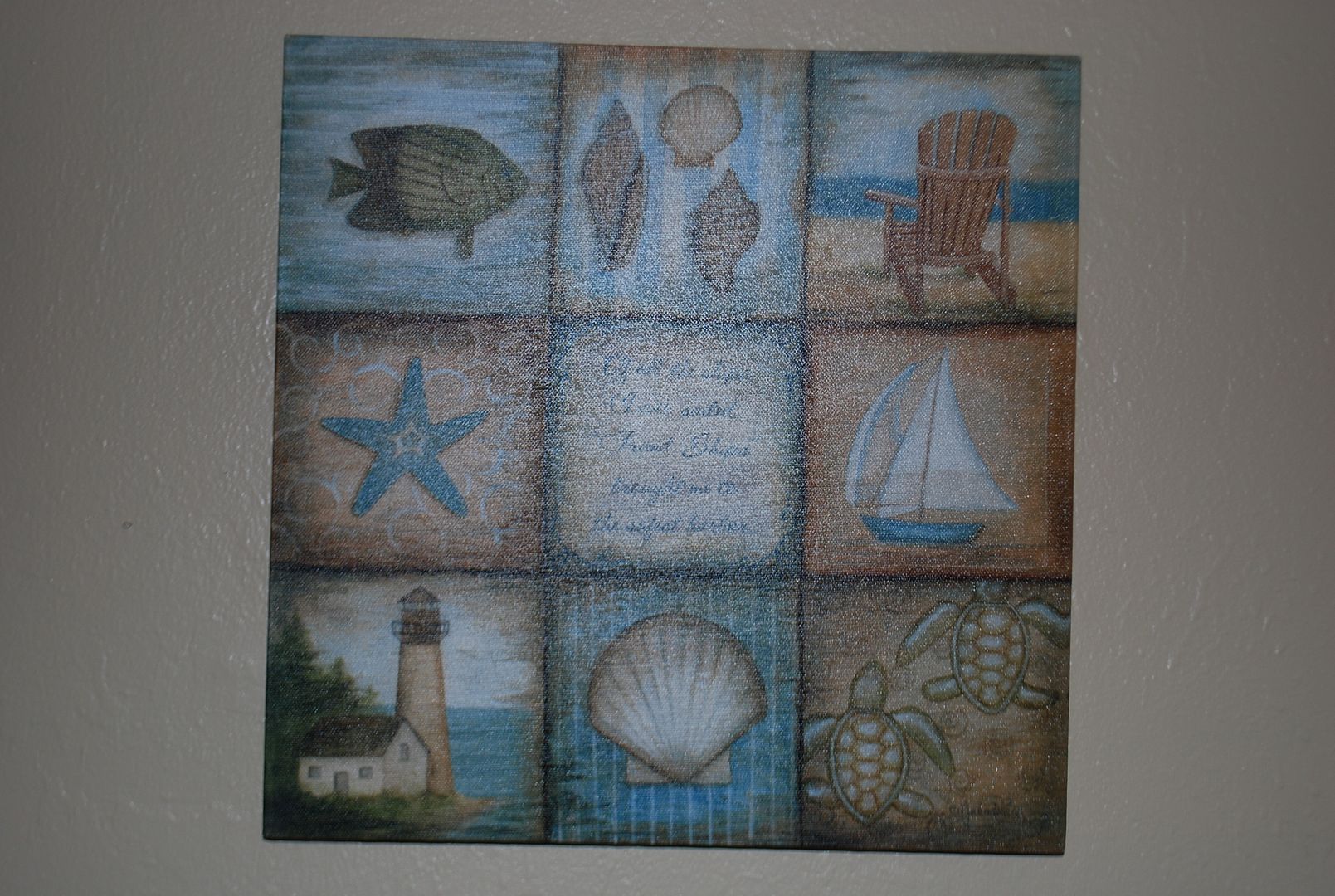 A couple of weeks ago, I was headed toward the hardware department in Walmart and took a shortcut through the bed and bath department and this shower curtain caught my eye. I couldn't believe that it matched perfectly the prints I purchased in Florida. $19-bucks
The only thing left to do was replace the toilet seat that had a major ick-factor - the paint had worn off in spots so it never looked clean even though it was. Done.
Interspersed between and throughout the more extensive projects, we worked on our den and living room.
The den. A bright, sunny room that apparently screamed to the previous owner,
More sunshine and flowers, please!!"
. So she painted it a
BRIGHT
yellow...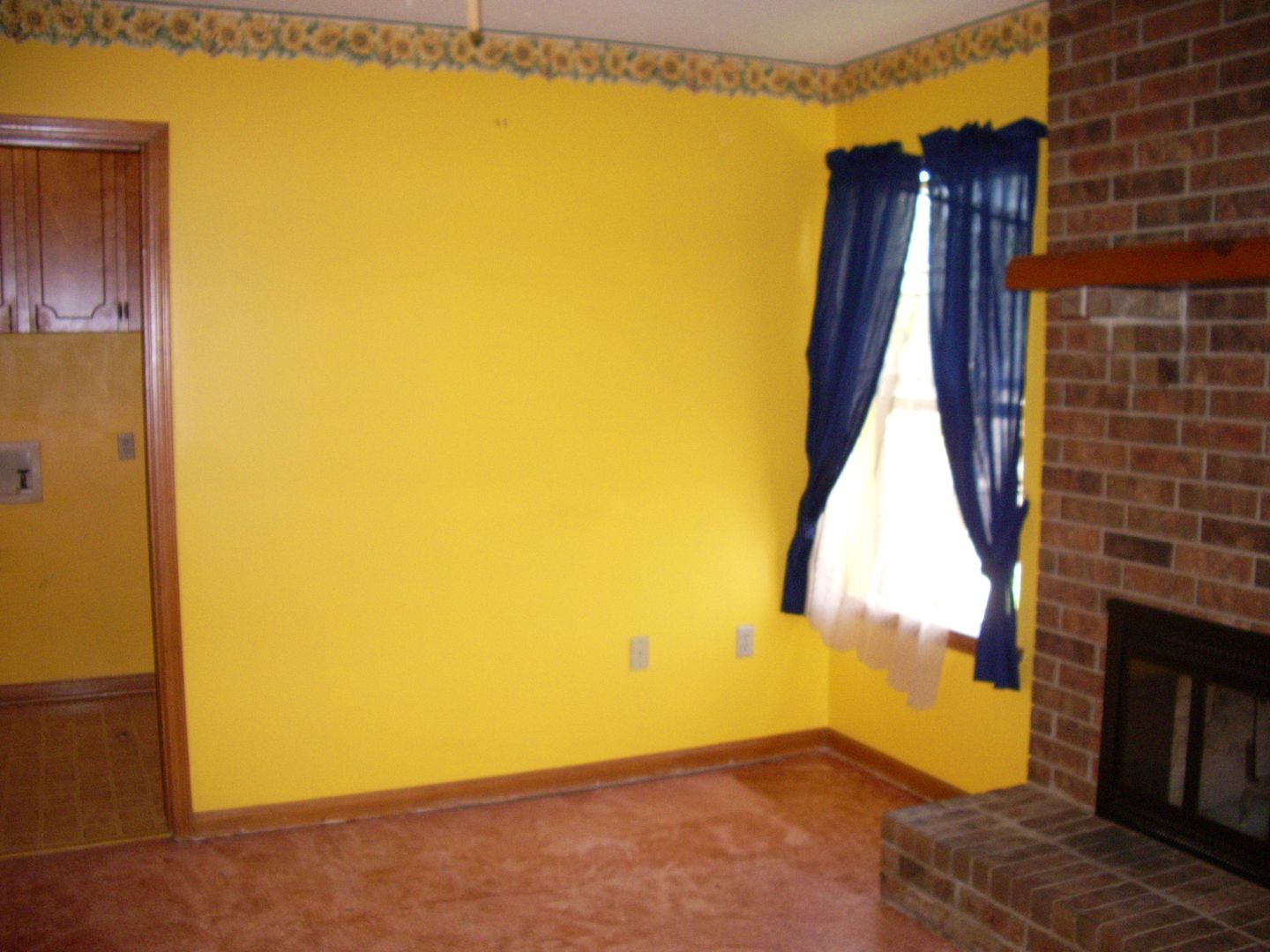 And since that wasn't quite abrasive enough, she added a coordinating sunflower wallpaper border..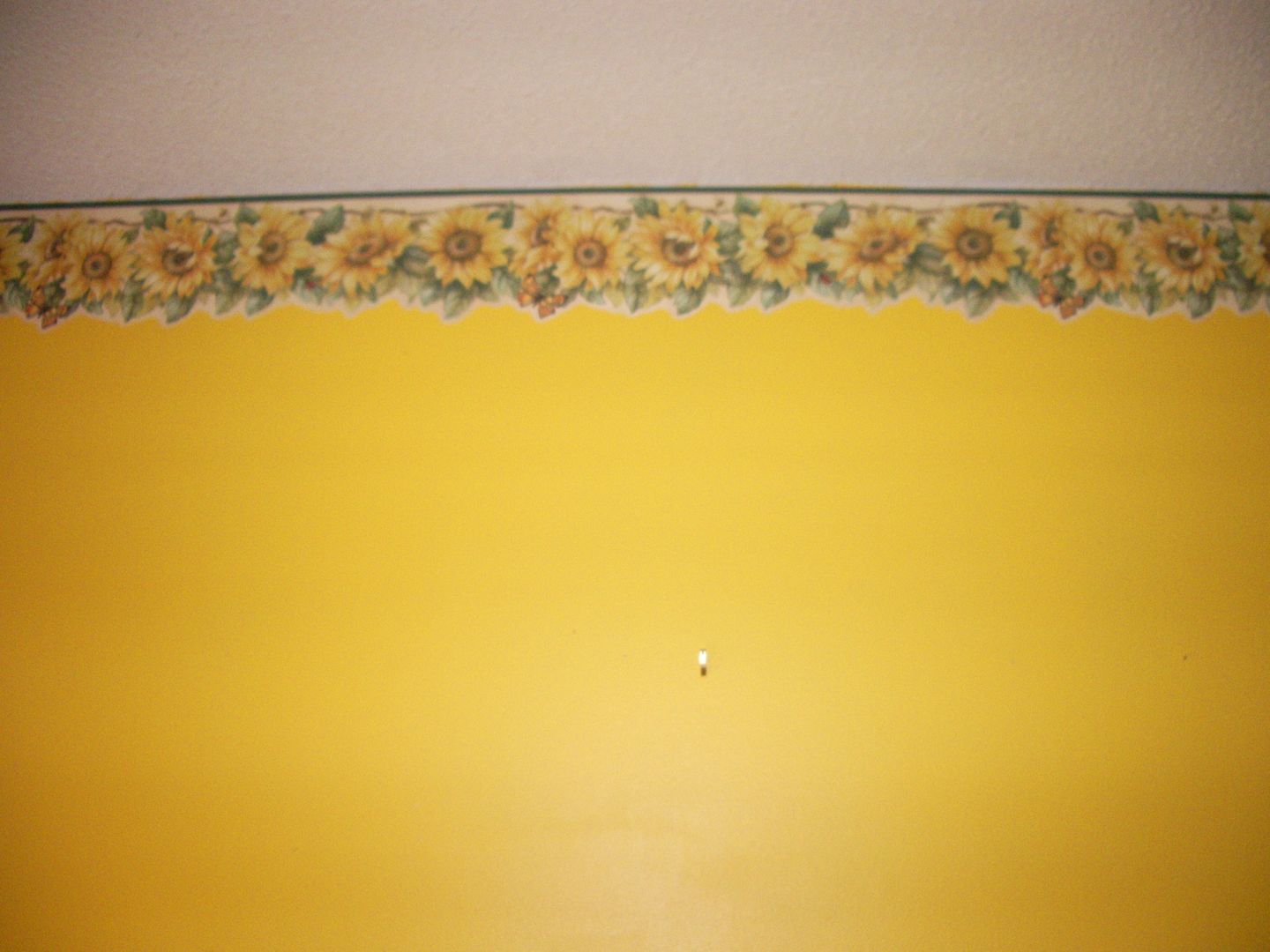 Tom constructed built-in shelves for our DVD collection, our extensive accumulation of books and his nautical memorabilia. We took down the cheap blue curtains and hung wooden blinds. Then we painted. I'd still like to do something different with the mantel, but that can wait until the mood strikes me and I see something I really like.
My mother had a peculiar euphemism:
"All her taste is in her mouth,"
and the first time we walked through this house, that's exactly what popped into my head.
The living room. What you can't see very well are the filthy white roll-up vinyl blinds that I ripped out of the front window the first week we moved in. Maroon curtains and green walls. I think I vomited up something resembling those colors once.
It's funny what a little paint and new trim can do. Then...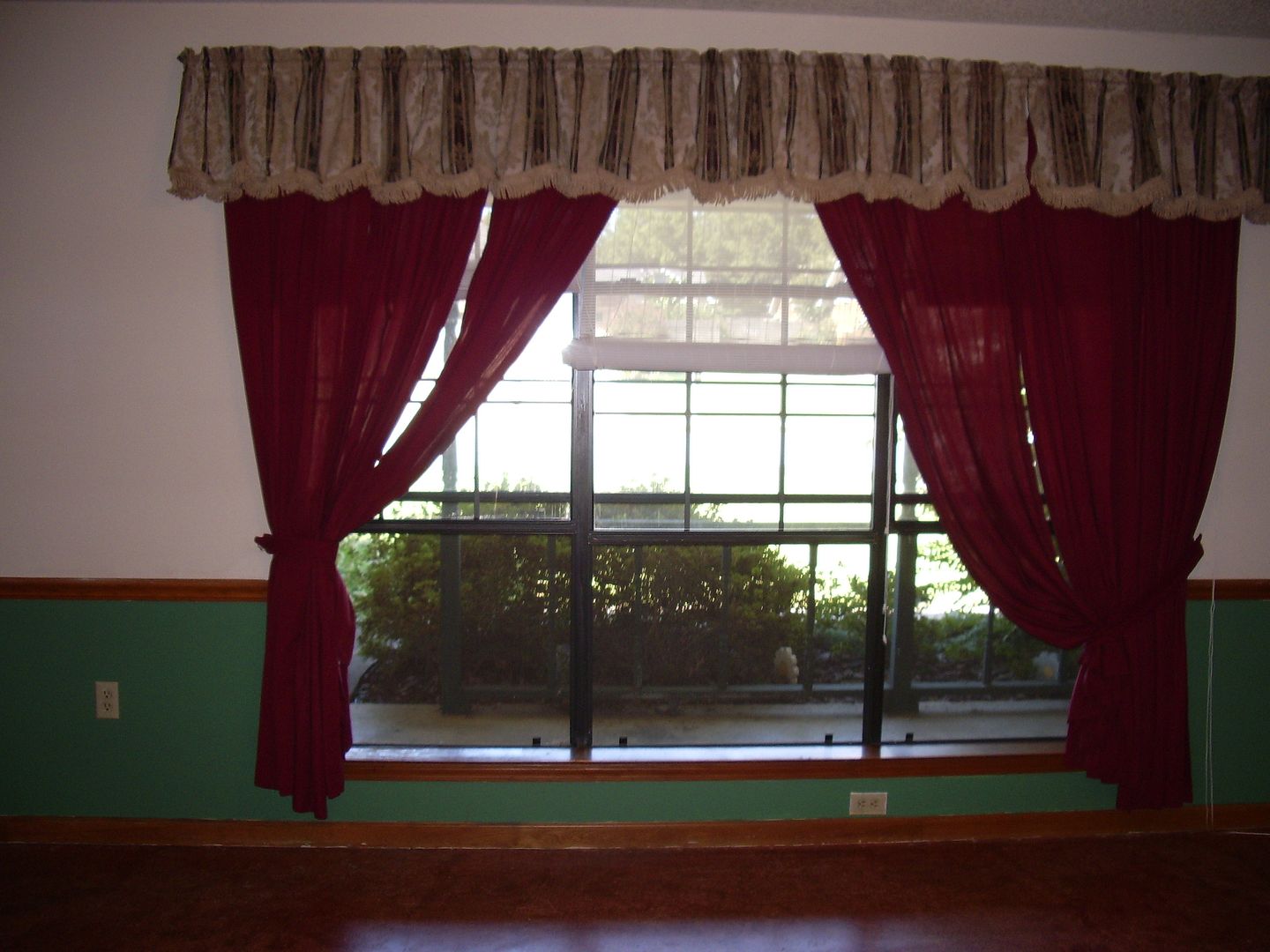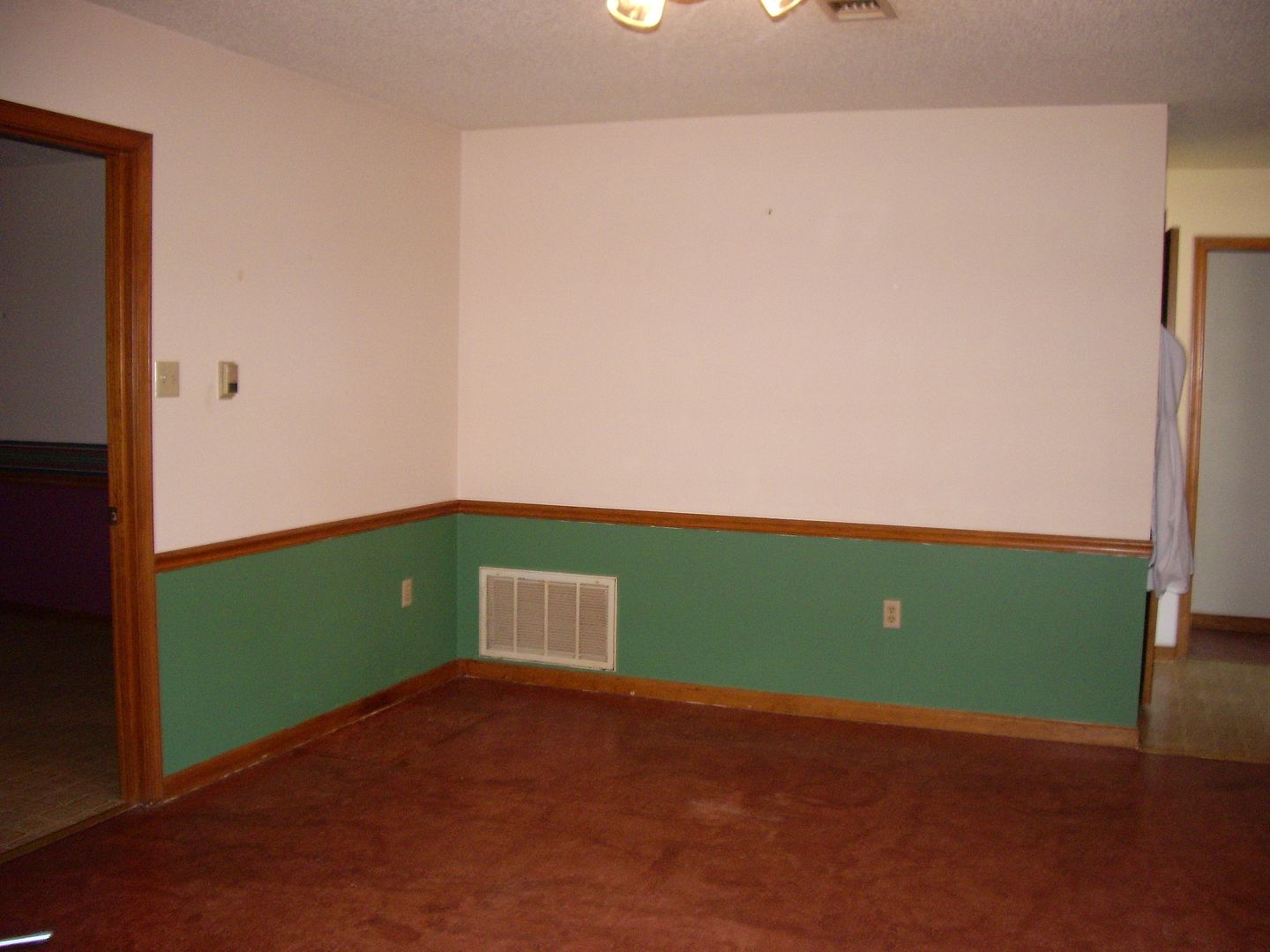 Now...new wood blinds, beige sheers, sand colored paint...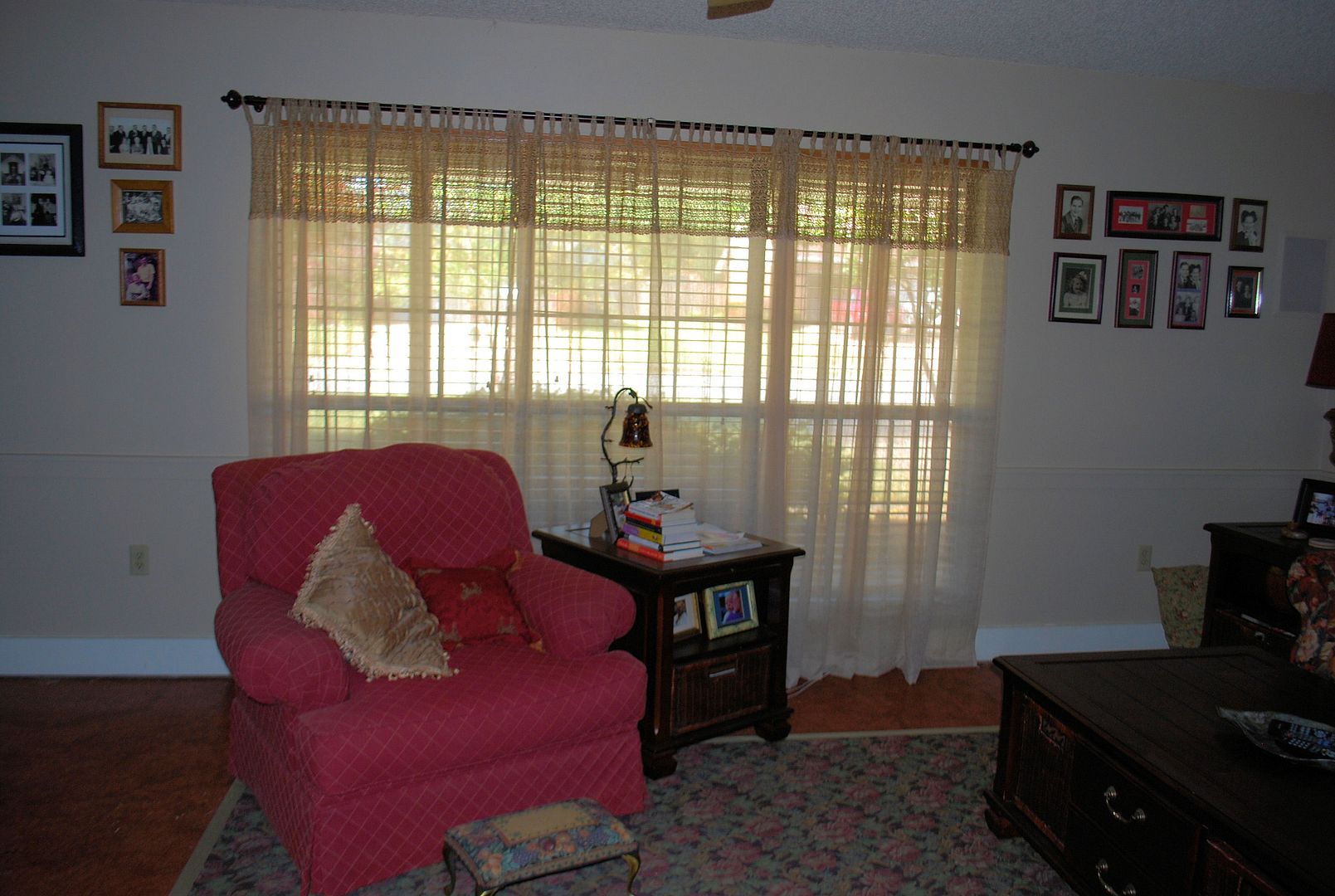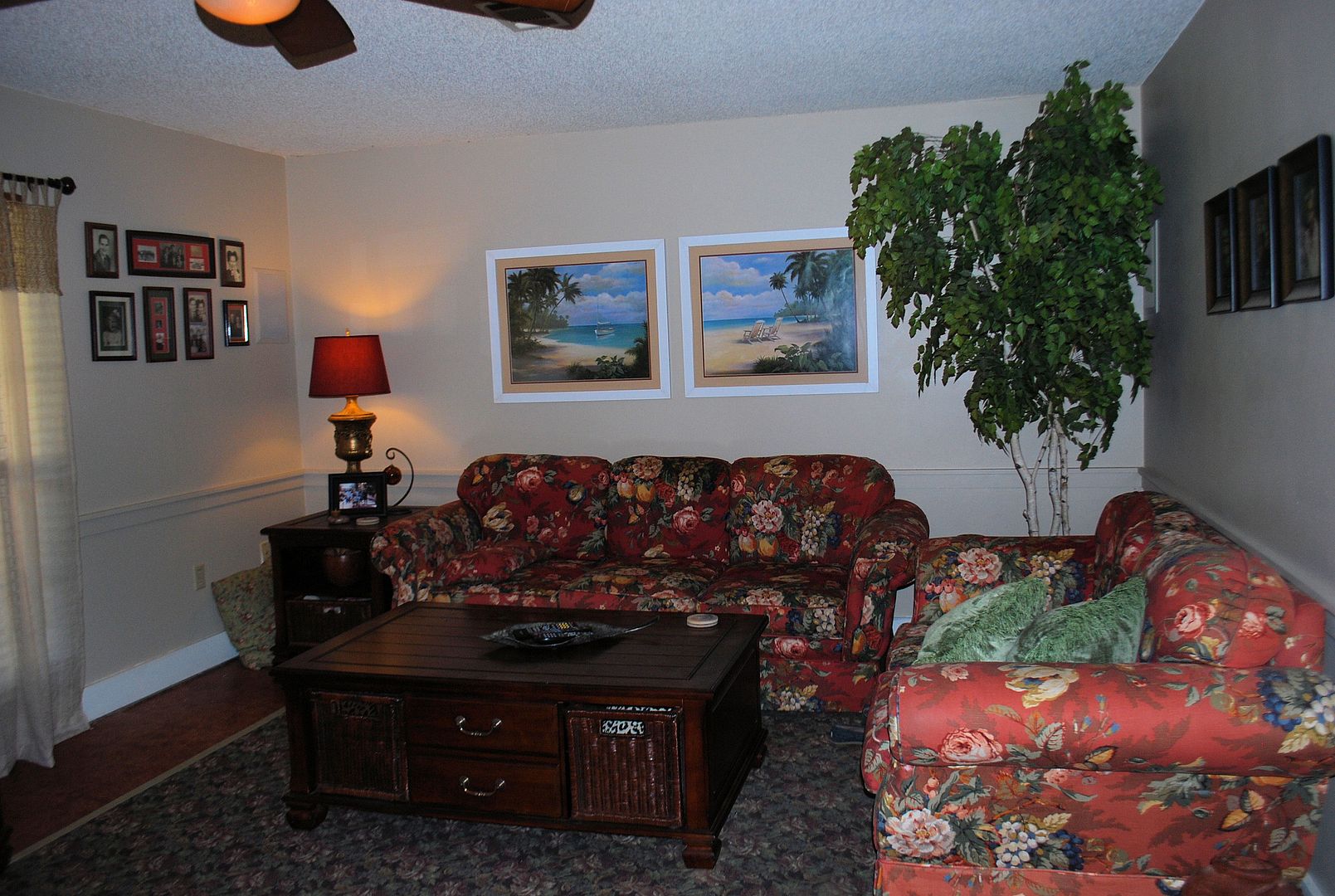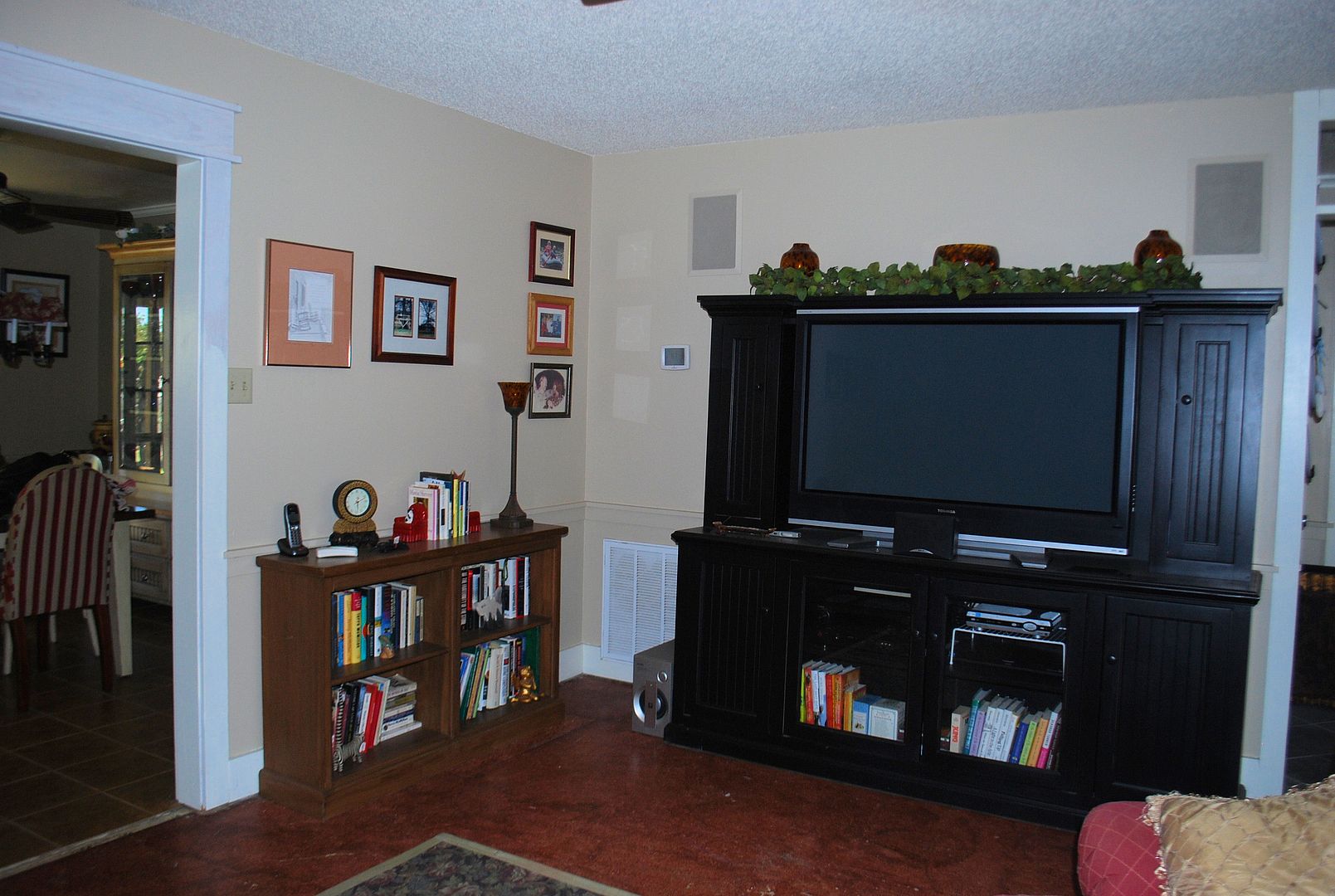 I didn't take any initial "before" photos of our master bathroom. I don't know why, other than the paint color wasn't as horrifying as the rest of the rooms in the house so it didn't seem necessary to document any changes.
In October 2008 we bought ceramic tile, a new light fixture and a framed mirror.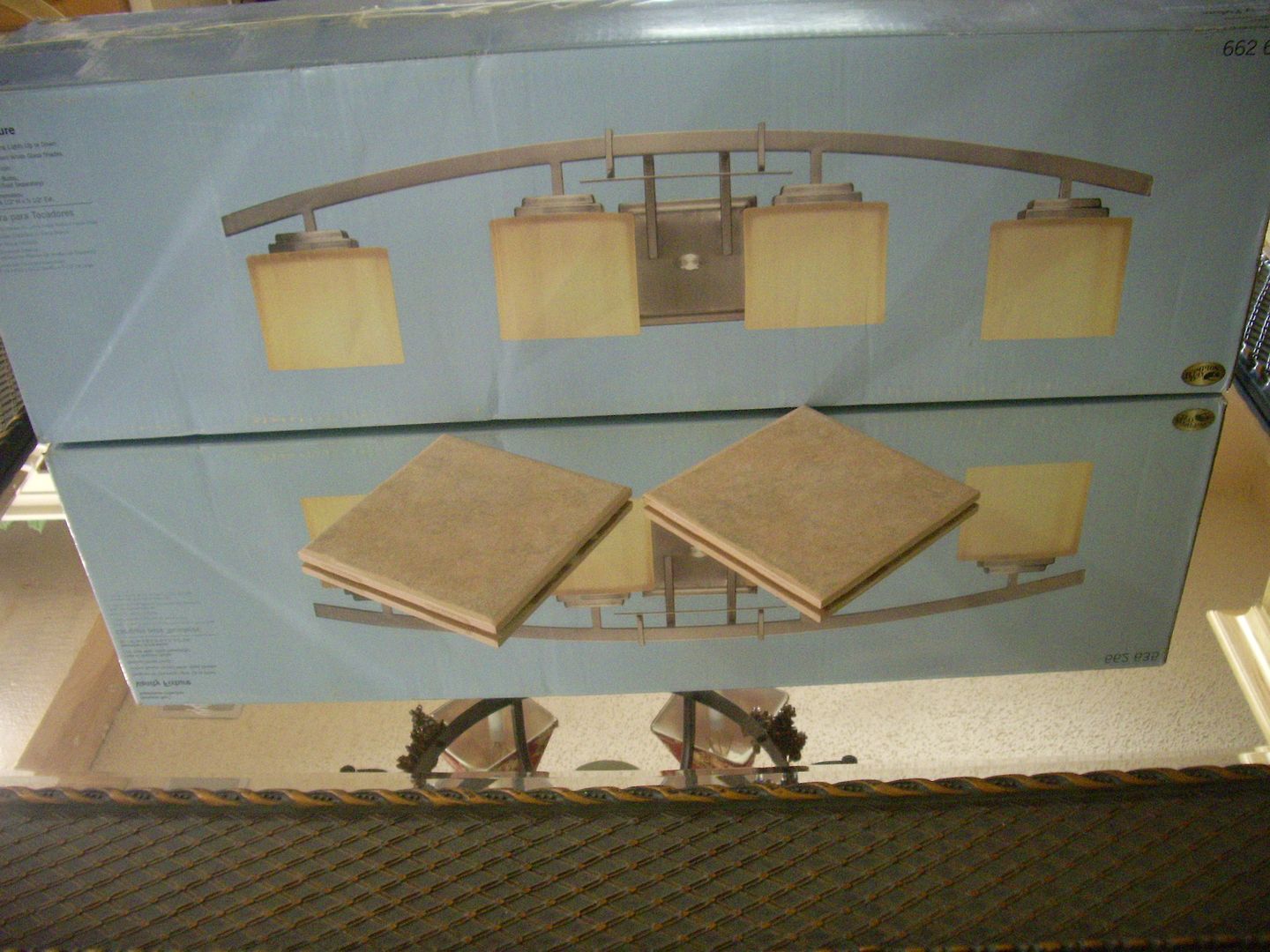 Over the course of the last three years, we've only tackled the easier stuff. We removed the huge flat wall mirror and hung the framed mirror in it's place. Then we removed the cabinet doors and installed shelves. I purchased baskets to fit underneath the shelves for all the miscellaneous bathroom toiletries and sundries, so Tom had the idea to screw the baskets onto flat wooden bases secured to drawer guides so the baskets could easily be pulled out and slid back into place. Genius
(I know, I'm prejudice)
. The new light fixture was next. While I was in Florida in May, Tom painted the bathroom a zen green and I brought back two flip-flop wall hangings, again from Bealle's Outlet.
Finally, two weeks ago, we started the floor. We had enough tile, but I wanted something a little more decorative, so we purchased some strips of smaller tiles interspersed with glass tiles and used that as a border. The bathroom floor went from this linoleum...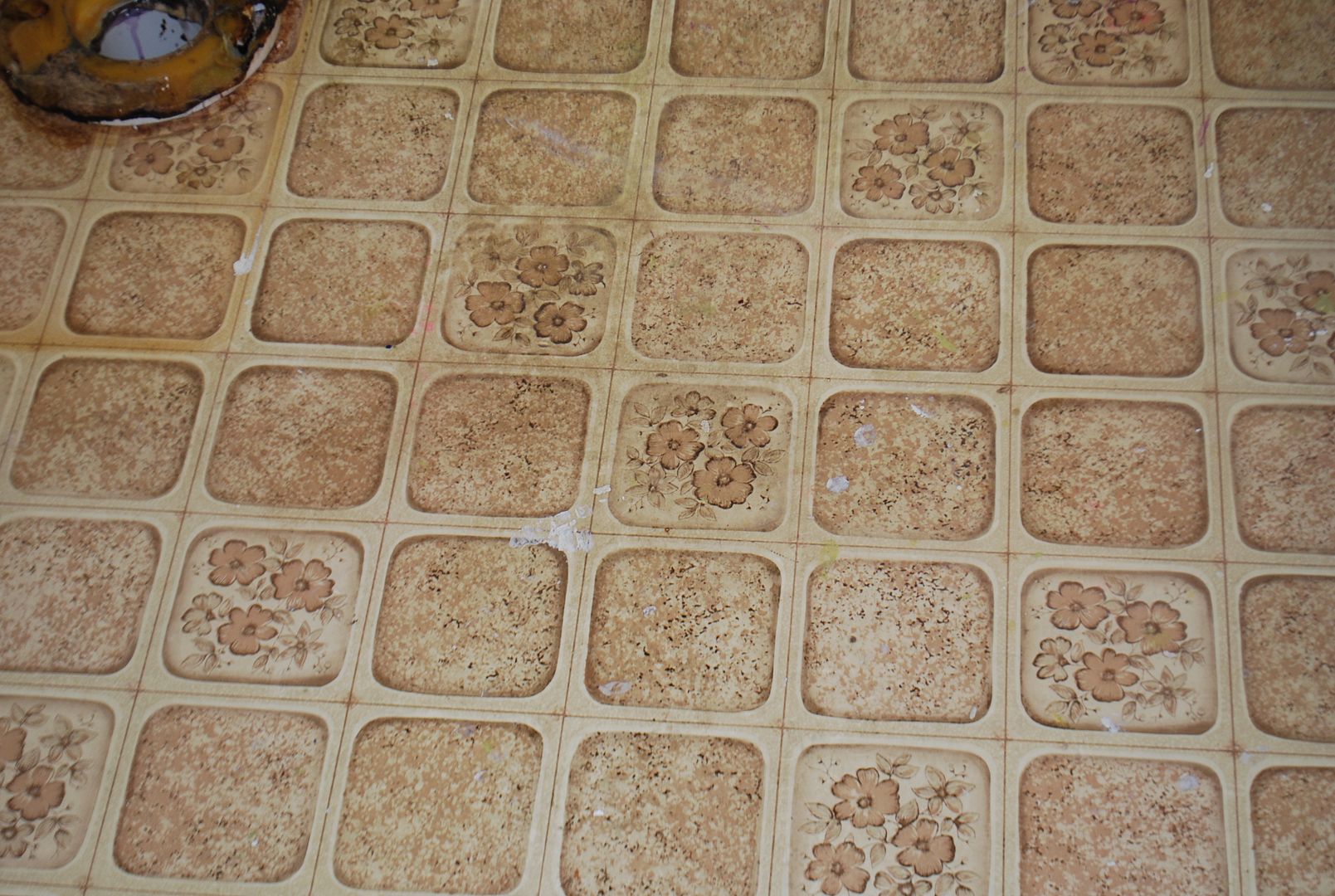 To this...

The following weekend, we were going to start the countertop and we wanted a glass sink with a cascading faucet, but we couldn't find anything we liked for under $1,000. The clerk at Home Depot told us we should look online because they had a lot more stuff there than they did in the store. We did and found a really cool sink and faucet set for only $200.
So Tom removed the old countertop and sink...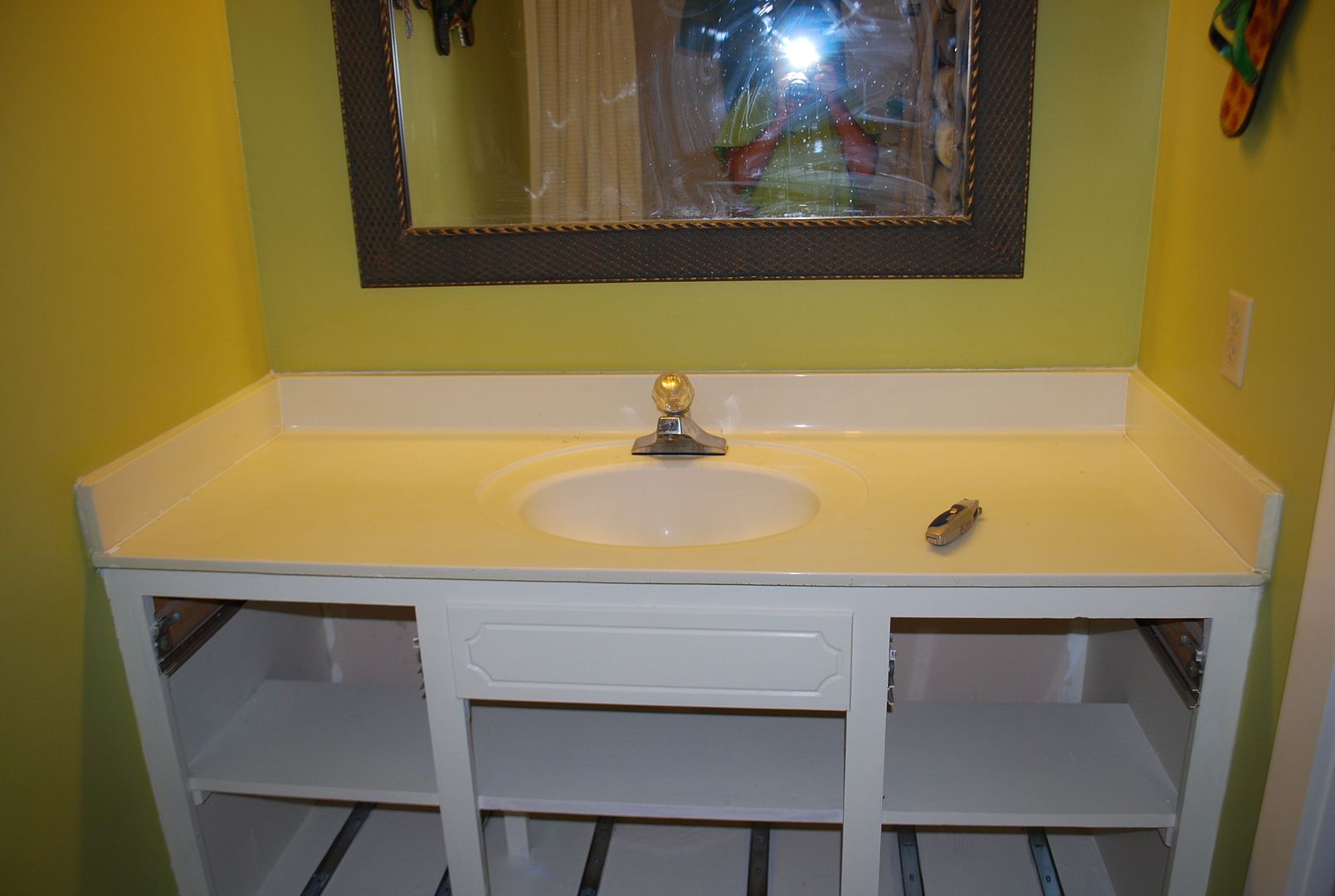 ...laid the same kind of tile as the floor onto the countertop...



...installed this very cool green glass sink with matching glass cascading faucet...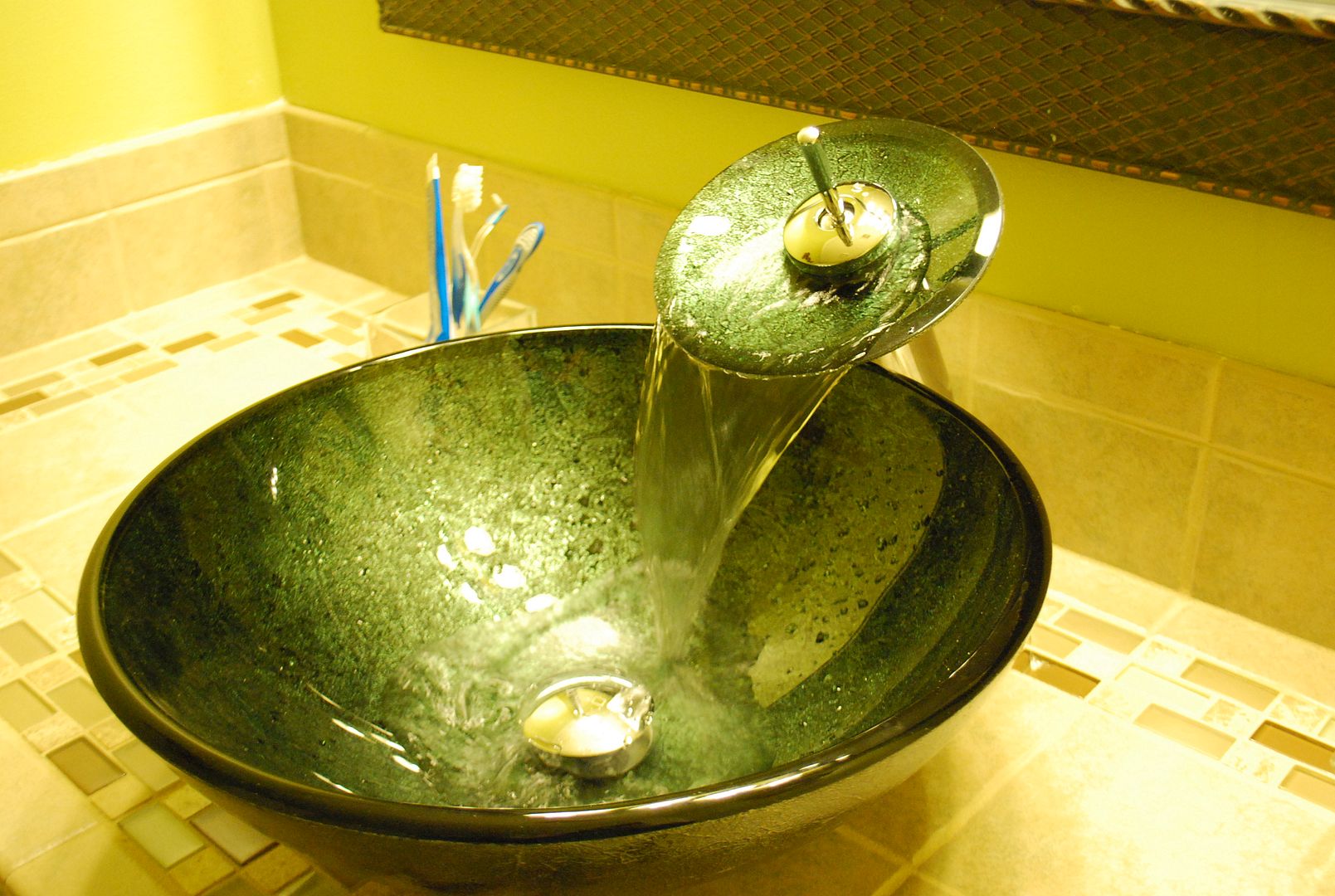 and all that we need are new drawer fronts and a little bit of touch up paint.

But that's not all that is left to be done. The next big thing is flooring...in the den, hallway, living room and all three bedrooms. When we moved in, all the rooms that had been carpeted were stripped down to the concrete foundation/floor and the concrete had been stained with a sponge and wood stain. I could live with that rather than dirty carpet. But I've lived with it too long.
Tom just finished a job for a local lumber company and was "paid" in hardwood flooring...enough for the living room. It is stacked in the extra bedroom waiting for time enough to remove all the furniture for a couple of days, install the flooring and return the furniture to it's original position.
Tom is milling flooring for the den and hallway, which will have to be stained and sealed before we put it down. Who knows when that will get finished, since I'm the person who is supposed to stain and finish it. I'd like carpet in the bedrooms. That will have to wait for another more financially robust time.
Five years into it, we are still remodeling. But it has to end sometime, doesn't it? And then what? What
will
we do with our time and money once we are done?