From Thirty Days of Truth

According to the weather reports which began last night and continue through this morning, we are expecting snow-mageddon, snow-pocolypse, snow-tastrophe. By Arkansas standards, I suppose it is. No one is equipped for sustained winter weather. No one here buys tire chains or studded snow tires. Snow plows are few and far between and the road crews spread the icy roads with sand instead of salt, so the ice doesn't melt. I think the same is true for Oklahoma and Texas, which are the states Tom would have to drive through to get to Arizona to move Karen back to Arkansas. His trip, as well as his work day, is postponed until the roads are once again passable. So far this morning, northern Arkansas has two feet of snow - unheard of for this part of the country.

I checked road conditions this morning for Oklahoma. The entire state is at the highest "treacherous" rating and the Department of Public Safety is warning against any travel. The Texas map shows blowing snow, low visibility, ice and treacherous conditions throughout the panhandle with sections of lane closures.

The snow here is also blowing. We have snow all over the covered patio area...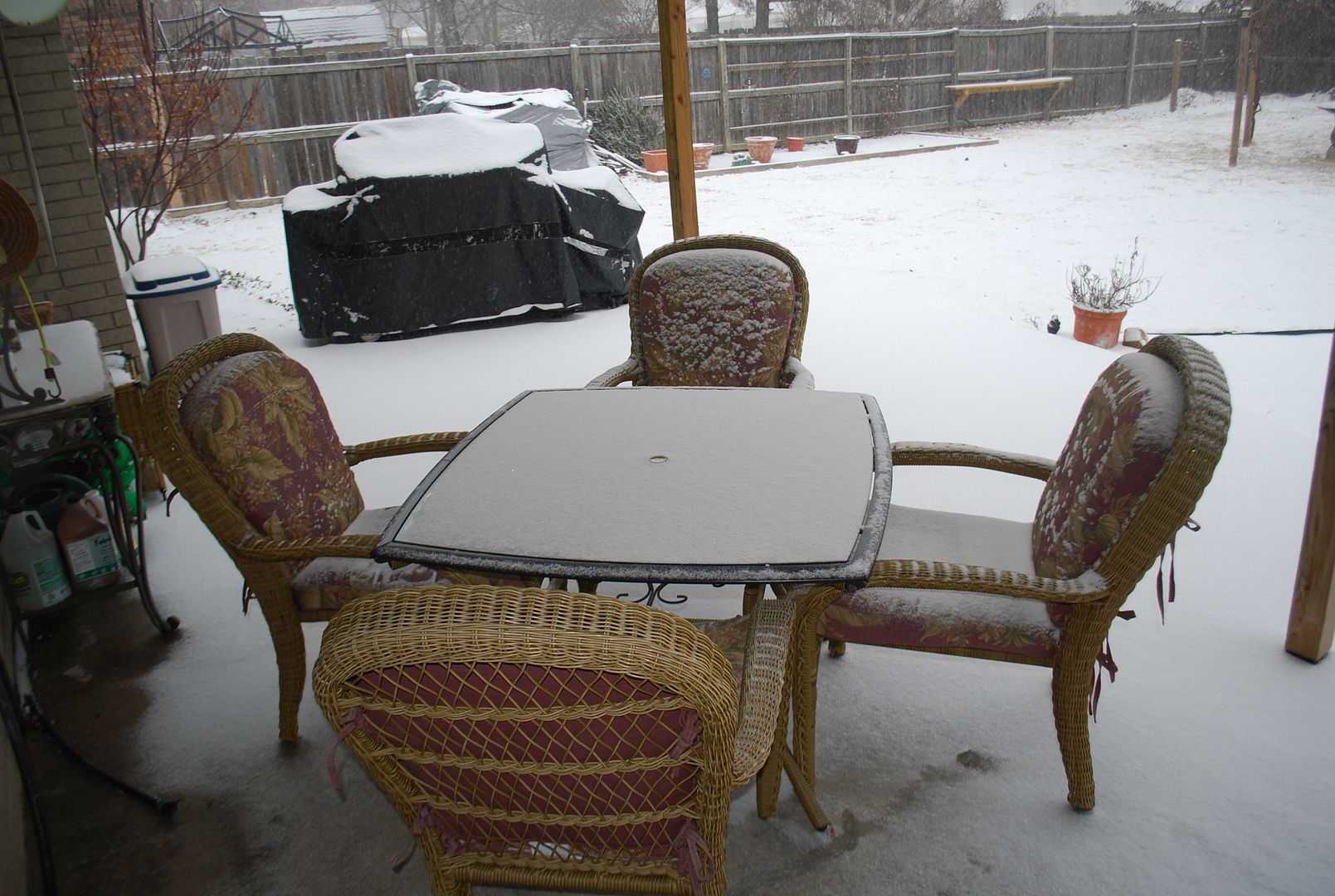 but the ground isn't fully blanketed yet...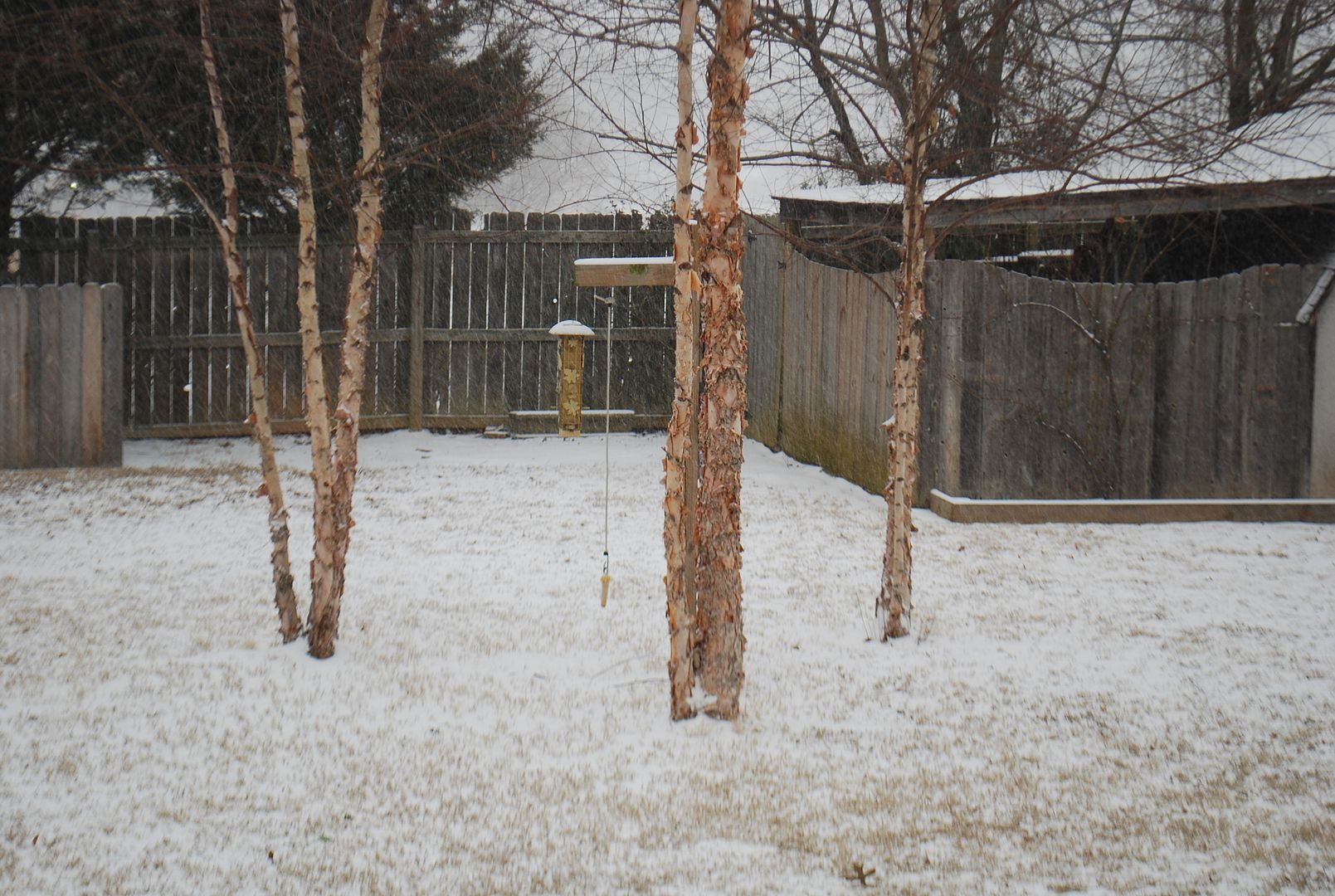 But snow is not supposed to be the subject of this post. I have to make a playlist. How many songs make a 'playlist'? Is eight enough? Is twelve too many? I have no idea. I'll just start and see what happens...
Say...by John Mayer ~ This was the first song that came to mind. 'Say what you need to say. Even if your hands are shakin', And your faith is broken, Even as the eyes are closin', Do it with a heart wide open, A wide heart...Say what you need to say.' Jesus, I wish I could write like that.
Blackbird...John Lennon/Paul McCartney ~ This song has been one of my favorites because it was sort of like an anthem for my life.
Feels Like Home...Chantal Kreviazuk ~ Because of what Tom did for me 'If you knew how lonely my life has been, And how long I've been so alone, And if you knew how I wanted someone to come along, And change my life the way you've done, It feels like home to me, it feels like home to me, It feels like I'm all the way back where I come from, It feels like home to me, it feels like home to me, It feels like I'm all the way back where I belong'
Golden...Jill Scott ~ At the highest points in my life, this song, upbeat and joyful, represents how I feel. 'I'm taking my freedom, pulling it off the shelf, puttin' on a chain, wearin' it 'round my neck. I'm takin' my freedom, putting it in my car, wherever I choose to go, it will take me far. I'm livin' my life like it's golden."
Woke Up This Morning...Alabama 3 (Sopranos Theme) ~ 'You woke up this mornin', Got yourself a gun, Mama always said you'd be The Chosen One.' God, I miss that series. And I thought the way David Chase ended the series was stupid and cheesy. There. I said it.
Smooth... Santana/Rob Thomas ~ Somewhere toward the end of February 2000, I headed out for Kansas on a business trip. Similar to this February, it was snowing. I wanted so bad to make it home before the start of the Grammy Awards program. 2000 was an exciting musical year for me because some of my favorite artists of that time were nominated: Sting, Marc Anthony, Backstreet Boys, Dixie Chicks and Santana. But as luck would have it, my flight home was delayed due to weather. I got home just as the program came to a close. Needless to say, I missed Sting's performance of Desert Rose (a huge hit that year) and Santana's performance and huge wins in the top three categories. I tried in vain to find a tape or DVD of the performances, but luckily Tom reminds me periodically that it was, in fact, the best Grammy Awards program he's ever seen and what a shame it was that I missed such AWESOME performances.
Dance with my Father...Luther Vandross ~ I think the only person my mother ever truly loved was my father. Most of the time, they were pretty much inseparable. They did everything together. When I was in high school, they took ballroom dance classes and became members of a group called "The Swingsters" (which, as a side note, had nothing to do with wife-swapping). The group would meet a couple of times a month at different dinner/dancing clubs in the San Jose, California area and have dinner and dance the night away. They took their dancing very seriously and it was the one thing, as a couple, they did pretty well. God, they loved to dance. I had never seen my mom and dad happier than when they were dancing. When my Dad died in 1992, my mom stopped dancing, but even with dementia, when she heard music she'd smile a little and move her head back and forth in time with the beat. In her minds eye, I think she was dancing again with my Dad. My Mom died in 2003. Dance with my Father was released in 2004 and to this day, I cannot listen to the song without shedding a tear. The end of the song rips my heart out: 'I know I'm prayin' for much too much, But could You send back the only man she loved, I know You don't do it usually, But Lord, she's dyin' to dance with my father again." *sniffling*
Men in Black...Will Smith ~ My oldest grandson, Zak wasn't even a teenager yet. He loved the movie. He even carried an MIB business card in his wallet. Besides the music being totally cool, it always reminds me of Zak.
She Hates Me...Puddle of Mudd ~ It's a stupid song, but it makes me smile every time I listen to it. Typical teenage angst but sung by grown men.
Big Poppa...Notorious B.I.G. ~ This song was my ringtone for a long time. It was featured in the movie 'Hardball' with Keanu Reeves, whose character was forced coach an inner-city Little League team from a housing project in Chicago as a condition of getting a loan from a friend. We were living at Lake Tahoe and Chris and his family flew from Savannah to visit. All three of my grandsons, Zak, Jacob and Thomas, came down to our apartment and they laid on the floor together and watched the movie. The song will always bring back that memory.
Allstar...Smash Mouth ~ Memory...Zak, Jacob, Thomas in the back seat of my car. This song comes over the radio. Zak and Jacob are "singing" along, both of them know every single word, but are so far out of tune I can't help but laugh.
Thriller...Michael Jackson ~ Quite honestly, I like anything by Michael Jackson: Thriller, Man in the Mirror, Billie Jean, Smooth Criminal, Rock with You, Earth Song. We have the movie, This Is It. I think I've watched it at least a half a dozen times. I think he was brilliant, powerful performer.
You think twelve is enough? I think so.