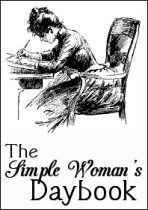 FOR TODAY...
Outside my window...
the sun is shining, but it's humid. It rained yesterday morning and there is a threat of rain everyday this week and through the weekend.
Waiting…
to hear back from my cousin. We want to take part of our Thanksgiving trip to visit my Aunt Sally, my cousins, Rickey, Debbie and Randy. Rickey visited last year, but I haven't seen my aunt and my other cousins in probably 20 years...far too long.
Catching up on…
blogging. Last week was emotionally rough and I didn't write much.
I am thinking...
that I need to get back to my Couch-2-5K workout. I haven't done anything since we got back from Yellowstone (June). It's time to get back on track.
I am thankful for...
the support and kind words of my family, friends and readers who responded so generously last week.
From the kitchen...
stuffed eggplant and salad for dinner. We made another visit to the North Little Rock Farmer's Market on Saturday and got two beautiful eggplant, along with some other goodies, but you'll have to read my food blog, Terri's Table, this week for that info.
I am wearing...
black and white crop pants, white t-shirt, barefoot.
I am creating...
nothing at the moment.
I am going...
to the church this afternoon to work on the church newsletter.
I am reading...
well...I'm not reading it yet, but I bought two books last week, Julie and Julia by Julie Powell and Rebecca Wells' new book, The Crowning Glory of Calla Lily Ponder.
I am hoping...
this week is a whole lot better than last.
I am remembering…
growing up in Fresno, the wonderful times I had when we gathered family together for holidays, barbecues or camping trips...aunts, uncles, cousins, grandparents.
I am hearing...
just the hum of my computer and my fingers clicking on the keys. It's very quiet this morning.
Around the house...
I need to dust and mop the kitchen floor.
One of my favorite things...
the first cup of coffee in the morning.
A few plans for the rest of the week …
finish the church newsletter, get back on track with my Couch-2-5K, write two blogs for the newspaper, start painting my adirondack chairs.
Here is a picture thought I am sharing...
yesterday Chris sent us an email. No message, just this photo he took of Tom in May when he was here helping Tom get caught up.

It's such a great photo!
The Simple Woman's Daybook originated with Peggy Hostetler at
The Simple Woman's Daybook
. Peggy is on vacation for the summer.
While Peggy is away,
Grandmother Wren
is hosting.