We had a wonderful weekend. The musical, The Color Purple, was simply amazing. This clip is from the Tony Awards and once you get through Oprah's introduction (about a minute and 20 seconds), you will see the song, Hell No, performed by the character Sophia and then the whole cast finishes with the song The Color Purple.



I laughed and cried throughout the musical, as did nearly everyone around me. When tears were rolling down my cheeks, I could also hear sniffles from all sides. I would love to see this again.

Our dinner at McEwan's on Monroe was wonderful; food, atmosphere, service. Both of us started with Saffron Lobster Risotto (lobster, green peas, fresh grated parmesan topped with micro-greens). For our salad course, we both chose the Warm Wild Mushroom Salad (roasted mushrooms, spring mix, spiced walnuts, gorgonzola cheese, walnut balsamic vinaigrette, all set on a drizzle of balsamic reduction). My main course was the Grilled Duck Breast with the Pomegranate Syrup and Malbec Buerre Rouge,
Lyonnaise Potatoes and Sauteed Green Beans. It was simply perfect. Tom chose Grilled Rack of Lamb with a Chipotle Cherry Glaze, Bourbon Mashed Sweet Potatoes and Maple Pecan Butter, and Grilled Asparagus. I tasted Tom's lamb and it was delicious, too. I've only eaten lamb a couple of times since we moved here. I just can't seem to get good lamb. It's usually really gamey tasting. But, yesterday on the way home we stopped at Fresh Market and Tom showed me the racks of lamb they had. We might try them.

I will be posting a little more about our dinner on my food blog, Terri's Table, later today. Stop by and see the photos!

But, for today, since it is Monday...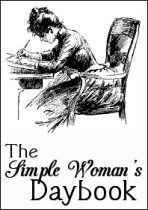 FOR TODAY APRIL 6, 2009 ...
Outside my window...
the sun is shining, but it's a pretty cool 45 degrees. It was supposed to freeze last night, but it didn't. And it's supposed to freeze again tonight, but I hope it doesn't. We've put the philodendrons back in the garage for a couple of days, covered the berries and the newly sprouted herbs. That's the best we can do. We won't be able to save the azaleas and wisteria. I guess we can only hope it doesn't get as cold as they think it will.
Waiting…
for a great idea to hit me for Easter. Should we have everyone for brunch, lunch or dinner? I hadn't really thought about it until Tom talked to his mom yesterday. I suppose now I will actually have to think about what to do.
Catching up on…
laundry.
I am thinking...
about the bump on my forehead. Every time I touch my forehead, which, I've come to realize, is quite a bit, I touch the sore little bump on my forehead right between my eyes. How did I get the little bump? Saturday I got up in the middle of night in the hotel room to go to the bathroom. I didn't turn on any lights. The bathroom was dark, so I fumbled around trying to orient myself and when I felt the toilet I situated myself in front of it, bent over forward a little to sit down and Bonk! I hit my head on the corner of the handle of the bathroom door I failed to close.
I am thankful for...
a soft, warm bed at night. I slept better last night than I had in days. It felt so good.
From the kitchen...
since we had something special for dinner Saturday night and we tried to re-create Saturday's risotto dish using shrimp instead of lobster (it was almost as good, but not quite), I think we will go with something simple, but delicious tonight: Beef Stroganoff, Noodles and a vegetable (to be determined when I get to the store this afternoon).
I am wearing...
my pajamas still: black top and purple, green, pink and black plaid bottoms. And slippers.
I am creating...
a list of quotes that I like. I am a quote collector. I love a quote that makes me stop and think, if only for a moment.
I am going...
the church (to do some paperwork for Tammy), the store, then pick up Goldie from boarding over the weekend.
I am reading...
Everyday Sacred by Sue Bender, her inward journey to discover the sacred in her everyday life in the Bay Area. It's the follow-up to her first book, Plain and Simple.
I am hoping...
to figure out what we will do for vacation this year, if anything.
I am remembering…
all the musicals and plays we took our kids to when they were younger. I'd love to take my grandkids to performances like that, but we live too far away.
I am hearing...
my neighbor, Rob, working on the fence.
Around the house...
there is unpacking to do, since I didn't do it yesterday after we got home.
One of my favorite things...
by far is Fresh Market in Little Rock. I live in a gastronomically challenged part of the country. Our local grocery stores (all four of them ~ two Krogers and two WalMarts ~ carry mostly bare bone staples. I buy a lot of my spices and ingredients for cooking online. Since Fresh Market has opened, we've been able to purchase things like sushi grade tuna, fresh clams and mussels, head-on shrimp and soft shell crabs, and most of their produce is organic, but their prices are competitive with our local markets. How lucky is that?
A few plans for the rest of the week …
iron the beautiful white fabric Tammy found to cover and decorate the church alter for Easter, a trip to Sam's club for staples in bulk, plan and shop for whatever we decide to do for Easter, draw out a plan to redesign the stuff in our home office (an extra bedroom), vacuum and dust (the pollen is thick and on everything this time of year) and do laundry, laundry, laundry.
Here is a picture thought I am sharing...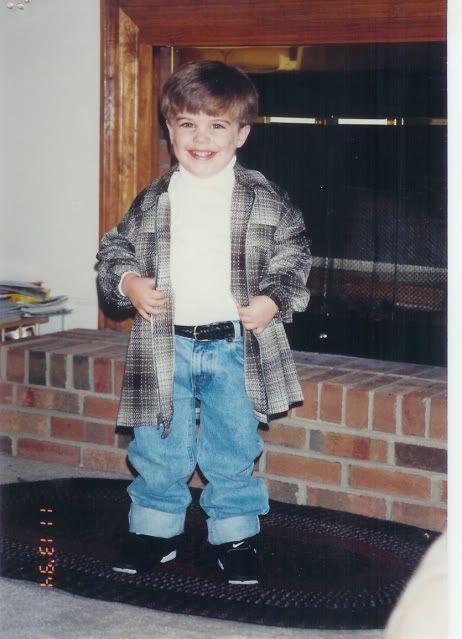 ...this is my first grandson, Zak. The picture was taken in November 1994. He was the little boy that made me a grandmother for the first time. This month he will be 18 years old! Holy Cow!
Based on The Simple Woman's Daybook