I love silence. I love it when everything is quiet. Early morning is about the only time it's quiet around the house. No television. No barking or yelping dog. No human to animal conversation. Just quiet. I can hear the birds singing outside. The pump in the pond just started and I can hear the water. Goldie is laying on the floor behind me sleeping. Everything is still and quiet and my soul is rejuvenating.

I spent the better part of yesterday afternoon finishing up the church newsletter and printing 650 copies. In between printing, I started redesigning a prayer card for Tammy. The office at the church is also calm and quiet and even though I got home later than I had anticipated, I still felt like I had enough energy left to cook dinner anyway. Very different from the physical therapy clinic, where the radio noise was constant and Boss could never stop talking and had to talk loudly to be heard over the radio. By the end of those days that I worked there, I just wanted to scream, "SHUT UP!!" but I never did. I was always exhausted when I got home from the clinic. It feels so good now to have some energy left at the end of the day.

We are making another trip to Memphis this weekend. We have three more performances left of our season tickets for the Orpheum Theatre. Saturday night we will see The Color Purple.


I would almost bet you that I will be reduced to a weeping mess. I will take lots of kleenex.
The next performance in May is
Fiddler on the Roof
, with Topol in the lead role as Tevya...
Our final performance of the season,
Wicked
, is on the 4th of July...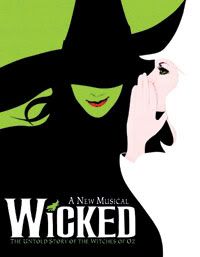 We couldn't have picked a better season to have season tickets.
Our plan is to take Goldie to the vet's Saturday morning and leave for Memphis shortly after that. The drive is only 2 to 2-1/2 hours and we should arrive in plenty of time to freshen up, change for dinner and the theatre and still have some time to window shop and people watch beforehand.
Well, all of a sudden, it has started pouring outside. We're having a little thunder, a little lightening and it sounds like there may even be a little hail mixed in. I don't mind the rain at all, especially since we moved to this house. Unlike our house in the country, all of our utilities here are underground. In the country, we'd lose power with just about any extreme weather...rain, wind, lightening, heat...it didn't take much to blow something somewhere between our house and a power station. We haven't lost power once since we moved here 2-1/2 years ago, so I can cook, bake, do laundry, blog, whatever, without fear of getting in the middle of something and losing electricity. Ah, the convenience of living in the "city." Oh, shut up! It was a joke.