My job. I like that I only work part-time, except for Thursday when I work from 8:00am until 6:00pm. That's why I retired from financial aid. The hours. I just got really tired of the hours.

I like that the clinic where I work is less than 5 minutes from my house. In the summer, I can ride my bike to work if I want. After commuting to Little Rock for so many years, being this close to my place of employment is seriously very cool.

But...you know there has to be a "but" in there somewhere... but the physical therapist I work with is obsessed with football, so much so that he has this song as a ringtone for his cell phone...

...and it rings several times a day.
AND it is apparently absolutely essential that we listen to sports talk radio all day long. Not just any sport talk radio...local, Arkansas Razorback sports talk radio. To make things even worse, one of the DJ's on this radio station is Tommy Smith, probably THE most obnoxious, misogynistic man on the planet, except for maybe Howard Stern.
This
Tommy Smith.
Last week, I thought we might have a break. My boss walked over to the radio and changed the station!
Oh, Yeah,
I thought. As he tuned in the station, I recognized Jeff Matthews voice and I knew he had tuned into B98.5 (music from the 80's, 90's and today). That was going to be just fine with me. But, Jeff kept talking and talking and talking and they weren't playing any music. Then I realized they were doing their annual Arkansas Childrens Hospital Fundraiser.
Now, I know you are going to think I am cold and insensitive, but I cannot listen to that either...at least not all day long, and certainly not all week long.
It was three days of the saddest stories you'd ever want to hear. Crying parents, crying nurses, choked up doctors, crying DJ's. Songs like "Butterfly Kisses" with voice-overs of children who are talking about their medical procedures. Stories about infants and toddlers, cancer, chemo. Sob, sob, sob all day long. And, that's all anyone could talk about. My boss. All of our patients. Everyone had a very, very sad story about a critically ill or dying child. At one point on Thursday, the last day of the radio-thon, I had to go into the bathroom because I couldn't control my tears.
When I got home that night, I was so depressed that I could barely make it through dinner without crying. And, when we finally went to bed and there were no more distractions and it was quiet, I just started to cry and I just couldn't stop.
I think I'm going to take my cd player into work and put on New Age spa music.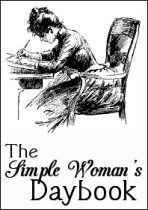 FOR TODAY FEBRUARY 16, 2009...
Outside my window...
the sun is shining, but it is cold. About 33º. It's much cooler than it was last week.
Waiting…
for the warm weather to stay for awhile. I'm anxious to get out in my yard to start gardening.
Catching up on…
blogging, finally
I am thinking...
about Goldie. Tom took her into the veterinarian this morning. She has a sore right paw. We think it is because her claws are so long and misshapen. Her previous owner had allowed her nails to grow so long that they became completely misshapen and the quick grew almost all the way down to the end of the nail. We have her nails cut every single week since we got her last April to encourage the quick to recede, but you can only cut a tiny little bit at a time and her nails are still so rediculously long that she still can't walk correctly. Dr. Chris might have to just cut them all the way to where they need to be and cauterize the quick. She will, of course, be sedated.
I am thankful for...
my job, Tom's work and our ability to survive comfortably in this economy.
From the kitchen...
I am going to make Spanakopita for dinner.
I am wearing...
Nike cold weather pants and white sweatshirt with a green long sleeve t-shirt underneath. Oh, and slippers.
I am creating...
the design for the alter at church.
I am going...
to work this morning. I just got a call from Boss. The other person who works part-time, Big D, is sick today.
I am reading...
nothing at the moment.
I am hoping...
Big D is not sick all week long.
I am remembering…
all the wonderful vacations we took to Florida. I love the beaches and the weather, particularly in the winter when it is so cold here.
I am hearing...
the hum of my laptop and the click of my fingers on the keys.
Around the house...
all is quiet. I love this time of day. No constant tv noise, no human to animal conversations, no barking. Just quiet and peaceful.
One of my favorite things...
I have a long black sweater with white flecks through it and fringe down the front and around the collar. I bought it from Chico's. I love that sweater. I wore it all day yesterday.
Recently…
our pastor, Tammy, asked me if I would be willing to produce the church newsletter. I accepted.
A few plans for the rest of the week …
go shopping for fabric.
Plans to focus on…
painting the kitchen cabinets and the trim.
Here is a picture thought I am sharing...
one of the photos on my office wall...

Based on The Simple Woman's Daybook