Halloween is a week from this coming Friday, then we start planning for Thanksgiving, although I am already planning in my head.

Since Christina and Bill hosted Thanksgiving dinner at their house last year, dinner will be at our house this year, but I won't be serving dinner according to the football schedule. As a matter of fact, I might just be mean enough to check the Thanksgiving Day football schedules and serve dinner during the actual play of a really important game. Of course, that would mean that I would actually have to know which game was really important, and that would take some research on my part into a subject I care absolutely nothing about and be completely bored to death for the XXX number of minutes that it would take me to pinpoint the exact time of day that would be the most excruciating for a football lover to leave the television. So, scratch that plan. I'll just set a time and hope.

Anyway, of course, we will have a turkey, but I'd like to do something a little different this year. Not sure what, but it's early and I have plenty of time to plan.

Saturday morning, I put the first coat of paint on my kitchen cabinet doors that have been sitting in the garage, primed and sanded, since the end of August, although our kitchen has looked like this since long before then.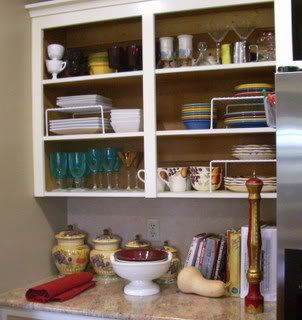 Last summer, my grandson, Tommy, asked me if I really liked having people see what's in my cupboards. I wanted to answer, no, Tommy, I'm just lazy, but I didn't really get into that. I just gave him a long winded, CYA answer, which seemed to suffice.

Now that fall has finally arrived, along with cooler weather, I have my mojo back and I'm ready to paint again. The problem... now I have to wait until it warms up enough to paint. God, I'm such an idiot!

I've been baking some. If you've read my other blog, Terri's Table, you will know that I made some sourdough starter that turned out really well and used my mom's recipe for Sourdough Onion Bread. It was really good. Tom sliced up what remained and made toast with it every other day for a week until it was gone. I made some Gingerbread Cake Cookies with Orange Glaze on Saturday afternoon. They have a softer, cakey texture, different than the usual gingerbread cookie, and they aren't quite as spicy. I don't know that I will add that recipe to my Christmas cookie baking list yet. I'll take some to Rob and Amanda next door and get their take on this new version.

On another note, I can't remember if I mentioned it before, but I have a job interview on Thursday. Nothing spectacular, it's a position with the state and the department of human services. I'm not sure if I want it yet; I'll know more after the interview. It won't be like working at the university (no two weeks off at Christmas, which I loved!!), but I would begin accumulating vacation and sick leave at the same accelerated rate as when I left the university, it would provide us with really good health insurance and it would help upgrade my retirement benefits, so I thought, why not take a look at it. Sure, why not. Plus I wouldn't have to commute to Little Rock. It's right here in town. We will see.

Oh, the real estate license thing? Yeah, well, the classes were fun and interesting, but after not being able to sell our house in the country and the fiasco surrounding that failed sale, then working on our flip, trying to sell it and the market tanking just in time... well, I'm thinkin' I have real bad real estate karma and I best rethink my future.